UHart's Annual "Keeping the Dream Alive" MLK Observance on Campus Feb. 1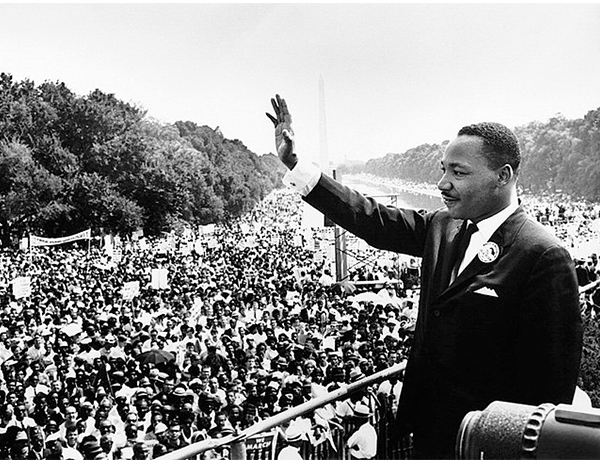 For the 18th consecutive year, the University of Hartford will honor and celebrate the life and legacy of civil rights leader Dr. Martin Luther King Jr., for whom a federal holiday is observed the second Monday of January each year. This year's observance will be held on Wednesday, Feb. 1, in Lincoln Theater and online from 12:45 to 2:00 p.m. 

This year's observance theme is "Let's Go: Building Community Through Social Change." The speaker is Rosa Alicia Clemente, an award-winning activist, cultural commentator, independent journalist, and former (2008) U.S vice-presidential candidate on the Green Party ticket. Clemente holds a bachelor's degree from the University of Albany, a master's degree from Cornell University, and is a PhD candidate at the University of Massachusetts Amherst. Lifelong activist and organizer for social justice Iris Morales says "Rosa brings attention to the suffering, exploitation, and injustices faced by people of color in the United States and around the world. Her voice is a needed, persistent, and insistent call to action." During the February program, Clemente will focus on how the current and next generations can be engaged in ongoing social activism and change.

UHart celebrates Dr. Martin Luther King each year near the beginning of second semester when students have returned to campus for second semester. Connecticut influenced Dr. King's recognition of racial injustice and the University of Hartford helped him spread the word about racial discrimination.

Some area events set for Monday, Jan. 16, include:
A young Martin Luther King came to Simsbury, Conn., when he was 15 years old to pick tobacco and earn money to attend Morehouse College. He had to sit in the "colored" train cars until reaching Washington D.C. where he was able to change and sit in any car. On this trip, for the first time, he experienced life without segregation. In letters to his mother in Georgia he marveled at being able to go to any church, sing in the choir, go to movies, ice cream stories and sleep in rooms with white youth. In his autobiography, he wrote: "After that summer in Connecticut, it was a bitter feeling going back to segregation. It was hard to understand…" A memorial to Dr. King is located in Simsbury and the tobacco farm land where he worked is protected space.

King came to Simsbury a second summer, went on to finish college, follow in his father's footsteps as a Southern Baptist minister, and become one of the most influential people in United States history. As a political activist and charismatic leader, Dr. King became the face of and the impetus behind the U.S. civil rights movement through non-violent sit-ins, marches, and voter registration drives.

From the 1955–56 mobilization of the Montgomery Bus Boycott to the 1963 March on Washington where he delivered his historic "I Have a Dream" speech, Dr. King raised a new national consciousness about civil rights, social justice, and economic equality. University of Hartford helped raised that consciousness when, in 1959, the University Dr. King to deliver its Alexander S. Keller Memorial Fund Lecture at Bushnell Memorial Hall. His speech "The Future of Integration" was rousing and eye-opening for many. The Keller Lectures letters, memos, programs, press releases, newspaper clippings, transcripts, and recordings including Q&A sessions are newly digitized and available for researcher use in the University's Harrison Libraries.

The actions of Dr. King and countless others who joined the quest for racial equality were instrumental in the passage of the Civil Rights Act of 1964—which prohibits discrimination by race, color, religion, sex, or national origin—and the Voting Rights Act of 1965—which outlawed requirements to register vote such as literacy tests and poll taxes because these requirements primarily discriminated against would-be African American voters. Dr. King advocated nonviolent civil disobedience to fight racial segregation, and even though the peaceful protests he led were often met with violence, he persisted. In 1964, at the age of 35, Dr. King was awarded the Nobel Peace Prize for his nonviolent resistance. Four years later, he was shot and killed in Memphis, Tenn. He was 39 years old.

During UHart's Feb. 1 observance, in addition to Clemente's message, the program will include performances by the Hartt Saxophone Ensemble, students from the University of Hartford Magnet School, the UHart Gospel Choir, a poetry performance by Lillian Bertram '24, and presentation of the 2023 MLK Beloved Community Awards.
The MLK Beloved Community Awards are presented to students, faculty, staff, alumni, or external community leaders and organizations who meet any of the following criteria by:
Working hard to improve their community, city, and the world
Making or having made a positive difference in the lives of others
Paying forward their work in various ways
Engaging in the work of educating themselves on topics of diversity, equity, inclusion, and social justice
2023 Honorees: 
Deja George '24, a philosophy major with minors in paralegal studies and politics & government, values the UHart community and is dedicated to making it the best that it can be.
Manny Sanchez, senior development officer in the Development and Alumni Affairs Office, is a Connecticut state representative in the 24th Assembly District.
Bilal Dabir Sekou, PhD, associate professor of political science, has research interests that include race and politics, urban politics, campaigns, elections, and voting behavior.
Leonard Epps '90 is a life member of Iota Phi Theta Fraternity, Inc., founder of The Society of Black Brotherhood, and is a recipient of both the University of Hartford Distinguished Alumni Award and the Connecticut Dr. Martin Luther King Jr. Holiday Commission Award.
Quentin "Q" Williams led a life of service as a legislator, a UHart adjunct professor, co-founder of a nonprofit for learning opportunities and equity, and a volunteer. His passing on Jan. 5th resonated far and wide throughout the region.
Pratt & Whitney, a world leader in the design, manufacture, and service of aircraft and helicopter engines, believes diversity of thought enables creativity and innovation—and establishes a foundation for inclusion.

The 2023 Dr. Martin Luther King Jr. program is a collaboration between the Office of Diversity, Equity, and Community Engagement and the Alumni Board of Directors' Alumni of Color Task Force. This program is free and open to public. Please register and join us.

This year's "Let's Go" observance invites and encourages all to keep Dr. King's dream alive by volunteering and organizing. One way to help end food insecurity is by donating to The Nosh on campus. Donations of food can be dropped off at the Office of Student Engagement and Inclusion in GSU 207. To access food and other items at The Nosh, visit GSU 341 during GSU operating hours of Monday through Thursday, 7:30 a.m. – 10 p.m.; Friday, 7:30 a.m. – 7 p.m.; and Saturday and Sunday, noon – 5 p.m.