CETA Celebrates Pratt & Whitney Scholars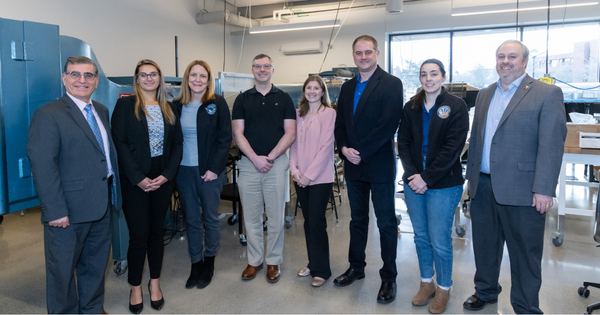 Students who've been named Pratt & Whitney Scholars celebrated their accomplishments at a networking luncheon with the aerospace company in January at the University of Hartford. 
Company leaders and UHart alumni who are P&W employees joined this year's scholars at the reception. Pratt & Whitney has provided scholarships to mechanical engineering students in UHart's College of Engineering, Technology, and Architecture since 2019.
CETA has an expansive partnership network to support students. Pratt & Whitney--the world's leading manufacturer of jet propulsion systems--has built a close relationship with the University. The tight-knit partnership has been mutually beneficial, with numerous CETA alumni moving on to work at the company, and P&W employees pursuing industry training at UHart's Center for Manufacturing and Metrology, exploring advanced aspects of measurement science. Training is offered through rigorous programming that mirrors P&W employee and supplier performance expectations. In fact, the CMM was built with the generous support of P&W. In this lab, students can have project-based experience working with state-of-the-art engineering technology and machinery. 
Pratt & Whitney's support for education through the scholarship program aims to foster diversity and inclusion in engineering.
Todd Schutte, chief engineer of compression systems engineering, shared P&W's impactful history and how the company continues to innovate every day.
"We are proud of our lasting and growing relationship with the University of Hartford and our ability to help students," Schutte said. "Our geographic proximity is mutually beneficial. We hope to keep adding to the ranks of alumni employed at Pratt and Whitney."
Schutte was also joined by UHart alumni and P&W employees Scott Sanicki M'02,  MBA '05, Caitlin Cofiell '07, M'14, and Anna Elefante '17, M'19. Sanicki, Cofiell, and Elefante are active mentors for UHart scholars in the P&W Mentorship Program.
When discussing her experience of graduating from UHart and getting a job at P&W, Elefante shared, "It's not who you know, it's who knows you." She expressed the importance of networking as a college student and attending events to build industry connections. 
The event concluded with a networking luncheon between the CETA community and Pratt & Whitney attendees. The University would like to thank Pratt & Whitney leadership and employees for their dedication to student success and commitment to transforming the future of engineering.
It's not who you know, it's who knows you.
Anna Elefante '17, M'19, UHart Alumna and Pratt & Whitney Senior Engineer in Engine Design & Systems Integration, Advanced Engines
Congratulations to the following 2022-2023 Pratt & Whitney Scholarship recipients:
Sophomores
Emmanuel Kurinaah
Daniel Guo
Wilondja Jerome
Juniors
Abigal Abram
Joseph Castaldo
Demoi Wright
Alvin Ye
Seniors
Sebastian Arreola
Christian Allemang
Nathaniel Gonzalez