Prosthetics and Orthotics Students to Serve Kids in Kenya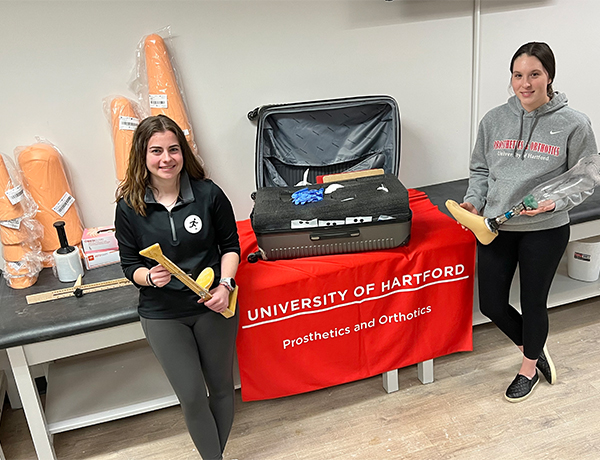 A pair of Prosthetics and Orthotics students will be getting a very different type of clinical experience this spring when they travel to AIC-CURE International Hospital in Kenya and aid more than 50 children.
Abbey Riley '21, M'23 and Alexia Woodruff '21, M'23, along with Associate Professor Duffy Felmlee, will spend 10 days at the hospital working with pediatric patients with limb loss on a service trip with the Limb Kind Foundation. The team leaves for Kenya on March 24.
As University of Hartford students in the College of Education, Nursing and Health Professions who've already completed hundreds of clinical hours stateside, they're more than ready to make an even bigger difference in patients' lives.
The graduate students will be fitting the children with prosthetic arms and legs, fabricating and adjusting the prosthetics, and working with physical therapists and other medical staff at the hospital.
Felmlee explained that the children in Kenya have experienced limb loss for a variety of reasons. "They range from trauma such as farming accidents, to children with congenital limb loss. The cases that will be referred to us will generally be more complex," he said. "We will have our own patient caseload while we're in Kenya and will work with the children from start to finish."
All care is free of charge to the children and their families through the generosity of the Limb Kind Foundation, a group UHart's P&O program has partnered with for years, and Cure International. In many developing countries, people with limb loss do not have the funds to pay for a prosthesis, and there is often no prosthetist available to provide these services. The Limb Kind Foundation works both in the U.S. and internationally to provide children in need with prosthetic care.
Riley and Woodruff, both second-year students in the Master of Science in Prosthetics and Orthotics (MSPO) program, were interested in the trip as a way to help those in need and give back. They were selected for the trip from a pool of MSPO student applicants.
"I always thought I wanted to work with pediatric patients, and once I experienced a clinical placement with children, I knew this is what I want to do," said Riley.
For Woodruff, growing up with a family that was active in the Rotary Club made her aware of the importance of helping others. "When Limb Kind Director Rob Schulman spoke to our class about the project, it seemed like a once in a lifetime opportunity, so I decided to apply," she said.
They are also helping to raise funds for Limb Kind's "Shoes that Grow" initiative, which is seeking to raise $2,000 to provide the children in Kenya with adjustable shoes that can be expanded as their feet grow.  Campus community members are invited to donate to the fund.