UHart Announces Commencement Speakers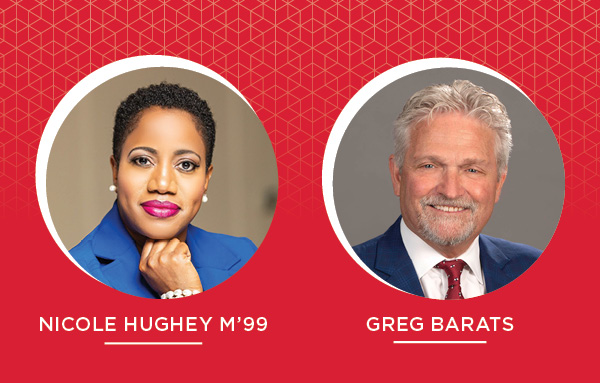 The University of Hartford is excited to announce an alumna from SiriusXM and the CEO of Hartford Steam Boiler's parent company as this year's Commencement ceremony speakers.
Undergraduates will hear from Nicole Hughey M'99, senior vice president and head of diversity, equity, and inclusion at SiriusXM, one of the most popular and influential audio broadcast entertainment companies in North America. Graduate students will be addressed by Greg Barats, CEO and president of HSB Group, parent company of Hartford Steam Boiler, a leader in equipment breakdown insurance, inspections, and engineering-based risk management.
Commencement is set for Sunday, May 14, at the XL Center in Hartford, with more than 1,200 students expected to receive degrees.
"Nicole Hughey is a shining example of what a talented and motivated student can go on to become with a University of Hartford degree. Not only is she a sought-after leader in her industry, she is also a proud, engaged alumna who shares her story to inspire current and future Hawks," says UHart President Greg Woodward. "We're also grateful that Greg Barats will be here to offer wisdom from his decades in the business world, and that HSB, under his leadership, has been a dedicated supporter of UHart students and programs."
Hughey holds a bachelor's degree in business from the University of Connecticut and a master's degree in organizational behavior from UHart, as well as an Executive Strategic Change Management Certificate from the Northwestern Kellogg School of Management.
At SiriusXM, she established the company's official diversity, equity, and inclusion mission, priorities, and strategic plans, as well as a vibrant mentoring program and leadership development strategy for underrepresented employees. Hughey launched a Pathways Program that creates new opportunities for students from historically Black colleges and universities, and also works to serve women, people of color, military veterans, the LGBTQIA+ community, and people with disabilities.
Prior to joining SiriusXM, she was a senior leader in diversity and inclusion at Mass General Brigham, the largest health care organization in New England with more than 75,000 employees, and at Travelers, an all-inclusive insurance company with 30,000 employees.
Hughey's past recognitions include being named a 2021 Outstanding Alum for Exceptional Professional Success at UHart, a 2021 honoree of the 100 Women of Color of Connecticut, and, most recently, a 2023 Top 15 Chief Diversity Officer by Diversity Global Magazine and one of the 2023 Most Influential Executives in Diversity & Inclusion by Savoy.
Barats, an accomplished insurance and risk management professional, has been president and CEO of the HSB Group for the past 12 years. He also serves as chair of HSB Solomon Associates, a performance improvement company for the global energy industry, where he developed seven patents.
Prior to HSB, Barats was senior vice president of the American International Group (AIG), a multinational company providing life and property-casualty insurance, retirement products, and other financial services. He previously cofounded Applied Earth Technology, a physical science research firm focused on the energy sector, and Applied Environmental Technology, which specializes in environmental assessment and remediation in the San Francisco region.
Barats holds a bachelor's degree in geology and a Master of Business Administration with an emphasis in finance from Southern Oregon University.
His connections to UHart span many years. Barats received UHart's inaugural F.I.R.M. Executive Leader of the Year Award in 2018, and HSB remained an event sponsor in the years that followed. The company is also represented in the Hursey Center for its support of the new building, with the Hartford Steam Boiler Internet of Things Laboratory.