UHart Celebrates Class of 2023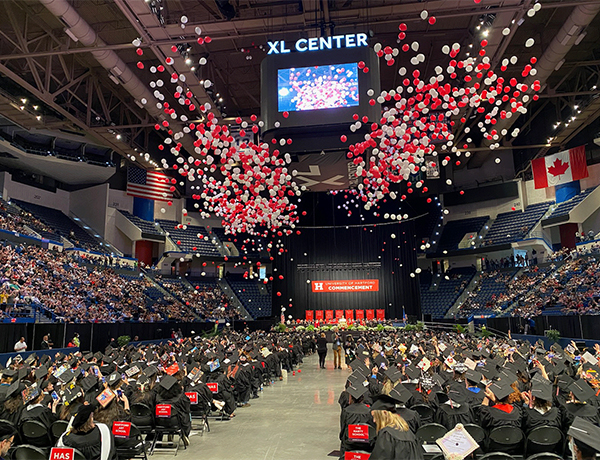 Approximately 1,200 University of Hartford graduates received their degrees during two separate Commencement ceremonies at downtown Hartford's XL Center on Sunday, May 14.
View the undergraduate or graduate ceremony recordings.
"Your journey will be uniquely yours and destiny will bring you things you could not have imagined for yourself," Nicole Hughey M'99—senior vice president and head of diversity, equity, and inclusion at SiriusXM, one of the most popular and influential audio broadcast entertainment companies in North America—told graduates during the afternoon Commencement address. "Make sure to pack your mindset, several options of accountability, a healthy dose of investment, over pack execution, and leave room for transparency."

Hughey further advised members of the Class of 2023 that they will have many "investors" during their lifetime. "As you leave the University, remember to continue building your network of investors," she said. "That build is a wonderful balance of making sure you shine so bright that others see you and them wanting to clear obstacles that get in your way. Having investors can be just as important as investing in yourself."
One of my favorite quotes is 'If you want what you've never had….do what you've never done!'"
Nicole Hughey M'99, Senior VP & Head of Diversity, Equity, and Inclusion at SiriusXM
Earlier in the day, master's and doctoral degree recipients heard from Greg Barats, president and CEO of HSB Group, Inc., parent company of Hartford Steam Boiler.

"As a geologist, I was forced to rethink my future," Barats explained to graduates. "I had to open my mind to do something very different. So I swam to open waters and got an MBA with an emphasis in finance. My scientific mentor asked me, 'What will you do with a business degree?' Five years later, I could answer that question. I co-founded two of his startup companies with him and ran them."

Barats assured graduates that changing careers multiple times—like he did—is not a negative. "Your past experiences are not lost time," he said. "All experiences are additive. They help you to develop an awareness of who you are, build your confidence, and help you find your North Star."

In honor of his outstanding corporate and community leadership, Barats was awarded an honorary Doctor of Commercial Science degree. Frank Hursey A'73, '77, whose revolutionary discovery of the blood-clotting properties of a crushed rock called zeolite transformed trauma medicine, also received an honorary Doctor of Commercial Science degree.

In her charge to the graduating class, Student Government Association President Alissa Hoffman '23 noted that "change has made these last four years the weirdest, wildest rollercoaster I've ever been on. It's over now, and it's time to find a new ride, but looking back on it, I can see the tracks. The highs and lows, the loops and the drops, and they are all connected by this track called UHart."
Nursing students in the Class of 2023 made history as the first to graduate from UHart's Bachelor of Science in Nursing program. On Saturday, they took part in UHart's first-ever pinning ceremony for BSN students, which officially welcomed them into the profession. Sunday, they walked across the stage at Commencement. U.S. Senator Richard Blumenthal, who has represented Connecticut since 2011, was in attendance and congratulated this group of in-demand health professionals, encouraging them to remain in the state as they enter the workforce. In 2012, Blumenthal received an honorary Doctor of Laws degree from UHart and served as that year's Commencement speaker.
The Class of 2023 also includes the first graduates of UHart's aerospace and robotics programs, a student from the Barney School of Business who is a Stanley Black & Decker Scholar, and another who is UHart's first recipient of the Charles B. Rangel International Affairs Fellowship, a prestigious international affairs fellowship that will allow her to become a U.S. diplomat. Also among the group are graduates who founded clubs and resources on campus to support their peers and future stuents, as well as those who've had job offers since last fall because their skills and experience are in demand. 
Additionally, nearly 250 UHart graduates are first-generation students as the first in their family to graduate from college.