UHart Recognizes First-Generation Grads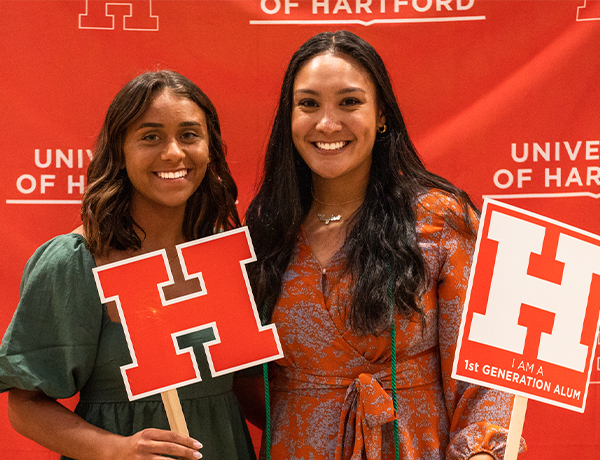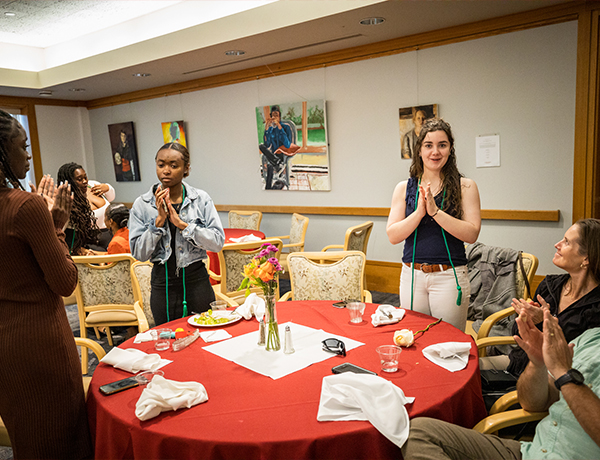 All eyes are on them.
But it's a responsibility they happily accept. First-generation college students know they hold the hopes and dreams of so many.
Younger siblings who might follow in their footsteps. Parents and family members who couldn't be prouder. Cousins who wonder about the college experience.
"I am so honored to be the first college graduate in my family," says Abigail Cervonayco '23, who just earned her University of Hartford degree in politics and government with a minor in psychology. "I am the oldest sibling, and have always taken that role seriously. I wanted to show that a bachelor's degree is possible and pave the way for them."
UHart is welcoming more first-generation college students like Cervonayco each year. Knowing they're in a unique position of exploring higher education for the first time and helping family members learn with them along the way, the University offers special resources and support, as well as ways to connect with peers who are also celebrating this big "first."
In May, UHart held its inaugural first-generation dinner for graduating students, where they received a special cord to wear for Commencement and heard from guest speaker Lisa Wisniewski D'17, a fellow first-generation alumna. The event was also covered by Fox 61 in a news segment.
"What started our friendship was when we were talking about being first-generation," says Ryan Hegney '23 says of Cervonayco. "Four years later, we're at a first-gen dinner together as best friends."
The incoming Class of 2027 is expected to include UHart's highest number of first-generation students. New graduates still remember adjusting to their first days at the University. 
"As soon as I was welcomed to the UHart community, I had faculty and professors who were eager to help me navigate the higher education space as a first-generation college student," recalls Lillian Bertram '23, M'24, who earned her bachelor's degree in entrepreneurial studies this spring and will earn her MBA next year in project management through UHart's 3+1 accelerated degree program at the Barney School of Business.
"UHart, especially the Barney School of Business, has prepared me academically, professionally, and personally. My mother is a single parent and has worked so hard to get me here. She is so grateful for the impact and opportunities UHart has provided me, and I am, too."
As UHart's first-generation students keep loved ones updated on their hard work and celebratory moments, they hope it has an impact on the youngest members of the family tree. Hegney, a new graduate of UHart's nursing program, says he has included his younger sister in his college experience to show her what could be in her future, and to show her the power of an education.
Many family members attended the first-generation dinner with their students on campus just a few days before Commencement, said Caitlin Trinh, senior director of alumni engagement at UHart.
"We proudly honored an incredible group of students who were about to become alumni and whose victory will inspire and encourage so many others who will follow them. We look forward to continuing this tradition for years to come," she said. "This event was very important because we recognize the special accomplishment of being the first in your family to receive a bachelor's degree, and the value of being welcomed fully into an alumni community ready to stand with you as you enter the next chapter of your life."
As soon as I was welcomed to the UHart community, I had faculty and professors who were eager to help me navigate the higher education space as a first-generation college student.
Lillian Bertram '23, M'24, Barney School of Business