50 Years of UHart: Stephen Mulready's Path to Acting President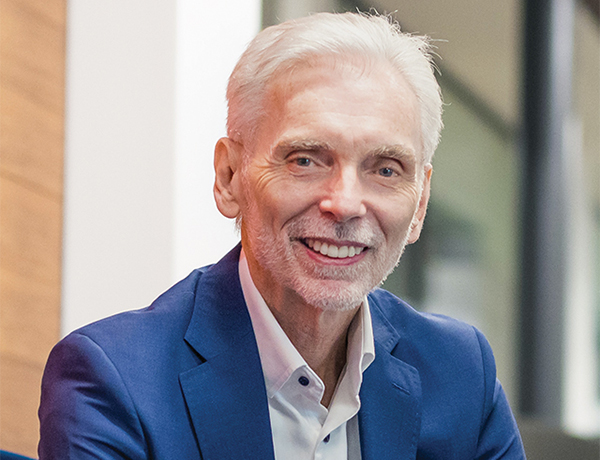 He's been a student, a Board of Visitors member, a Regent, an adjunct professor, and a dean. Now Stephen Mulready M'77 completes that list as UHart's new acting president.
At 23 years old, Stephen Mulready M'77 wanted to continue exploring the insurance field and much more. An MBA from the University of Hartford, he believed, would give him perspectives and skills for a variety of career paths.
That choice and that degree would lead him to places he never expected in the following decades—including the president's office at UHart.
Mulready began serving as his alma mater's acting president this summer, following President Greg Woodward's retirement.
When Mulready says he wants to introduce new opportunities, programs, and internships to UHart students, he's thinking back to when he was here in their shoes. He walked Barney School of Business halls during his management courses. He worked full-time while studying. He spent more than three years coming to campus to pursue his professional and personal goals.
Mulready feels a deep sense of responsibility in leading UHart into the future because he's an alumnus.
"There's no doubt about that. The best thing that happened to me other than coming here as a student was joining the Barney Board of Visitors because that exposed me to more of the University. Once I learned more about what was going on with the programs, I wanted to be a part of it," he said. "There's a desire to take what I learned here, including management skills that I was able to apply in business, and use my experiences to guide UHart into its next chapter."
Upon earning his MBA, Mulready continued working his full-time job at Aetna, advancing from back-office responsibilities to client-facing leadership roles. But he also began teaching courses in organizational behavior and IT at Middlesex Community College. So it seemed like a natural fit when he later joined the Barney Board of Visitors in 1999, then became a UHart adjunct professor, and finally agreed to serve the larger University as a member of the the Board of Regents.
He retired from his industry role in 2018 and continued working as an adjunct at UHart until 2021 when he was tapped for an interim dean role at Barney. It turned permanent, and Mulready served as dean until transitioning to acting president.
He will serve in his current position for a year—a short amount of time, but that's not preventing him from jumping right into the matters at hand.
"A management course I took here during my graduate education emphasized the importance of facing issues head-on, and that if you procrastinate, things are not going to get fixed. I've carried that lesson forward to this day," he says.
That means Mulready already has significant plans to continue moving UHart into the future: partnering with local businesses on more scholarship and internship opportunities while showcasing the valuable employee pipeline UHart can be; and examining how artificial intelligence is going to change jobs, industries, and education.
"It's about what we are going to become. We should be looking at the signs that are out in the marketplace right now, and how they apply to a major or a career that students want going forward," Mulready adds. "While we're addressing present financial challenges following the pandemic, we need to be thinking of the future and it's not siloed—I think it's a theme across the board to all professions and programs here."
He celebrates the fact that students have more ways to broaden their horizons than he had while in graduate school. Students can take classes in programs outside their majors, hear from industry representatives in special class events, network in the community, and, overall, explore all the options available to them academically and professionally.
"Even at the graduate level now, we're seeing there's a variety of experiential opportunities for students. Students have a broad vision of what's available to them and we are offering them the support to take advantage of what's out there," Mulready says. "We are going to provide more growth and connections, showing our community and industry all the reasons they should invest time, energy, and resources into the educational experiences of our students."