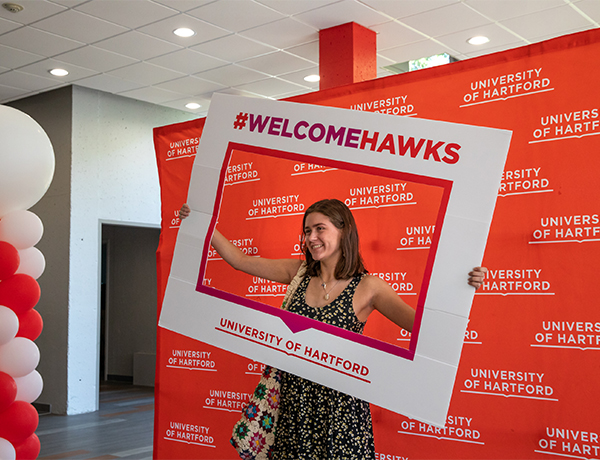 Welcome back!
It's hard to believe that students will soon be arriving on campus—summer seems to fly by more quickly each year. Here at the University of Hartford, it has especially felt that way because campus has been busy making preparations for the new academic year, hosting local corporate interns in our residential buildings, and planning many events for an exciting fall.
Students have been incredibly active as well with fulfilling internships and summer jobs, as well as memorable days with family and friends.
Our campus community will greet students for a new academic year between Aug. 24-27, with the first day of classes set for Aug. 28. We're thrilled to welcome more than 1,400 first-year and new transfer students, our largest incoming class in recent years!
Many new and impactful opportunities await. But a comforting aspect of the new academic year is that we know, in part, what to expect: classes, clubs, campus activities, special lectures and guests, a routine you can settle into…and a feeling that here at UHart, you belong.
We're thrilled to see how students of all class years will shape our community this year through their unique skills, experiences, and talents, while adding immense value to a place that is a second home for all of us. Here are some of the ways students can get involved this fall and a few move-in reminders.
Plenty of friendly faces will be spread across campus to assist with move-in. We are ready with parking lot guides and Howie's Helpers, and with wayfinders on the first days of classes. Look for people in bright blue shirts that read, "How can I help?" 
Download the free LiveSafe cell phone app; this is available to students and their families. It sends urgent alerts and offers anonymous reporting.
Special events will be held throughout move-in weekend as we celebrate our new students and the start of the academic year. A full schedule has been posted. Keep an eye out for the upcoming club/organization fair, as this is a great opportunity to meet more people and get involved, and other events throughout the semester!
On Saturday, Sept. 23, come cheer on the Hawks during a home sports triple-header. Enjoy fun give-aways and food.
Looking further into the calendar, UHart will observe a new fall break. The University will be closed Thursday, Oct. 5, and Friday, Oct. 6. Residence halls will remain open.
We hope that this year will be full of meaningful surprises and new experiences. Everyone on campus is here to support our students and make this the best year yet. Don't hesitate to ask questions or seek out campus resources. We're excited to see everyone soon.