Develop leadership skills while making a difference. 
The Office of Student Engagement and Inclusion is devoted to providing a Greek Life experience that challenges you personally and professionally. Our fraternities and sororities promote academic success, maintain the highest standards of ethical conduct, and foster diverse, philanthropic pursuits.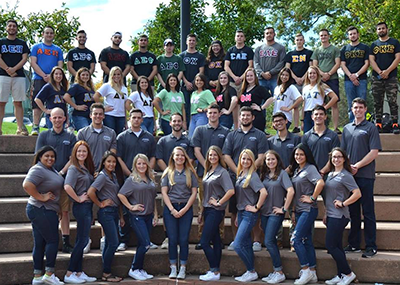 Greek Week
Greek Week is a weeklong celebration for the social fraternities and sororities on campus. It allows members of each chapter to come together and celebrate the spirit of being a Greek member and to show off their Greek pride. 
Policies and Procedures
The Office of Student Engagement and Inclusion actively pursues excellence amongst the Greek affiliated students at the University of Hartford. It is imperative that we hold each chapter, its members, and the entire Greek community accountable and responsible.
THERE IS NO PLACE FOR HAZING AT THE UNIVERSITY OF HARTFORD. 
You can read about the rules in our Student Handbook, The Source page 12-14. 
The Office of Student Engagement and Inclusion strives to develop members of every fraternity and sorority to become value-driven contributors to a larger society. The Greek Life Accreditation process is designed to review and assess all facets of chapter operations and is key in benchmarking Greek excellence. Accreditation will evaluate the contributions that each chapter makes to the campus and local communities. 
The Process
Showcase Greek Life and the individual organizations contributions to campus life
Reflection of chapter development, membership development, leadership development, community service, academic achievement and philanthropic efforts
Cultivation of chapter pride and historical documentation of annual success
Accreditation Metrics
Chapters will be evaluated on four metrics: Leadership & Member Development, Organizational Operations, Community Service & Engagement, and Academic & Intellectual Advancement.
Reserve Space On-Campus
If you are a UHart student or employee and would like to reserve a space to host a meeting, program, or an event, there is space in our buildings that can serve that purpose.