Dominick Lauria '13, M'19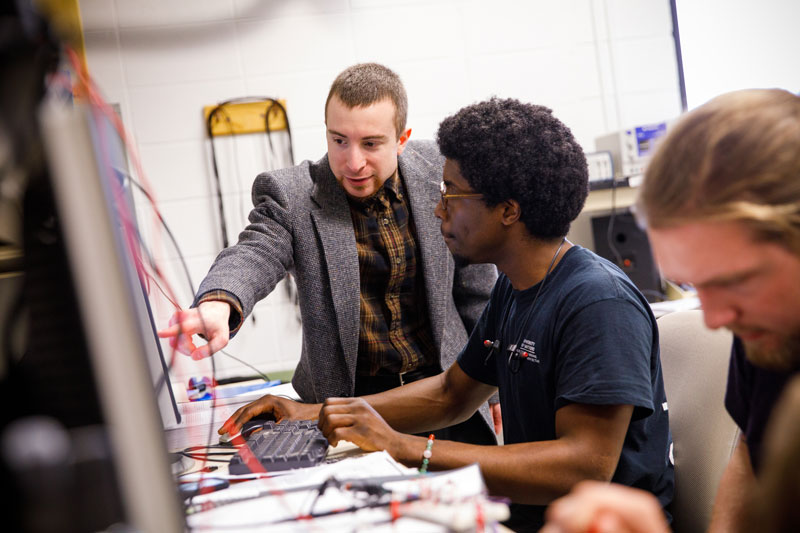 CETA alumnus and former adjunct faculty member celebrates 10th year with UHart.
As Dominick Lauria '13, M'19 embarks on graduating this fall with his MEng in electrical engineering, he reflects on his tenth year with the University of Hartford and College of Engineering, Technology, and Architecture (CETA). Lauria joined UHart in the fall of 2009 and earned his BS in audio engineering technology in May 2013. During his undergraduate years, he was involved with the student television network on campus which helped him get an internship in 2012. He also held various engineering jobs during the summers in between his academic years.
Shortly after he graduated with his BS, Lauria joined CETA as an adjunct faculty member in the fall of 2013 for the Samuel I. Ward Electrical & Computer Engineering Department. Lauria has been voted Part-Time Professor of the Year more than once as his students year after year enjoy working with him. Lauria says he has enjoyed instructing because he is "able to execute the recommendations" that he used to write on the course evaluations when he was taking his classes. Having taken the courses, himself he is able to connect to the student experience and give them what they need in order to succeed in a difficult discipline. Outside of teaching, Lauria worked as an electrical engineering with Belcan from 2017-2018. 
While teaching, Lauria began taking graduate courses in the spring of 2014 to pursue his MEng. He especially enjoyed the robotics courses he took with colleague Assistant Professor Kiwon Sohn that were heavily computer-based, one of Lauria's interests. This fall, he will officially earn his MEng degree. He will begin his new career as an electrical engineer with General Dynamics Electric Boat after graduation.
With the combination of teaching students, going for a master's degree in engineering, and having earned a bachelor's degree in technology, I feel extremely well prepared to have a successful career as an electrical engineer with Electric Boat. Not only do I have the engineering and technology skills that I believe I should have in order to be successful, but I feel very confident with my writing and presentation skills thanks to the teaching aspect of my career at UHart. Having these skills can be equally as important as having engineering and technology skills. 
Dominick Lauria '13, M'19