College of Engineering, Technology, and Architecture
BS in Robotics Engineering
With advanced equipment and brand-new collaborative spaces, students will master foundational industry skills prior to graduation through CETA's robotics engineering program.
Students will experience core areas of robotics including sensors, actuators, mobile processors, computer vision, machine learning, and artificial intelligence (AI), as well as fundamental principles of perception, localization, locomotion, and control of advanced mechanisms. Current multidisciplinary research efforts related to robotics in CETA cover not only ground vehicles but also underwater and aerial vehicle domains.
About the Major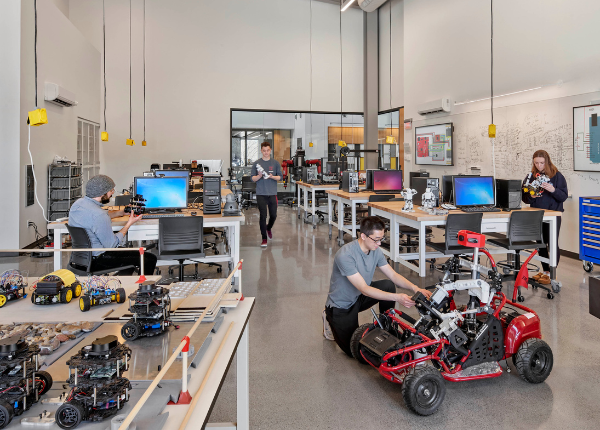 Our robotics program offers an innovative approach to hands-on learning. The productive curriculum prepares students to fulfill the growing and expected demands for entry-level careers. The immersive programming will teach students key aspects of robotics principles, designs, and operations. Our two fully-equipped robotics laboratories contain various state-of-the-art technologies and equipment, including Baxter, a multifunctional and articulated manufacturing robot.
Career Outlook
Graduates of this program will be prepared to work for industry-leading companies around the world such as:
Robotics: ABB, 

KUKA, or 

Fanuc.

Automobile: BMW, Toyota, or Hyundai.

Global aerospace, defense, and security: Lockheed Martin, or Raytheon

Factory automation or advanced manufacturing: Epson, Denso, or Wittmann Battenfeld Group.
Students can also pursue Robotics Research Institutes at companies like Toyota Research Institute, Bosch, Disney Research, NASA, DARPA, and more.
Get a behind-the-scenes look at the program below:
Interdisciplinary Focus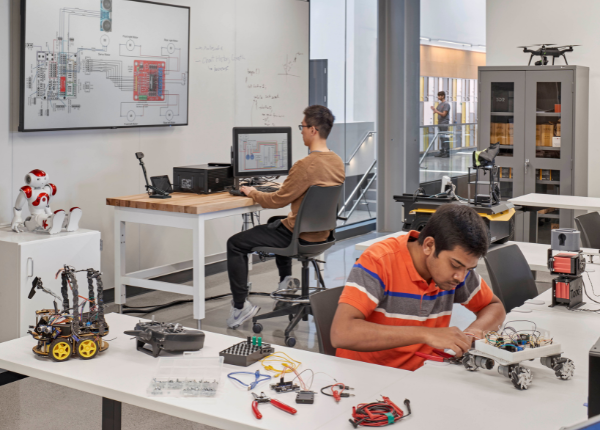 Robotics simultaneously combines computer, electrical, mechanical, sensing, and computer science. Students will receive a diverse educational experience from various topics such as but not limited to:
Electrical Engineering
Circuit Design, Digital Devices, Micro-controller, Signal Processing, Control Systems, Communication
Mechanical Engineering
2D/3D Modeling, Manufacturing, Kinematics/Statics, Dynamics, Mechatronics
Computer Science
Programming, Artificial Intelligence, Computer Vision
Degree Requirements
For more information, and to see a complete list of degree requirements, visit the Course Catalog.
ROBO 201 | Introduction to Robotics
ROBO 301 | Robotics and Automation
M 366 | Engineering Probability and Statistics
ECE 382 | Sensors, Transducers, and Data Acquisition
ROBO 402 | Robotic Systems and Programming
Students in the robotics engineering program are encouraged to take technical electives, as well as UIS - University Interdisciplinary Studies electives.
Stephen DeRosa
BSME/Robotics, 2019
DeRosa moved to Houston, TX shortly after graduation to work at the Johnson Space Center on future robotic systems to be used in space exploration. Stephen credits the University's Robotics Club for being home to some of his most valuable experiences at UHart.
The club provided me and many other students an opportunity to work on multidisciplinary projects that we otherwise would not have had the opportunity to work on. It's helped me not only learn skills outside of my major but what skills I will need to learn to have a successful career in robotics.
Key Facts & Figures
Success Rate

100% of our graduates have a job after graduating.

Starting Salary

Our graduates have an average starting salary of $72,000 as robotics engineers.
Additional Opportunities
Faculty Co-Advisors: Kiwon Sohn and Akin Tatoglu
UHART Robotics Club works on various ongoing projects in the field of robotics, artificial intelligence and real-time control systems (such as humanoids, mobile robots, industrial robots, service robots and drones). Members of this organization also participate in the following research groups:
Every year, more than 50 students from multiple majors (Electrical and Computer Engineering, Mechanical Engineering, Civil Engineering, Biomedical Engineering and Computer Science) work in the team. They range from first year to graduate students.
Dedicated to learning, personal growth, knowledge creation, and the betterment of society, the University engages students in acquiring the knowledge, skills, and values necessary to thrive in and contribute to a pluralistic, complex world. Learn more and apply.
Our mechanical engineering program encompasses various areas within the field through its six concentrations. You have the option to pursue your BS in mechanical engineering with a robotics concentration.
As the demand for "smart" factories and automation is increasing, so does the need for robots. With our robotics concentration, you will be in an intellectually stimulating and project-based environment, learning to program and operate robots and autonomous vehicles. Emphasis is placed on helping you understand the design of robots, modeling their dynamic control systems, and interfacing sub-systems with sensors, actuators, and controllers. Learn more.
Accreditation
The robotics engineering curriculum is designed to meet all requirements for accreditation by ABET. The University of Hartford expects to apply for this accreditation following the graduation of the first student from the program.