At CETA, we take pride in our small classes, diverse community and talented faculty to lead the next generation of engineers and architects to success.
You can benefit from our long history of students and faculty who are committed to innovation— and the patents hanging in our school hallways prove it. Here is where you will be exposed to various areas within the engineering, technology, and architecture industries and learn the key skills employers are searching for.
By combining our small classes with career-ready tactics like industry job fairs, mock interviews, and networking programs with our many industry partners, you will emerge ready to make the transition to a successful professional career or graduate school. Learn more about our various programs and departments below.
Engineering vs. Technology - The Difference
Don't be worried if you don't know the difference between engineering and technology. Here is the best way to grasp the difference between the two in-demand fields. Engineering is highly designed focused with a hands-on approach and high-level math. Technology is highly operational focused with a more hands-on approach and medium level math. CETA's program has much cross over and interdisciplinary opportunities for you to make the most of your educational experience here in any program.
FIRST Robotics Scholarship
Dedicated to learning, personal growth, knowledge creation, and the betterment of society, the University engages students in acquiring the knowledge, skills, and values necessary to thrive in and contribute to a pluralistic, complex world. If you're applying to UHart and interested in a future in robotics, this is the scholarship for you!
Honors Program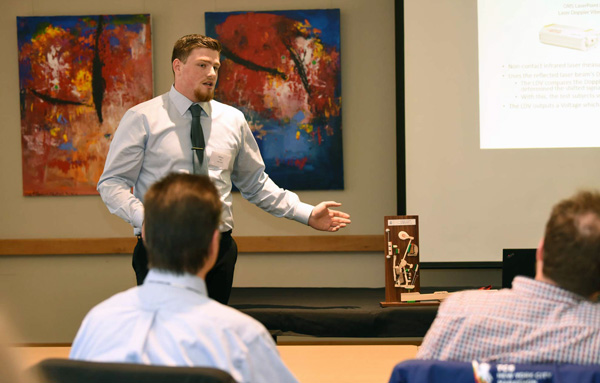 The University Honors Program provides our most capable and motivated students with the opportunity to use the resources of the College and the University to the fullest extent. Graduates who successfully complete the program will have "With University Honors" on their diploma and official transcript. Architectural Design + Technology majors should refer to the section titled "CETA Technology Students" and contact Eoin King at eoking@hartford.edu for additional information for CETA specifically.