College of Engineering, Technology, and Architecture
MEng in Mechanical Engineering
The Master of Engineering (MEng) in mechanical engineering program emphasizes applied design, fundamental coursework, and the development of key communication skills to help you strengthen your industry knowledge and skills.
Flexible. Balanced. Personalized.
100% online asynchronous class option—classes can be taken in person OR remotely.

30 credits
Part-Time or Full-Time
Rolling Admission
Fall and Spring Semester Start
About the Major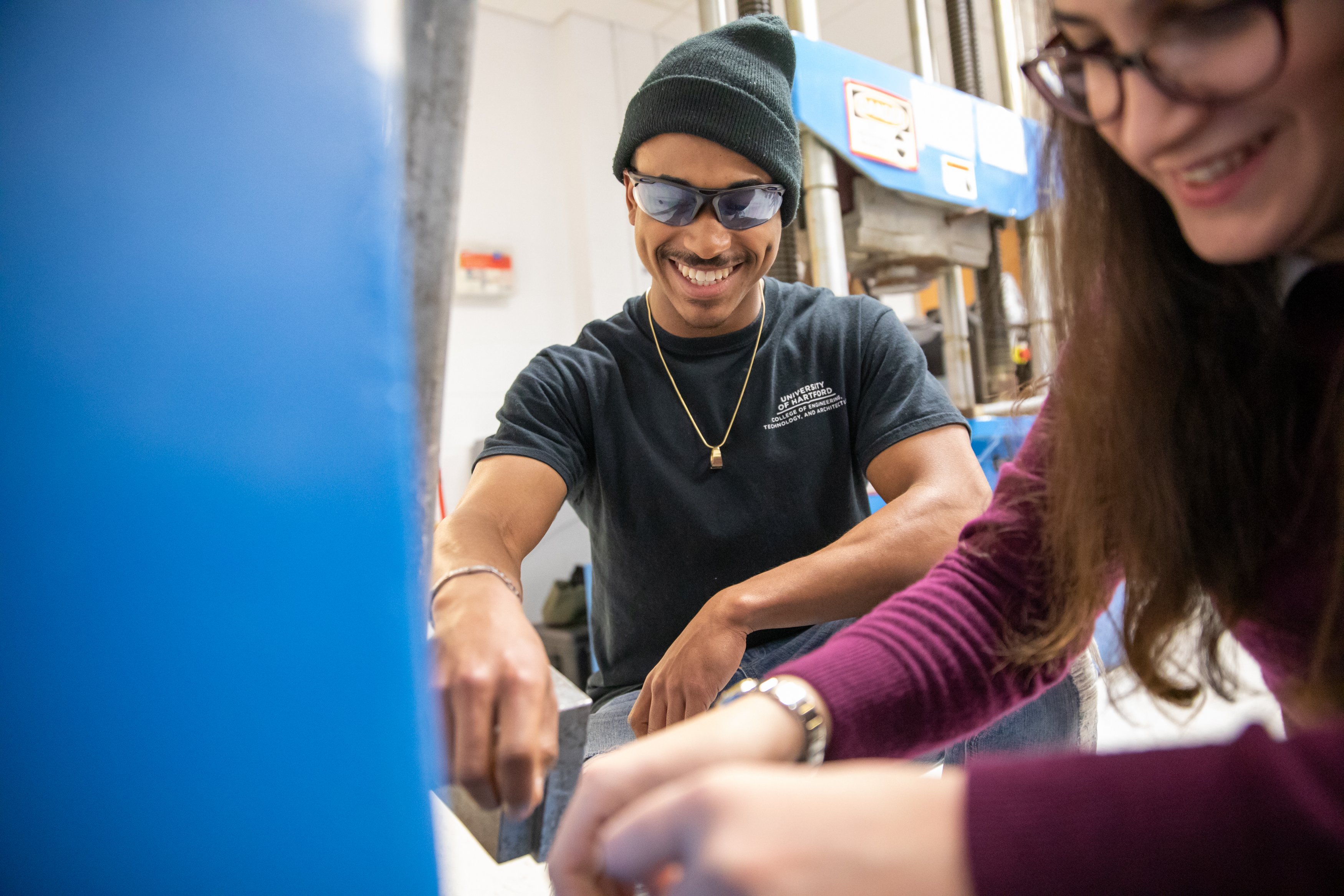 Our Master of Engineering in Mechanical Engineering program offers a research-based curriculum specialized for applied design and oral, visual, and written communication.
During this program, you will explore fundamental industry knowledge and design-oriented specialty coursework in applied mathematics and engineering management. You can personalize your experience by concentrating your studies on mechanical engineering, manufacturing engineering, or turbomachinery engineering.
Why UHart?
Our program was intentionally designed to provide you with the flexibility of advancing your education at your convenience. Working professionals will be able to obtain a master's degree by taking our evening classes on a part-time or full-time basis, either fully online or remote.
At CETA, time and balance are on your side.
Now accepting applications for Spring and Fall 2024!
Learn more about the application process.
Employees of Education Alliance partners receive a 10 percent reduction on tuition and a waiver of the application fee.
Degree Requirements and Options
The following courses and requirements are recommended for those pursuing the Master of Engineering in mechanical engineering program.
For more information, and to see a complete list of degree requirements, visit the Course Catalog.
M 515 | Methods of Applied Mathematics I
EM 601 | Engineering Program Management
Core Courses (Five courses selected from mechanical engineering 500- or 600-level graduate courses)
Elective Course (9 credits)
Explore the three different tracks offered under the Master of Engineering in mechanical engineering program. Learn more below:
E2M is a unique, three-way partnership between the Barney School of Business and the College of Engineering, Technology, and Architecture. Coursework includes applied projects, such as formulating marketing and business plans for area companies. The Engineering Applications Center assists local businesses and industries in applying new techniques, and you will become involved through application projects, symposia, and forums. You may complete either program and receive your degree immediately, without waiting to complete both.
This partnership between the Barney School of Business and the College of Engineering, Technology, and Architecture (CETA) provides a broader focus for engineers moving into management and leadership tracks. The program requires a total of 60 credits – that's 6 fewer credits than if you pursued the degrees separately. Students can earn both a Master of Engineering (MEng) and Master of Business Administration (MBA) within the framework of Excellence in Engineering and Management (E2M) Program.
Admission Requirements
Interested in enrolling? Here is what you need to submit your application.
Tuition


Summer 2023, fall 2023 and spring 2024 tuition rates for the Mechanical Engineering, MS, MEng program are below:

| | Per Credit Rate |
| --- | --- |
| Mechanical Engineering, MS, MEng | $934.00 |
Program Highlights
Mechanical engineering graduate students focus their studies in the following areas:
Acoustical Engineering, Aeroacoustics, and Noise Control
Computational Mechanical Engineering
Energy Engineering and Sustainable Design
Machine Design
Manufacturing and Metrology
Mechatronics
Renewable Energy Systems
Robotics Engineering
Simulation of Physical Phenomena and Systems
Solid Mechanics
System Controls
Thermodynamics, Fluid Mechanics, and Heat Transfer
Turbomachinery
You can solve more sophisticated fundamental and applied engineering problems pertaining to engineering analysis, computation, and design. Enjoy a personalized educational experience through our small classes and interaction with industry-experienced faculty, while staying on top of the most cutting-edge advanced technology.
Work within several well-equipped laboratories including:
Acoustics and Noise Control Laboratory with reverberation and anechoic chambers
Turbomachinery Laboratory with low and high-speed wind tunnels, cascade, and water table
Thermodynamics, Heat Transfer, and Energy Laboratory

 

with a nuclear see-through reactor, heat exchangers, and HVAC system simulators
Manufacturing and Metrology Laboratory

 

with state-of-the-art quality control, inspection equipment, and scanning electron microscope
Mechatronics and Robotics Laboratory
Machine Design and Gears Laboratory
Mechanics of Materials testing Laboratory
Fluid Flow Laboratorywith integrated piping and pumping networks
Computational Mechanical Engineering and Systems Simulation Laboratory with state-of-the-art facilities for conducting design and simulation projects, including facilities for multimedia presentations and web-based educational technology tools
Mechanical, Aerospace, and Acoustical Engineering Faculty