College of Engineering, Technology, and Architecture
MS in Electrical and Computer Engineering
The Master of Science (MS) in electrical and computer engineering program emphasizes research-oriented courses for you to gain new skills and knowledge to meet today's industry demands and advance your career.

About the Major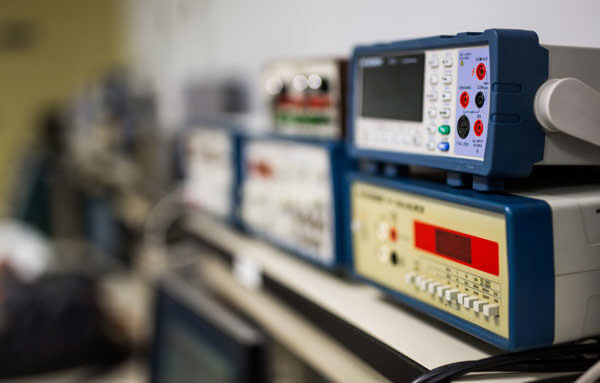 The Master of Science (MS) in electrical and computer engineering program is a research-oriented program that focuses on the advancement of the fundamental body of knowledge in electrical and computer engineering while also fostering the development of skills in design and analysis. This program lets you study an area of interest as part of a graduate thesis. Work towards solving a contemporary problem and become a technical expert. This program is also ideal for those who endeavor to eventually pursue their doctoral degree in an area within engineering. You will be ready to conduct research more analytically and purposefully in the industry and in academia.

Degree Requirements
The following courses and requirements are recommended for those pursuing the Master of Science in electrical and computer engineering program.

For more information, and to see a complete list of degree requirements, visit the Course Catalog.
M 515 | Methods of Applied Mathematics I or M 517 | Applied Engineering Statistics

ECE 615 | Graduate Thesis in Engineering

Electives (see Course Catalog for more information)
Enrolled students may submit a proposal for admittance to the Master of Science degree program. Contact Laurie Granstrand, Manager of Graduate Programs, for more information.
Program Highlights
Electrical and computer engineering graduate students focus their studies in the following areas:
Computer Systems
Communications/Signal Processing
Automation and Controls
Electric Power
Power Electronics
System Simulation
Network/Cyber-Physical Security
Robotics
Embedded Applications
Be prepared to solve more sophisticated design problems that will help you advance in your engineering career. Work with faculty with strong expertise offering courses in VHDL, embedded microprocessors, and cyber-physical security. Small class sizes promote interaction with the faculty and keep you up to date with the most recent technology. This is combined with research projects for you to become an expert in your chosen field.
Below is a list of research thesis topics and projects students in the graduate electrical and computer engineering programs have completed.
Real-time control analysis of a 3D self-balancing inverted pendulum and cart system for stability in the event of a sensor failure

Human-robot synchronization using electromyography (EMG) signal
Kinematic analysis and motion control of miniature humanoids
Miniature humanoid robot material handling and task execution
Life-size humanoid robot driving off-the-shelf vehicles
Cost-effective CAD for robust design of integrated circuits using artificial neural networks
Multi-target tracking: Recent advances and development
Design of a single-phase power inverter with better internal power control capability
Development of a six-layer printed circuit board for an 8-bit microprocessor with advanced software tools
Work within several well-equipped laboratories including:
Hands-on Robotics Laboratory headed by talented faculty and equipped with Baxter, the learner friendly industrial robot, and multiple humanoid robots, all of which are actively used in student projects
Networking Laboratory equipped with Cisco devices and faculty certified by the Cisco Networking Academy
State-of-the-art Power Laboratory equipped with Lucas-Nuelle electric machines, power electronics, and renewable energy training systems
Growing Automation and Controls Laboratory equipped with Epson robots and IO-Link technology
Brand-new space for Cybersecurity Laboratory and Internet-of-Things Laboratory to be completed in the fall of 2022
Admission Requirements
Interested in enrolling in the Master of Science in electrical and computer engineering program under the College of Engineering, Technology, and Architecture (CETA)? Here is what you need to submit your application.
Tuition


Summer 2023, fall 2023 and spring 2024 tuition rates for the Electrical and Computer Engineering, MS, MEng program are below:

| | Per Credit Rate |
| --- | --- |
| Electrical and Computer Engineering, MS, Meng | $934.00 |
Electrical and Computer Engineering Faculty