College of Engineering, Technology, and Architecture
MS in Environmental Engineering
The Master of Science (MS) in environmental engineering is a research-oriented program that explores fundamental concepts relative to real-world environmental problems.
About the Major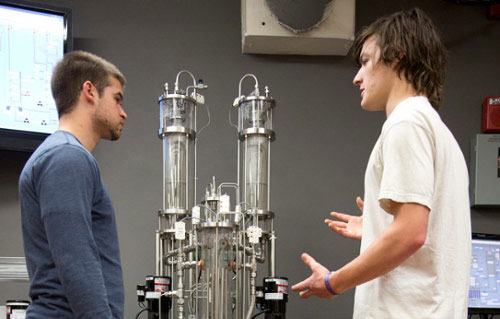 The University of Hartford College of Engineering, Technology, and Architecture (CETA) will help you strengthen your industry knowledge and skills through personalized learning opportunities.
During this program, you will conduct purposeful research with our accomplished faculty to analyze a contemporary problem in an environmental area of your interest. By graduation, you will become a masterful expert in your field equipped with the experience necessary to propel academia and the environmental engineering industry.
Why UHart?
Our program was intentionally designed to provide you with the flexibility of advancing your education at your convenience. Working professionals will be able to obtain a master's degree by taking our evening classes on a part-time or full-time basis. At CETA, time and balance are on your side.
Program Highlights:
30 credits
Part-Time or Full-Time
Rolling Admission
Fall and Spring Semester Start
Degree Requirements
The following courses and requirements are recommended for those pursuing the Master of Science in environmental engineering program.
For more information, and to see a complete list of degree requirements, visit the Course Catalog.
M 515 | Methods of Applied Mathematics I

 or

 

M 517 | Applied Engineering Statistics
CE 615 | Graduate Thesis in Engineering
Electives (credits, see Course Catalog for more information)
Enrolled students may submit a proposal for admittance to the Master of Science degree program. Contact Laurie Granstrand, Manager of Graduate Programs, for more information.
Program Highlights
Environmental Engineering Laboratory: Study the advancement of physical, chemical, and biological processes for developing innovative solutions to current issues and challenges facing municipal water and wastewater treatment facilities.
Fundamental as well as design-oriented specialty coursework in the areas of air, water, and hazardous waste management.
Individualized curriculum through core environmental engineering courses, environmental elective courses, and thesis or independent project.
Esteemed faculty with decades of experience in the field.
Admission Requirements
Interested in enrolling in the Master of Science in environmental engineering program under the College of Engineering, Technology, and Architecture (CETA)? Here is what you need to submit your application.
Tuition


Summer 2023, fall 2023 and spring 2024 tuition rates for the Civil/ Environmental Engineering, MS, MEng program are below:

| | Per Credit Rate |
| --- | --- |
| Civil/ Environmental Engineering, MS, MEng | $934.00 |
Civil, Environmental, and Biomedical Engineering Faculty