College of Engineering, Technology, and Architecture
MEng in Environmental Engineering
The Master of Engineering in Environmental Engineering is a research-oriented program that explores fundamental concepts relative to real-world environmental problems.
About the Major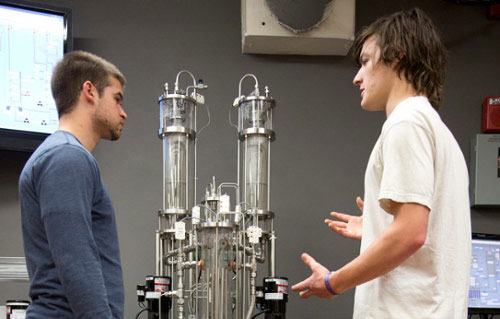 The University of Hartford College of Engineering, Technology, and Architecture (CETA) will help you strengthen your industry knowledge and skills through a personalized graduate thesis opportunity.
During this program, you will conduct purposeful research with our accomplished faculty to analyze a contemporary problem in an environmental area of your interest. By graduation, you will become a masterful expert in your field equipped with the experience necessary to propel academia and the environmental engineering industry.
Why UHart?
Our program was intentionally designed to provide you with the flexibility of advancing your education at your convenience. Working professionals will be able to obtain a master's degree by taking our evening classes on a part-time or full-time basis. At CETA, time and balance are on your side.
Program Highlights:
We offer asynchronous courses, meaning a class can be taken in person or remotely.

30 credits
Part-Time or Full-Time
Rolling Admission
Fall and Spring Semester Start
Degree Requirements and Options
The following courses and requirements are recommended for those pursuing the Master of Engineering in environmental engineering program.
For more information, and to see a complete list of degree requirements, visit the Course Catalog.
CE 522 | Advanced Water Quality Engineering
CE 525 | Hazardous Waste Management
CE 550 | Advanced Air Quality Engineering
CH 519 | Applied Environmental Chemistry
EM 601 | Engineering Program Management
M 517 | Applied Engineering Statistics or QNT 601 | Managerial Statistics and Analytics
CE 502 | Groundwater Hydrology

CE 503 | Geographic Information Systems in Practice

CE 504 | Connecticut Environmental Regulations and Policy

CE 506 | Emergency Preparedness

CE 507 | Finite Element Analysis

CE 509 | Pollution Prevention

CE 523 | Engineering Hydrology

CE 524 | Solid Waste Management

CE 591 | Special Topics Course: Applied Wastewater Treatment

CE 591 | Special Topics Course: Watershed Management


CE 600 | Graduate Project in Civil Engineering

M 515 | Methods of Applied Mathematics I
E2M is a unique, three-way partnership between the Barney School of Business and the College of Engineering, Technology, and Architecture. Coursework includes applied projects, such as formulating marketing and business plans for area companies. The Engineering Applications Center assists local businesses and industries in applying new techniques, and you will become involved through application projects, symposia, and forums. You may complete either program and receive your degree immediately, without waiting to complete both.
This partnership between the Barney School of Business and the College of Engineering, Technology, and Architecture (CETA) provides a broader focus for engineers moving into management and leadership tracks. The program requires a total of 60 credits – that's 6 fewer credits than if you pursued the degrees separately. Students can earn both a Master of Engineering (MEng) and Master of Business Administration (MBA) within the framework of Excellence in Engineering and Management (E2M) Program.
Program Highlights
Environmental Engineering Laboratory: Study the advancement of physical, chemical, and biological processes for developing innovative solutions to current issues and challenges facing municipal water and wastewater treatment facilities.
Fundamental as well as design-oriented specialty coursework in the areas of air, water, and hazardous waste management.
Individualized curriculum through core environmental engineering courses, environmental elective courses, and thesis or independent project.
Esteemed faculty with decades of experience in the field.
Admission Requirements
Interested in enrolling in the Master of Engineering in eenvironmental engineering program under the College of Engineering, Technology, and Architecture (CETA)? Here is what you need to submit your application.
Tuition


Summer 2023, fall 2023 and spring 2024 tuition rates for the Civil/ Environmental Engineering, MS, MEng program are below:

| | Per Credit Rate |
| --- | --- |
| Civil/ Environmental Engineering, MS, MEng | $934.00 |
Civil, Environmental, and Biomedical Engineering Faculty