College of Engineering, Technology, and Architecture
MS in Civil Engineering
The Master of Science (MS) in civil engineering program emphasizes research-oriented courses for you to gain new skills and knowledge to meet today's industry demands and advance your career.
About the Major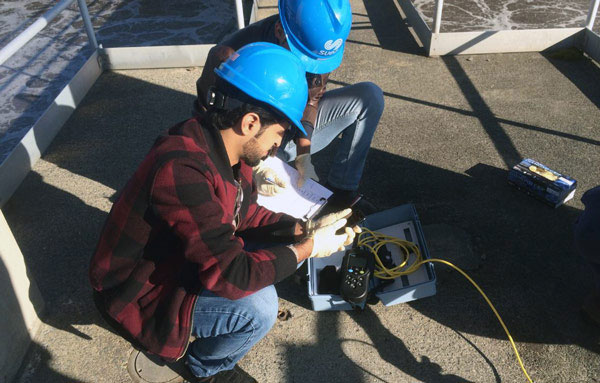 The Master of Science (MS) in civil engineering program is a research-oriented program that focuses on the advancement of the fundamental body of knowledge in civil engineering while also fostering the development of skills in design and analysis. This program lets you study an area of interest as part of a graduate thesis. Work towards solving a contemporary problem and become a technical expert. This program is also ideal for those who endeavor to eventually pursue their doctoral degree in an area within engineering. You will be ready to conduct research more analytically and purposefully in the industry and in academia.
Degree Requirements
The following courses and requirements are recommended for those pursuing the Master of Science in civil engineering program.
For more information, and to see a complete list of degree requirements, visit the Course Catalog.
M 515 | Methods of Applied Mathematics I

 or

 

M 517 | Applied Engineering Statistics
CE 615 | Graduate Thesis in Engineering
Electives (see Course Catalog for more information)
Enrolled students may submit a proposal for admittance to the Master of Science degree program. Contact Laurie Granstrand, Manager of Graduate Programs, for more information.
Program Highlights
Below is a list of research thesis topics and projects students in the graduate civil engineering programs have completed.
Investigation, Analysis, and Rehabilitation of Large Reinforced Concrete Beams for the Original, Deteriorated, and Rebuilt Conditions
Application of Geographic Information System (GIS) to Pavement Management Systems
Design of a Chamber for Safe Disposal of PEN Explosive Caps
Highway Capacity, Traffic Operational Analysis Simulation, and Modeling of Transportation Systems
Computational Intelligence, Optimization, and Stochastic Process in Transportation Engineering
Adaptive Traffic Signal Control
A Fuzzy Logic Based Integrated Interchange Ramp Metering Signal Control
Evaluation of Fuzzy Logic Based Ramp Metering Algorithms Using Microscopic Traffic Simulation
Selection of Highway Interchange Types
Traffic Accident Data Mining Using a Machine Learning Model
A Survey of Advanced Traveler Information Systems (ATIS)
Comparison of Capacity Estimations Due to Downstream Link Queues at Signalized Interchanges
Structural Engineering Laboratory
State-of-the-art computational facilities are used for the application of structural design and finite element analysis in structural components.
Transportation Engineering Laboratory
Provides a variety of traffic simulation, planning, and signal control programs for analyzing, evaluating, and designing transportation system components.­
Admission Requirements
Interested in enrolling in the Master of Science in civil engineering program under the College of Engineering, Technology, and Architecture (CETA)? Here is what you need to submit your application.
Tuition


Summer 2023, fall 2023 and spring 2024 tuition rates for the Civil/ Environmental Engineering, MS, MEng program are below:

| | Per Credit Rate |
| --- | --- |
| Civil/ Environmental Engineering, MS, MEng | $934.00 |
Civil, Environmental, and Biomedical Engineering Faculty