College of Engineering, Technology, and Architecture
BS in Biomedical Engineering
The biomedical engineering program prepares you to work in today's healthcare industry and learn how to support professionals, hospitals, and medical offices by creating and maintaining important tools and resources.
Biomedical engineers speak two languages: that of the engineer and that of the health professional. Our curriculum is designed to help students masterfully intertwine the two and yield a successful career in the biomedical engineering industry.
About the Major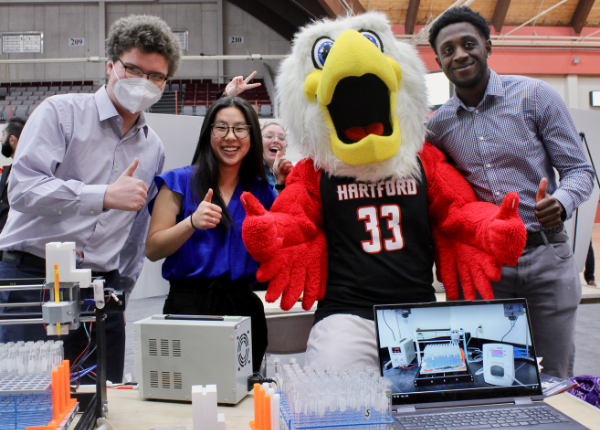 CETA students strive to innovate the future, and our biomedical engineering program will prepare you to go above and beyond in the healthcare field. Our diversified curriculum exposes students to subjects related to: 
Biomechanics - Bones, joints, ligaments, tendons, etc.

Biofluids - Blood flow, heart valves, airflow in the lungs, etc.

Bioinstrumentation - The instruments and sensors used to measure physiological systems.
Students will discover how to design and build biomedical equipment and devices for diagnosing medical problems and improving health for those in need.
Why UHart?
If you have a passion for science and mathematics, this program is for you. CETA biomedical engineering students will understand aspects of examining people, evaluating health, and recognizing what technology and opportunities are available to improve patient quality of life. Our immersive courses offer students many opportunities to creatively express ideas and develop potential new devices and methods to improve current healthcare technologies.
About the Minor
The biomedical engineering minor provides students matriculating into bachelor's degree programs in other colleges of the University, especially the sciences and the other engineering majors, with an introduction to the discipline of biomedical engineering.
Degree Requirements
For more information, and to see a complete list of degree requirements, visit the Course Catalog.
BE 260W | Biomedical Engineering Materials

BIO 212 | Human Anatomy and Physiology I

BE 301 | Biomechanics

BE 401 | Bioinstrumentation

BE 460 | Biomedical Engineering Design Project I
The pre-medicine option includes organic chemistry and other courses related to preparing a student for entry into graduate school programs in the health professions. This option also includes the university-wide sequence in pre-health profession seminar courses. Learn more.
Electrical Engineering Concentration
The electrical option adds a focus on the electrical engineering principles behind biomedical devices with upper-level electrical engineering courses. This option assists students who wish to work with instrumentation upkeep and design in a hospital or industry setting. Learn more.
Career Outlook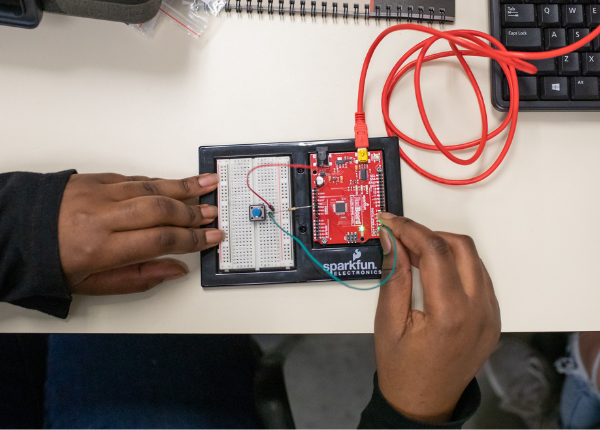 Our biomedical engineering program is designed to prepare you for career success.
Along with rigorous academic training, you will gain hands-on experience throughout your time as a student. You will present your work to your peers and instructors, as well as to the public, and because our faculty work closely with leading health-related institutions and industries, you have opportunities to work on research projects and participate in internships.
Our graduates go on to work at companies like Stryker, Flex, Hartford Healthcare, and Medtronic.
Monica Padykula
Biomedical Engineering, 2024
The University of Hartford offers numerous leadership opportunities for students interested in going the extra mile. Monica Padykula '24, is one prominent CETA leader who has gone above and beyond to build industry connections, facilitate campus community, and work towards making a difference in the lives of others.
Being a part of the Biomedical Engineering Society has allowed me to grow my network with biomedical engineers from inside and outside UHart. I've met graduates who have gone directly into the workforce, grad school, med school, or even law school. In addition, networking "mixers" helped heighten my awareness of biomedical engineering uses.
Accreditation
The biomedical engineering program is accredited by the Engineering Accreditation Commission of ABET, https://www.abet.org.
The biomedical engineering program seeks to prepare qualified students for productive, rewarding careers in the engineering profession, either for entry-level practice in biomedical engineering or for entrance into appropriate graduate programs. During their careers, our alumni
will become successful practicing engineers in biomedical engineering fields and will advance professionally by accepting responsibilities and, potentially, pursuing leadership roles;
who enter the health professions will utilize their engineering knowledge in this pursuit; and
will advance their knowledge of engineering, both formally and informally, by engaging in lifelong learning experiences.
The engineering design experience is distributed over the entire engineering curriculum. This experience begins in the first year with engineering and design and continues through and culminates with a Senior Design Capstone experience. The Senior Capstone work ensures that the students have mastered preparatory engineering and engineering science courses.

Basic concepts of physics, chemistry, and mathematics are the foundations on which all engineering education is built. Basic tools of engineering, such as graphic communications, computer usage, mechanics, and thermofluids complete the introductory phase of the program.

All biomedical engineering program graduates are required to complete courses designed to give the students a grounding in anatomy and physiology, biomechanics, biofluids, bioinstrumentation, and the structure of materials used by biomedical engineers. Along with the engineering courses, students are required to obtain a background in solid mechanics and electrical engineering.

Extensive laboratory experience augments the course work. There are required laboratory classes in the sciences, materials, engineering, and natural phenomena. Written communication of laboratory results is required.

Through participation in the University Interdisciplinary Studies and additional elective courses in the humanities and/or social sciences, students are given the opportunity to broaden their perspectives and to take part in the larger learning community of the University. It is imperative that engineers understand and appreciate the special role that technology plays in our society, as well as the interactions among the various components of our society.

The biomedical engineering program has three basic concentrations: the standard, one designed for those students who wish to enter the health professions, and the electrical engineering concentration. Those students who wish to enter health professions are required to take a full year of organic chemistry prior to their senior year. All students who are interested in the health professions are required to join the pre-health professions program. The Pre-Health Profession Advisory Committee has developed a 3 - 1-credit courses for each of the first three undergraduate years to help students prepare for health profession graduate school applications.
The student learning outcomes of the biomedical engineering program leading to BSBE degree are aligned with the student learning outcomes of ABET EAC (1 through 7), and prepare graduates of the program to attain the program educational objectives.
Student outcomes (1) through (7) are articulated as follows:
(1) an ability to identify, formulate, and solve complex engineering problems by applying principles of engineering, science, and mathematics
(2) an ability to apply engineering design to produce solutions that meet specified needs with consideration of public health, safety, and welfare, as well as global, cultural, social, environmental, and economic factors
(3) an ability to communicate effectively with a range of audiences
(4) an ability to recognize ethical and professional responsibilities in engineering situations and make informed judgments, which must consider the impact of engineering solutions in global, economic, environmental, and societal contexts
(5) an ability to function effectively on a team whose members together provide leadership, create a collaborative and inclusive environment, establish goals, plan tasks, and meet objectives
(6) an ability to develop and conduct appropriate experimentation, analyze and interpret data, and use engineering judgment to draw conclusions
(7) an ability to acquire and apply new knowledge as needed, using appropriate learning strategies.
Biomedical Engineering, following the ABET Program Specific Criteria (PSCs), gives our students experience in: 
applying principles of engineering, biology, human physiology, chemistry, calculus-based physics, mathematics (through differential equations) and statistics; 
solving bio/biomedical engineering problems, including those associated with the interaction between living and non-living systems; 
analyzing, modeling, designing, and realizing bio/biomedical engineering devices, systems, components, or processes; and 
making measurements on and interpreting data from living systems. 
| Academic Year | First-Year | Sophomore | Junior | Senior | Total Graduates |
| --- | --- | --- | --- | --- | --- |
| 20-21 | 15 | 9 | 15 | 15 | 12 |
| 19-20 | 13 | 15 | 13 | 16 | 13 |
| 18-19 | 14 | 18 | 15 | 20 | 23 |
| 17-18 | 16 | 14 | 18 | 21 | 19 |
| 16-17 | 22 | 22 | 18 | 29 | 28 |
4+1 Program (BS + MEng degrees)
The program is designed to allow full-time engineering students to earn their Bachelor of Science (BS) and Master of Engineering (MEng) degrees in five years of study. Two graduate-level courses taken in the undergraduate program may be applied to both undergraduate and graduate degree requirements. Students usually commit to the program at the start of the second semester of their junior year, and juniors who are interested should contact their department chair.
In order to be accepted into the program, students must have a 3.0 cumulative grade point average at the end of the junior year (below 3.0 will be considered on a case-by-case basis).
Contact Laurie Granstrand to learn more.
Biomedical Engineering Faculty