CETA provides challenging programs that prepare graduates for stimulating, meaningful, and rewarding professional careers in today's fast-changing and global society.
Along with the curricula learned inside and outside the classroom, CETA hosts events each semester geared towards career development, networking opportunities, and more to prepare you for your dream job. Events include:
Networkology events
Career events
Résumé bootcamps
Industry field trips
and much more!
Build your resume, polish your cover letter and portfolio, network with professionals and have impactful conversations at these events. Take advantage of the opportunity to meet industry partners, board of visitors, alumni, and other professionals, too. You will gain insight into the key characteristics employers are searching for in potential candidates today and learn the skills you need to become the next generation of engineers, designers, and technicians. Thanks to these events, CETA students have had the opportunity to intern and work at well-known corporate engineering and architecture companies.
Where Our Grads Work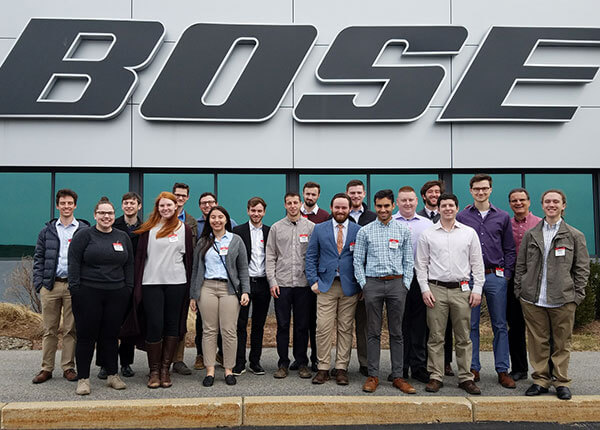 The combination of CETA's knowledgeable faculty, hands-on curricula, and career-ready events will prepare you for high demand jobs in engineering, technology, and architecture by the time you graduate.
Our grads have moved on to work at companies like:
NASA
Pratt & Whitney
Disney Imagineers
NBC
General Dynamics Electric Boat
Turner Construction
Bose
Cigna
Raytheon Technologies
JCJ Architecture
Sikorsky
IBM
Medtronic
Telefunken
ESPN
Whiting-Turner Construction
More Opportunities
Internships
Did you know over 70% of CETA students have completed one or more internships before graduation? See where you can gain some valuable experience in the field.
Learn More
Career Services
If you're ready to look into a new opportunity, discover what Career Services has to offer you. Dive into a full list of opportunities including internships, employment, and graduate school.
Learn More
Papa Asante
BS, Audio Engineering Technology, 2011
Asante has gained valuable experience in both the audio engineering and aerospace worlds. He is the owner and operator of The LAB Media Empire, LLC (aka TheLABNR). It is an end to end media services company that provides a creative environment in which artists can develop their craft. He is also employed by Sikorsky Aircraft as a program manager for the Canadian Maritime Helicopter Program and sits on the board of directors for the New Rochelle Chamber of Commerce. He is also involved in the Industrial Advisory Board for CETA.
Today, as the owner and technical point of contact for TheLABNR, I find myself troubleshooting gear on a daily basis, and can thank the audio engineering technology program at UHart for planting the seed in that regard.