College of Engineering, Technology, and Architecture
BS in Engineering Technology (Contract Major)
Students with educational and career goals and objectives that cross disciplines may be candidates for a contract major with the College of Engineering, Technology, and Architecture (CETA).
About the Major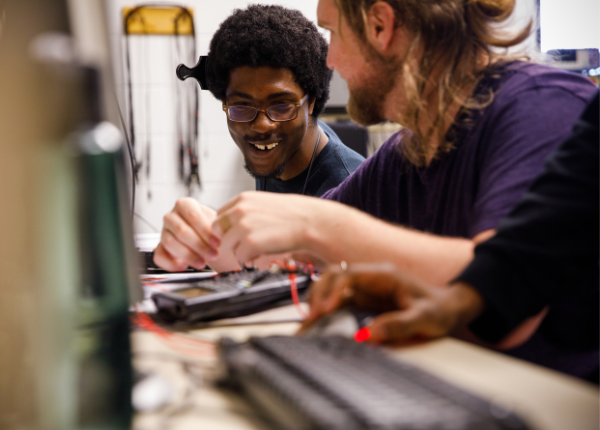 If you're interested in educational and/or career goals and objectives that are not met specifically by one of the school's traditional majors, the Engineering Technology, BS (Contract Major) may be an option for you.
This type of major is considered an individualized education plan and may involve educational experiences in more than one school or college of the University. Contracts that involve advanced or specialized courses from more than one college are considered cross-college contract programs and must have the explicit approval of both schools or colleges. You may have the opportunity to take courses within business and communications, for example.
Degree Requirements
For more information, and to see a complete list of degree requirements, visit the Course Catalog.
University-Level Requirements
Minimum 120 credits for the baccalaureate degree

Minimum of 40 credits of general education, including 12 credits in the All-University Curriculum (one course from four different areas), 6 credits of English composition, with the remaining credits representing the humanities, social sciences, natural sciences, the arts, and mathematics

A minimum cumulative grade point average of 2.0
Through this program, your first area of specialization will be in Technology, then you will have an opportunity to define a second or third area based on which courses you're interested in taking.
To pursue this unique program, you will need to write a letter of interest stating your career goals and objectives. Then you will work with the designee of the dean and specific faculty with experience in the fields you're aspiring to work in to ensure the creation of a program of study leads to learning outcomes consistent with the mission of both the college and the University of Hartford.
Admission Requirements
Interested in pursuing an Engineering Technology, BS (Contract Major) under the College of Engineering, Technology, and Architecture (CETA)? Contact Alan Hadad for more information.