College of Engineering, Technology, and Architecture
BS in Electromechanical Engineering Technology
The electromechanical engineering technology (EMET) program is an ABET accredited, interdisciplinary and hands-on engineering technology program that incorporates elements of both electrical and mechanical systems.
About the Major
The electromechanical engineering technology (EMET) program was created in response to an industrial need to hire engineering technology graduates with abilities across electrical and mechanical disciplines. You will be prepared for careers in fields such as control systems, automation, manufacturing, and Industry 4.0.
Why UHart?
Our EMET curriculum offers fundamental mathematics, physical sciences, circuits, analog and digital electronics, statics, materials, fluids, machine design, and computer programming. You will take advanced technical courses to develop key industry skills in industrial instrumentation, sensors, programmable logic controllers, industrial electronics, actuators, and control systems.
Technical specialties within the program allow you to incorporate other advanced topics such as robotics and computer networking. Our project-based learning provides graduates with the skills and abilities needed for successful careers and the tools for continued education.
About the Automation Minor
If you're curious to learn hands-on skills in both electrical and mechanical systems, and not currently majoring in electromechanical engineering technology, the automation minor is the best option for you.
Degree Requirements
For more information, and to see a complete list of degree requirements, visit the Course Catalog.
ECT 232 | Digital Circuits II for Engineering Technology
ECT 241 | Analog Devices and Circuits for Engineering Technology
ECT 351P | Contemporary Issues in Electronic Technology
ECT 355 | Industrial Electronics and Actuators for Engineering Technology
ECT 364 | Industrial Instrumentation and Sensors for Engineering Technology
ECT 365 | Automated Graphical Programming Systems Design for Engineering Technology
ECT 481P | Senior Design Project II for Engineering Technology
ECT 488 | Automation Systems for Engineering Technology
MET 363 | Machine Design I for Engineering Technology
MET 365 | Fluid Mechanics I for Engineering Technology
Through the Automation concentration, you will learn key skills to design, program, simulate, and test automated systems and programs in the engineering field. This skill will impact the efficiency of businesses and programs used on a daily basis. Learn more.
Fully Equipped Laboratories
Students in EMET have access to CETA's laboratories which are equipped with industry standard hardware and software. Our facilities include multiple electronics labs, a machine shop, an instrumentation and automated systems lab, a robotics lab, a wind tunnel, a CNC machine, and 3D printing machines. See our labs.
Career Outlook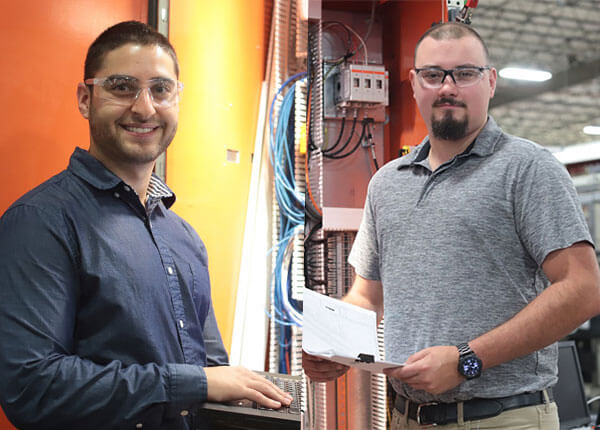 Our electromechanical engineering technology (EMET) program is designed to prepare you for career success.
Alumni move on to become members of engineering teams to help solve multidisciplinary problems in industry and government. Work in areas like electronic instrumentation, quality and testing, process control, alternative energy systems, robotics, manufacturing, automated control systems, and product sales and service with a background in electromechanical engineering technology.
Our graduates work in wide range of industries using skills ranging from basic circuit theory and complex signals to systems and project management. Companies include Goodrich, Otis Elevator, Sikorsky, and Pratt & Whitney.
As a Control Systems Engineer, I am expected to know automation processes, how to design and program complex systems, and how to implement good safety practices. The software and hands-on skills that I learned in the classroom are applied directly to my field of work. The Electromechanical Engineering Technology program that the University of Hartford offers is cutting edge with all the necessary skills that graduates need right out of college. From the thorough mechanical courses to the comprehensive electronics courses they offer; the job opportunities are endless with such a broad field of study.
Brett Yoder '19, BS in Electromechanical Engineering Technology
Mason Holt
BS, Electromechanical Engineering Technology, 2021
Holt credits the University's focus on career-readiness, including events like résumé bootcamps and career fairs, for preparing him to land an internship with Bauer.
The electromechanical engineering program offered a hands-on approach to mechanical and electrical engineering while still providing the necessary theory of mechanical engineering and electrical engineering. During my internship at Bauer, I was able to work with engineers of different backgrounds and concentrations, from electrical engineers, mechanical engineers, manufacturing engineers to even professional engineers.
Accreditation
The electromechanical engineering technology program is accredited by the Engineering Technology Accreditation Commission of ABET, www.abet.org.
As of January 2021, the program is one of 12 Bachelor of Science in Electromechanical Engineering Technology programs in the United States with ABET accreditation. Additionally, as of January 2021, the program is one of 11 programs recognized by the Automation Federation in their Automation Industry Competency Model.
Electromechanical engineering technology graduates will develop:
A commitment to lifelong learning, quality and continuous improvement through the clear ability to assume increasing levels of technical and/or management responsibility or through participation in professional societies, earning advanced degrees, receiving additional training or certifications.
The ability to contribute to engineering teams that design and/or support effective and efficient new products, systems, and processes.
Leadership skills while working on teams involved in the analysis, development, implementation, or oversight of electrical and/or mechanical systems and processes.
Upon completion of the electromechanical engineering technology program, the successful graduate will have:
(1) an ability to apply knowledge, techniques, skills and modern tools of mathematics, science, engineering, and technology to solve broadly-defined engineering problems appropriate to the discipline;
(2) an ability to design systems, components, or processes meeting specified needs for broadly defined engineering problems appropriate to the discipline;
(3) an ability to apply written, oral, and graphical communication in broadly-defined technical and non-technical environments; and an ability to identify and use appropriate technical literature;
(4) an ability to conduct standard tests, measurements, and experiments and to analyze and interpret the results to improve processes; and
(5) an ability to function effectively as a member as well as a leader on technical teams.
Electrical and Computer Engineering Faculty