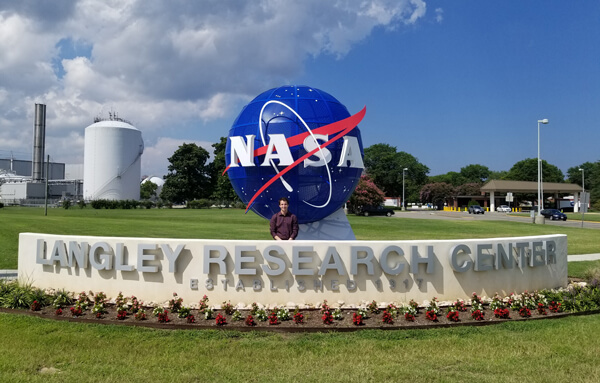 CETA graduate reflects on experience at UHart and NASA as he pursues his master's in aerospace engineering.
Dan Weitsman '19, BSME with acoustics concentration, had his eyes set on UHart for its nationally recognized undergraduate acoustics program. During his college career, he was very active within the University and the College of Engineering, Technology, and Architecture (CETA). Weitsman was a member of the following student organizations: Acoustical Society of America (ASA), American Society of Mechanical Engineers (ASME), Engineers Without Borders (EWB), Tau Beta Pi, RedTail Records, and Lighthouse Ultimate Frisbee.
It was during his time as a student at UHart where he had the opportunity to intern with NASA Langley Research Center two summers in a row. Most recently during his second summer internship, Weitsman wrote his first journal publication based on the research he conducted during the preceding summer.
He is now enrolled in graduate school at Penn State University where he is currently working as a research assistant. The primary focus of his research is to evaluate and predict the acoustic emissions of rotating systems, such as UAVs or helicopters. He says this involves developing test procedures, designing and sourcing the necessary hardware, acquiring and post-processing measurements, validating the experimental data with computational predictions, and presenting the results to stakeholders. The coursework he is also taking supplements the research by providing a theoretical background for the aeroacoustic and aerodynamic analysis of rotating systems.    
I consider the professional experiences that I have had and the people that I have been able to meet through those experiences most inspiring. If you focus on excelling in your courses and getting involved in extracurricular activities, even if they are outside of your primary field of study, excellent opportunities would find you.
Dan Weitsman '19, BSME