CETA Student Clubs and Organizations
There is a CETA club for you!
Interested in working on the next generation of robots? Want the opportunity to attend conferences and events related to your program? Interested in meeting new friends and classmates that share the same interests as you? The University of Hartford not only offers over 100 clubs and organizations, but here at CETA, you have a chance to be part of the following groups that relate to your program, dream job, and so much more!
CETA Student Ambassadors & Leadership Society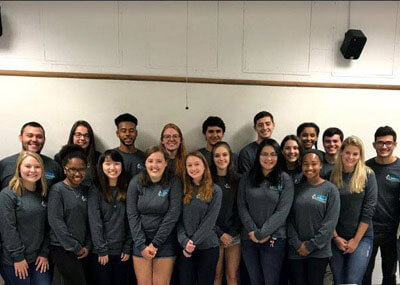 The CETA Student Ambassadors & Leadership society have a set number of goals to make an impact on the entire CETA community, including:
Promote leadership and communication skills of current women/men undergraduates in CETA.
Provide self-development opportunities for current women/men undergraduates in CETA.
Attract more prospective women students to all programs in CETA.
Build a more welcoming community for all CETA students.
Provide exceptional community outreach for all CETA programs.
The requirements, responsibilities, and benefits for being a CETA student ambassador & leadership society member include the following:
An overall GPA above 3.0.

Attend the seminar series/training sessions organized by the advisors/leadership team.

Ability to commit to at least two years of CETA Student Ambassadors membership.

Participate in at least three CETA Student Ambassadors "events" each semester. The events will vary in nature, including college tours for visitors, open house events, first year seminars, freshmen mentoring, orientation events, middle and high school outreach, for example.

The student ambassadors will receive excellent personal and professional development opportunities, develop and hone their communication and leadership skills.

The student ambassadors will have the opportunities to attend and present at regional conferences, such as ASEE (American Society of Engineering Education), SWE (Society of Women Engineers) regional conferences, or WEPAN (Women in Engineering ProActive Network).

Compensation begins Ambassadors second semester and future compensation depends on funding availability.

Mandatory training sessions are held during both fall and spring semesters –once a month and topics will be things such as:

Getting to know each other and Mission as a CETA student ambassador

Introduction to individual CETA programs

Open house, orientation, interaction with parents

Nuts and bolts in student mentoring

In-depth understanding of individual CETA programs

Organization skills, communication skills, and time management

Women in CETA, Women in STEM, team building

Leadership
You will have an opportunity to participate in the following kinds of events, interact with prospective and current CETA students, and represent CETA!
Fall Preview Days
CETA Saturday
Prospective Students Visit Days and Tours
Leadership Society Meetings and Trainings
On–Campus Receptions
Prospective Student Call Nights
Dean's Events
And much more!
CETA Clubs and Organizations
Along with the hundreds of clubs available to you at the University of Hartford, CETA is proud of the 20+ specific organizations for its students based on specific majors and interests. Learn more below!