We encourage students to study abroad during their time at University of Hartford. Whether you travel for a full semester or during a school break, you have options to explore places around the world and gain new experiences that relate back to your program and interests.
Join CETA faculty on short-term programs and visit different countries to learn about their related engineering and architecture aspects. These take place during the Winter, Spring, or Summer breaks. Travel with our various student organizations like Engineers Without Borders and you'll get to visit countries like India and Kenya each year and work on real-world projects for underprivileged communities.
Specific short term programs that have been of interest to CETA students in the past include, but are not limited to:
Architecture in Germany (Grad) in 2019
Sustainability in Germany (Undergrad) in 2019
Architecture in Peru (Grad) in 2018
Acoustics in Ireland (for Acoustic Engineering students) in 2018
Architecture in Cuba (Undergrad and Grad) in 2017
Architecture in Barcelona (undergrad) in 2017
Please note, some of our short term programs change locations every year (such as the Grad Architecture Program) or might not run every year.
Kaiti Stylianides
BSME/Acoustics, 2020
Kaiti Stylianides has participated in short-term programs in Budapest, Rome, and London, and just returned from Sicily after this semester's Spring Break. Study abroad has been her opportunity to see the world, be exposed to other cultures and perspectives she otherwise wouldn't get to know. She finds learning about life in other countries interesting as she ties different aspects back to what she's learning right here in CETA.
Study Abroad has been a rewarding experience, allowing me to connect with a diverse range of people. I also made some of my best friends on my trips, one of whom I am living with. These programs have all been through the University and I've been able to get much-needed UISA and UISC credits while doing something I love.
Visit Europe for Acoustical Knowledge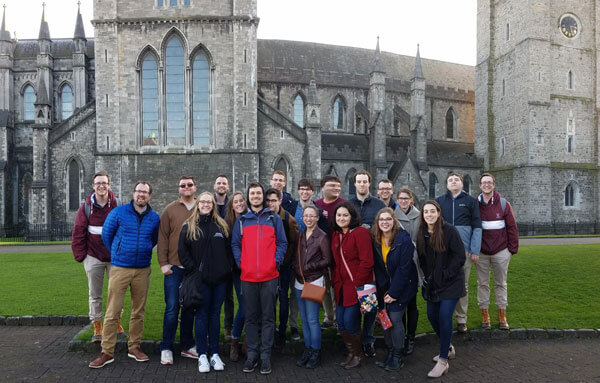 CETA Associate Professor of Mechanical Engineering Eoin King, for example, founded a study abroad course for those interested in studying acoustics, that would take place over Spring Break. He recently traveled with eighteen students to Ireland to share experiences on acoustics in the global community. Some of the activities students participated in during the trip include:
A daylong seminar with Transport Infrastructure Ireland, including a visit to a light rail depot
A daylong seminar in Trinity College Dublin, where students from both the University of Hartford and Trinity College Dublin presented aspects of their research
A half-day research seminar in University College Dublin
A guided tour of the Smock Alley Theatre, and the European Headquarters of Facebook (from the acoustical consultant who was involved in the design of both)
A day trip to Glendalough, a glacial valley in County Wicklow, renowned for an Early Medieval monastic settlement founded in the 6th century
One of the significant benefits of our students studying abroad is it places our students at an advantage in the workplace once they graduate as they will have increased understanding of international acoustics standards and practices – this is even more important today as more U.S. consultancies are operating in the international sphere.
Eoin King, Associate Professor of Mechanical Engineering
Explore Historical Architecture Around the World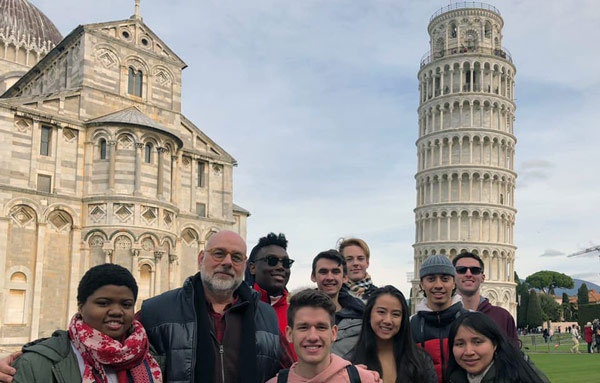 CETA Associate Professor of Architecture Ted Sawruk brought nine third-year architecture students to Italy this past spring to study in Florence, Italy for the first University of Hartford sponsored semester-long study abroad program. While Associate Professor Sawruk taught a design studio and an architecture elective through the International Studies Institute (ISI) Florence at the Palazzo Bargagli, students had an opportunity to take a various language, technical, and electric courses from the Italian faculty. While there, the group had an opportunity to visit architecture excursions throughout Italy, including Venice, Rome, and Naples.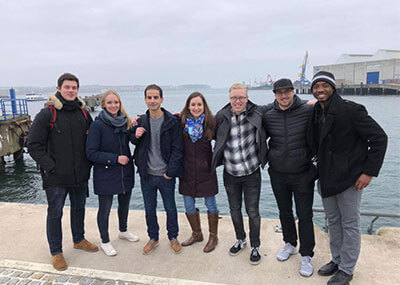 The Architecture Department also has an exchange program with the Architecture Program at Hochshule Wismar (University of Wismar) in Germany. Graduate students may apply to spend a semester at Wismar during either the fall or spring semesters. All graduate courses at the University of Wismar are taught in English. Contact Associate Professor and Architecture Graduate Program Director Seth Holmes for more information.
More Study Abroad Options
You can also participate in semester or academic year programs. These often require a bit more planning, so we recommend meeting with the Study Abroad office and your academic advisor as soon as possible. Depending on your major and interests, certain destinations can be recommended.