A Scientist in the Making, Abigail Myers Takes on Cellular Neurobiology Research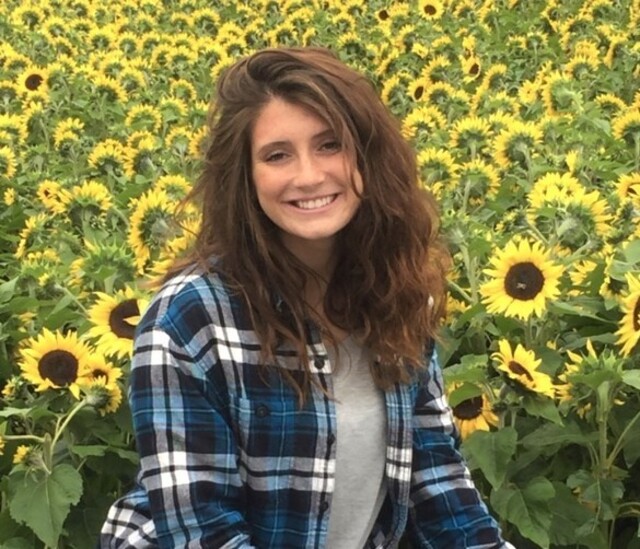 Biochemistry major Abigail "Abby" Myers '21 is working with Assistant Professor of Biology Andrew Koob on a research project to find treatments for neurodegenerative disorders such as Alzheimer's disease. Her cellular neurobiology research is centered on a protein called ApoE and involves studying the function of a specified brain cell, or astrocyte, relating to the development of the disease. 
Abby says she chose to study biochemistry because it gives her the ability to relate chemical processes to human life, and it will help her reach her goal of becoming a scientist. "Dr. Koob, is constantly providing me with new experiences and teaching me important lab and life skills," she says. Abby is planning to earn a PhD in biomedical science and says Koob has played a huge role in her decision to apply to graduate school.  
In addition to Koob, Abby says the Chemistry Department faculty are invested in their students' success and work to challenge their intellect and push them to better themselves."Dr. Krause, Dr. Gray, Dr. Pence, and Dr. Mahan have also served as exceptional mentors and have consistently contributed to my academic development." Abby's achievements were recently recognized when she was presented with UHart's Junior Regents Honor Award in the College of Arts and Sciences, as well as the Malcolm Stevens Memorial Chemistry Fund award.  
Outside of the biochemistry lab, Abby is a member of UHart's Division I Track and Field team where she is a long-distance sprinter. She also serves as a teaching assistant for an organic chemistry lab, is a member of the Student Athlete Advisory Committee (SAAC), and is a part of its Better Together and Sustainability sub-committees. "Being on the track team while studying biochemistry has actually made time management easier, as it gives me a set schedule and requires me to block out time for practice, class, and homework."
Abby also started a new club on campus with Jules Kocenski '22, Dani Rocheleau '21, and Bella Bohlen '23 called "The Hidden Opponent," to provide a platform for mental health advocacy and resources for UHart student athletes. "We wanted to create a club that would address the stigma of mental health and empower those who are struggling to speak openly to teammates, coaches, professors, or CAPS about their experiences."
When asked what advice she would give to students looking to pursue biochemistry at UHart, she encourages them to become involved on campus and to spend time with friends within and outside of their major. "Build relationships with your professors, join clubs, and attend University events. Also, remember your goal after graduation—whether it is graduate school, medical school, or a dream job. Having a goal will always help you through long days of classes and late nights doing homework!"