Bryson Owens Secures Position with Newsweek Just in Time for the Election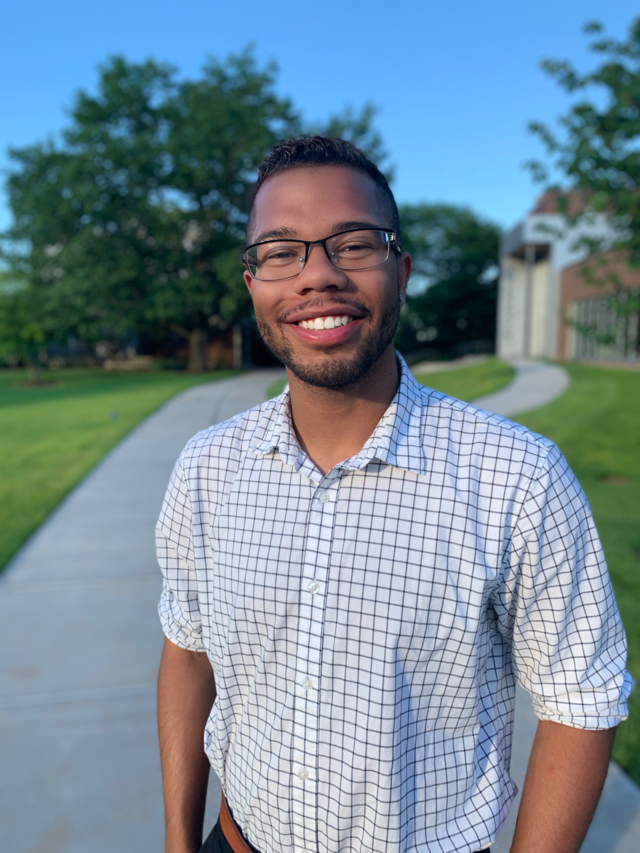 Bryson Owens '18, M '20, is working remotely as an associate video producer for
Newsweek
providing video content for its social media channels and website including the presidential and vice-presidential debates, the Amy Coney Barrett supreme court confirmation hearings, as well as election night coverage.
"My responsibilities include providing detailed and concise coverage for events and newsworthy moments related to politics, pop culture, and business," says Owens who earned both his undergraduate and graduate degrees in communication. Owens says he became interested in politics at a very young age, and as an undergraduate and graduate student, he took multiple politics and government courses that directly and indirectly intertwined with media communications. He says his final graduate project,
College During COVID
, co-produced with Bianca Ross '18, M'20, was cited as the reason his resume stood out from the others.
Watch College During COVID
Owens says their original plan was to create a micro-documentary on issues related to emerging adulthood and the mental health challenges associated with it. "We decided to switch the subject to COVID-19 and how it was affecting college students for two reasons: first it was relevant and could resonate with everyone, and second there was so much talk in the media regarding COVID-19, but none of it was how it was affecting college-aged students." 

In addition to his work for Newsweek, Owens is interning for Open Markets Institute, a non-political, nonprofit, research firm that drafts public anti-trust policies. There he oversees the organization's social media platforms, as well as produces video, graphic, and written content. Owens also manages op-ed pieces that are sent to The New York Times and The Washington Post, and he publishes bi-weekly news releases.

Originally a cinema major, Owens switched to communication with a double emphasis in Media and Journalism, and PR/Advertising. "What triggered my thirst to pursue all facets in the communication and media industry was taking courses such as: Gender/Sex in Pop Culture, Intro to Television Production, Political Advertising and Women in the Media, and Media Process and Effects. Communication Professors Karen Schermerhorn, Jack Banks, Sundeep Muppidi, and Kristin Comeforo really pushed me to think critically, be unbiased in my analysis, and see the world and how the media has the power to change it."

Outside of class, Owens was involved with the Student Government Association, serving as its second Black student body president during his final year. He also worked as a resident assistant and as a graduate assistant. "As student body president, I found my passion and voice for leading and helping others. Being in extracurriculars at the University helped me find my voice. These organizations and the people I've met, really pushed me to reach my full potential."

When asked what advice he would give to students looking for work during a pandemic, Owens encourages them to keep applying and networking. "This year has been traumatic to say the least, but as the saying goes, diamonds are formed under pressure. Don't be afraid to reach to your network via LinkedIn, fellow alumni, or even that person that sat next to you in one of your first-year courses."