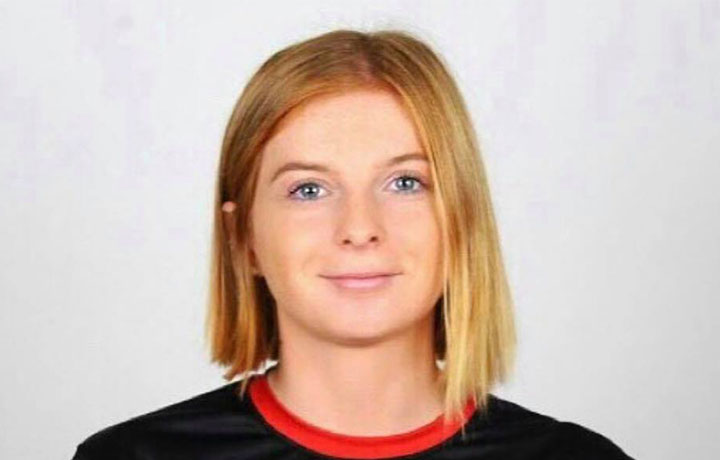 Upon graduation from the Barney School of Business, Hayley Nolan will have earned her MBA, but plans to take a non-traditional approach to starting a new career. For the past five years, she has been working towards academic success, and rather than landing an office job, she will be playing professional soccer at a club and International level with Republic of Ireland Women's Soccer team.
Hayley enjoyed her time at the University of Hartford so much so that upon completing her undergraduate work, she decided to stay for another 18 months and earn her MBA. Whether she's focusing on academics or extracurricular activities, Hayley says, "I have learned so much in my time at UHart, both in a business sense and also with my prospect of playing sport professionally."  
Nolan says she credits the staff at Barney for helping her during her college career: "Every professor I have met has been more than willing to go out of there way and give me the help, support resources I needed to succeed. I worked with a number of great professors including Professor Goldstein, Goroshko and Lilian Kamal. Their willingness to go out of their way to provide the utmost support and guidance was second to none."
The ability to network with ease and to be fully confident in herself encouraged Nolan to pursue her dream of playing professional soccer. She came across this opportunity through hard work and dedication to improving her skills as an athlete and scholar.
What advice does she have for incoming students? Hayley says that she would encourage students to get involved on campus as much as possible, "not only with Barney events/clubs, but all activities that occur on campus."  Once she decided to go outside of her comfort zone and get involved with the University, Nolan realized that "I fully enjoyed everything and I met some wonderful people that I can network with for the rest of my life."
I do not think I can put into words how much I have enjoyed my time here at UHart.
Hayley Nolan, MBA '20