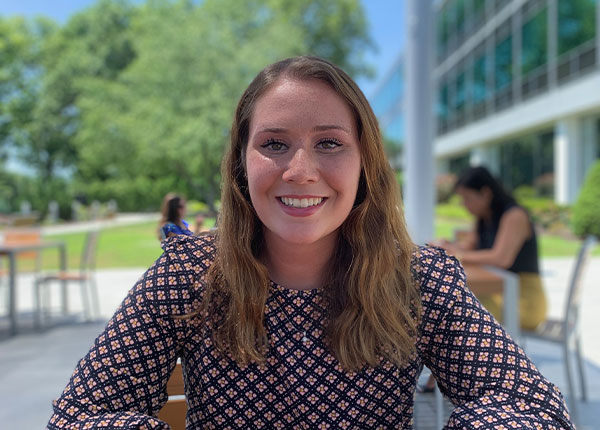 Barney School of Business is one of the leading business schools in the country. Graduating senior, Nicole Etta, made the most of the opportunities presented by Barney and was hired for a full-time position before graduating. She will be working at Cigna in their Risk Management and Underwriting Leadership Development Program.
Nicole interned for 10-weeks last summer at Cigna. She says, "I loved everything that I was doing. I knew after the internship that this is something I wanted to do." Her work in the classroom prepared her for the profession she wanted to pursue.
Etta took her first insurance class with Professor Goldstein and says, "I knew right after that this was something I wanted to pursue. Professor Goldstein was appointed as my advisory and always helped steer me in the right direction, even if I had no idea what that entailed!"
In addition to Professor Goldstein, Nicole worked with Professor Thomson to write an article for Captive Insurance Company Reports ("CICR"). Her article was based on the Cyber Vulnerabilities in the Healthcare Industry. She was able to become a published author during her time at UHart, something she never thought she would have the opportunity to do.
According to Etta, "I learned a lot of valuable information during my time at UHart. All of my business professors helped push me out of my comfort zone. Without UHart, I never would have gotten to where I am today."
It wasn't just the lessons and connections made through her academics, Nicole enjoyed the social aspect of her time at UHart as well. She "met so many incredible people while I was at UHart." Etta created lifelong connections, for which she is extremely grateful. "Choosing UHart turned out to be the best decision that I could have made," says Nicole.
When asked about her favorite thing at UHart, Etta says it is the close community. "Everyone knows each other and is always willing to offer a hand. I never felt as if I was alone or struggling because I knew that someone always had my back," she commented.
Nicole encourages new students to be open to change. Etta adds that "it is going to be scary and uncomfortable at first, but you will soon realize that these are the best times of your life. Don't take it for granted."
Thank you UHart for all that you've given me.