Creating Collaborative Partnerships
Through the ERASING THE LINES Project, Hartt faculty and students collaborate to create new works
In partnership with The President's Commission on the Status of Women, Hartt faculty members Carrie Koffman, Gilda Lyons, and Stephen Pier recently worked to curate a concert of premieres entitled Erasing the Lines. The project was scheduled to be presented in Joseloff Gallery in April 2020, but due to Covid-19 the work was performed remotely. Erasing the Lines aimed to include collaborative works of composers, performers, and dancers.
Selected composers, performing-musicians, and dancers were matched in early fall. The groups worked closely to engage in some way with the concept of gender and collaborated throughout the year to workshop and develop the piece in preparation for the performance.
Flexible Reveal, is a piece that resulted from this project with music by Christie Echols '20 and choreography and dance by current dance student Colby Connelly.  This piece is a story about individuals discovering their gender identities while fighting societal pressures, staying strong and true to who they are, and ultimately showing that your actions, not your gender, define who you are as a person.
We wanted to open up the conversation and to create a project that would be driven by collaborative partnerships; a performance of new works written by Hartt composition students for Hartt performers.
GIlda Lyons, Assistant Professor of Composition
More about Christie Echols

Christie Echols is a double bassist, electric bassist, composer, and singer specializing in contemporary music and extended technique while remaining active in the worlds of orchestral, chamber, musical theater, and jazz performance. Christie has commissioned, premiered, and written new works for double bass and voice and is passionate about new music; her performance of Caroline Louise Miller's "Hydra Nightingale" for solo bass was featured at the 2019 International Society of Bassists Convention. Appearing regularly as bassist with ensembles, bands, and jazz combos, Christie has performed with the Amarillo Symphony, Midland-Odessa Symphony, Jim Laughlin Quartet, Austin Brazille Jazz Trio, and Foot in the Door Ensemble. In 2016, Echols won the Ernst Bacon Memorial Prize performing Libby Larson's "Four on the Floor" for piano quartet; as a member of 208 Ensemble, Echols was featured at Treefort Music Fest performing Missy Mazzoli's "Magic for Everyday Objects." Echols received her Bachelor of Music in Performance from West Texas A&M University studying under Dr. Nicolas Scales. As an undergraduate she was awarded the Paul Tillotson Jazz Scholarship and the Idaho Jazz Society's Rachael Loehr Friesen Award. As a bassist, her summer festival experience includes work with Gary Karr (Karr Kamp) and Andy Butler (Sun Valley Summer Symphony); as composer she has attended Wintergreen Summer Music Festival. She received her Master of Music from The Hartt School in May of 2020. She is a student of Robert Black and Gilda Lyons.
More About Colby Connelly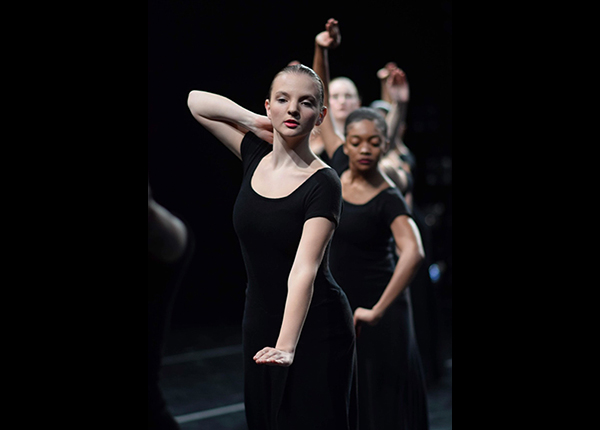 Colby Connelly is from Middetown, CT and is pursuing her BFA in Ballet Pedagogy at The Hartt School. She began her most serious training at Greater Hartford Academy of the Arts and has performed works by Martha Graham, Jose Limón, Lar Lubovitch and many more. When she has completed her degree, she hopes to perform professionally, choreograph, and teach students of all ages.