Research and Real-World Experience Prepares Biology Student for Pharmacy School and Beyond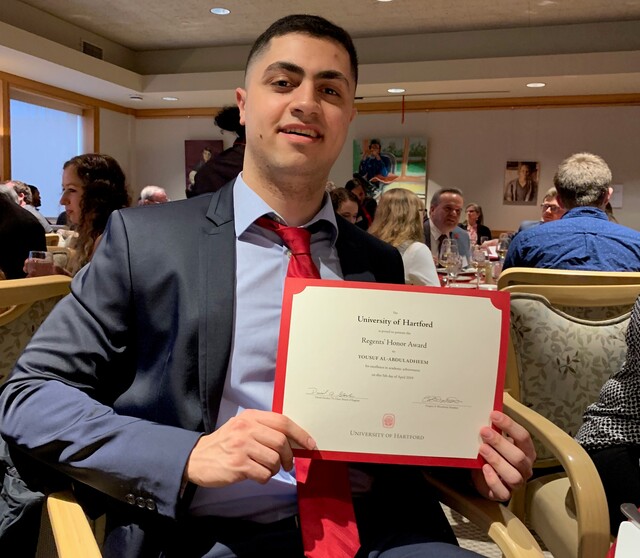 Yousuf Al-Abduladheem '21 is heading to the University of Pittsburgh's School of Pharmacy to pursue a Doctor of Pharmacy degree. An international student from Jordan, he is graduating from the College of Arts and Sciences with a Bachelor of Science in Biology and minor in Chemistry. Yousuf says his dream is to eventually attend medical school and he's made countless strides toward this goal by doing academic research with professors and getting hands-on experience outside of the classroom.
Yousuf decided to attend UHart after receiving the University's King Hussein Foundation Scholarship which is awarded annually to one student from his high school who excels in academics, athletics, and community service.
The University of Hartford has presented me with a golden opportunity to grow as a person and a professional through its innovative student programs.
For the last three years, Yousef has been a member of Associate Professor of Biology Yingcui Li's research team that is studying osteoarthritis by removing the gene Has2 from genetically engineered transgenic mice. Without the presence of this gene, there would be a disturbance in the cartilage development of the mice and the ability for their cells to self-regulate for survival, which are characteristics of osteoarthritis. Through this research, Yousuf and the team are looking for evidence on the effect of hyaluronic acid on cartilage degeneration in osteoarthritis.

He also got hands-on experience by volunteering at the Mariam Clinic and at Spectrum Family Medical in Cary, North Carolina. Both provide free healthcare those who cannot afford adequate medical care or do not have health insurance. "I was responsible for taking patient vital signs such as temperature, respiratory rate, pulse, blood pressure, and weight, and recording and communicating relevant patient information to the physician," he says. "I was exposed to various medical conditions and learned how to approach each case in an appropriate manner."  Yousuf also worked at a pharmacy in Jordan during the summer of 2019 and helped teach Introduction to Biology and Anatomy and Physiology lab courses at UHart.

Yousuf received the Regents' Honors award in 2019, and that same year was named  Greek Scholar of the Year. Outside of his tremendous academic achievements, Yousef is also part of Alpha Chi Honor Society and has held the position of New Member Educator for the Alpha Sigma Phi fraternity.

He admits being an international student is challenging. "The process of social integration, the cultural and societal shocks, and the separation from family and friends are all factors that influence the progression of an international student in college," he says. "But UHart helped make the transition smoother due to the resources and support I received."

Yousuf says he is thankful for the Biology Department and UHart faculty members Andrew Koob, Yingcui Li, and Claudia Oakes who were extremely supportive and resourceful during critical times of his college career. When asked what advice he would give to incoming students, Yousuf recommends they take their time and carefully think about the type of degree they want to pursue. "Undergraduate studies provide a crucial experience for students to develop inside and outside of the classroom, so take advantage of every opportunity and resource."