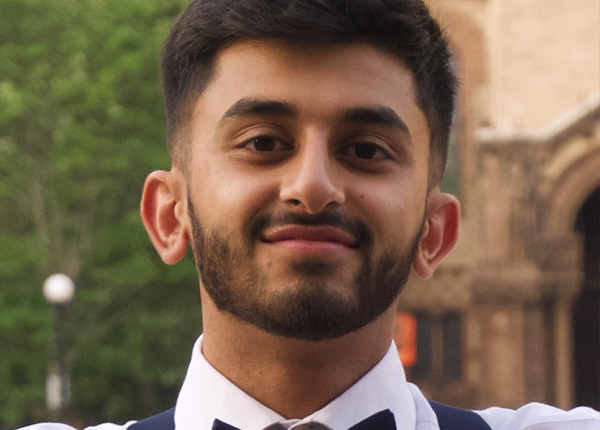 Ahmed Javid '21, a biomedical engineering major, is making an impact on the COVID-19 pandemic at his summer internship. He is working as a compliance engineering intern in the Quality & Regulatory Affairs department at the nonprofit, start-up medical device company The Ventilator Project (TVP) in Boston Mass. TVP is addressing the worldwide ventilator shortage due to COVID-19 and is creating a cost-effective, easy-to-use ventilator that can be manufactured and distributed worldwide under the FDA Emergency Use Authorization for COVID-19.
Javid's role is to ensure the ventilators are compliant with global standards so that the team at TVP can manufacture and distribute functional, safe, and reliable ventilators at a much lower cost worldwide. He was extensively involved in testing and verification of the ventilator to ensure it was compliant with global medical equipment standards. He also had to come up with testing procedures and writing test reports. Javid discovered this internship through LinkedIn towards the end of May. After applying, he got a phone call and did an impromptu interview with compliance engineers. "They asked me to start the very next day so it was a quick transition!" he says.
Not only does the internship tie well into Javid's dream career, but it is also very timely. He is making an impact to help in the fight against COVID-19. "This experience means a lot to me because those who are healthy during a pandemic owe it to those who are sick to help them," Javid says. "It would be selfish of me, as a biomedical engineering major, to sit back and watch people die from a virus because there's a shortage of ventilators."
The CEO of TVP, Tyler Mantel, addresses the ventilator shortage by saying, "How can we make sure that human lives aren't dependent on doctors sitting in a hallway and deciding which patient dies?" The goal is to save lives and provide critically ill patients a chance to fight this invisible enemy. Javid says his goal is to ensure they succeed.
I decided to pursue a biomedical engineering degree because I am interested in how to innovate and improve medical devices and adhere to patients' needs. This internship was my first taste at the medical device industry and I have realized this is definitely where I want to be in the future. I am so excited to see where this degree and knowledge will take me as I head into my senior year.
Ahmed Javid '21, biomedical engineering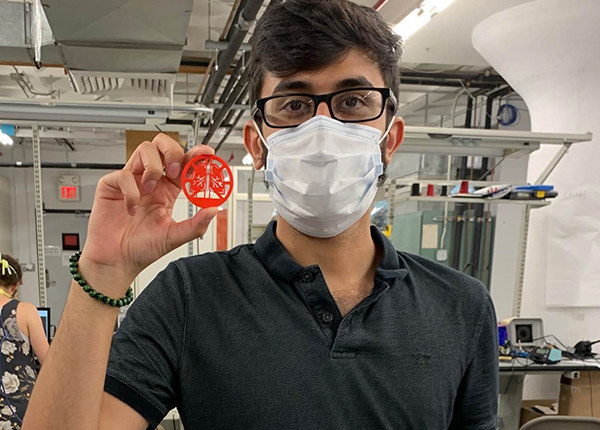 Javid chose to attend UHart because of its small size and location. He was torn between attending college in Connecticut or staying hear his hometown in Massachusetts. "I am very glad I made the decision to come to UHart," he says. Since enrolling at the University, Javid has been involved in associations that he is passionate about, the Biomedical Engineering Society and Muslim Student Association. He served as the president of both organizations during his junior year. As he enters his senior year, he will be working as an RFA (resident facility assistant) as a student leader working for facilities in campus housing. 
Javid credits much of his success to influential biomedical engineering faculty, assistant professors Takafumi Asaki and Mary Arico. "They have always guided me towards the right direction and have given me opportunities to excel in my studies and future career," he says.
When asked what advice he would give to incoming students, Javid highly suggests "joining clubs and running for e-board positions because you gain a ton of interpersonal and leadership skills that will benefit you in the real world." To students interested in the biomedical engineering program at UHart who may also be interested in working in the medical device industry, Javid also suggests "paying good attention to circuits, materials, and electronics in biomedical engineering classes. This information is vital out in the field and you will need it."