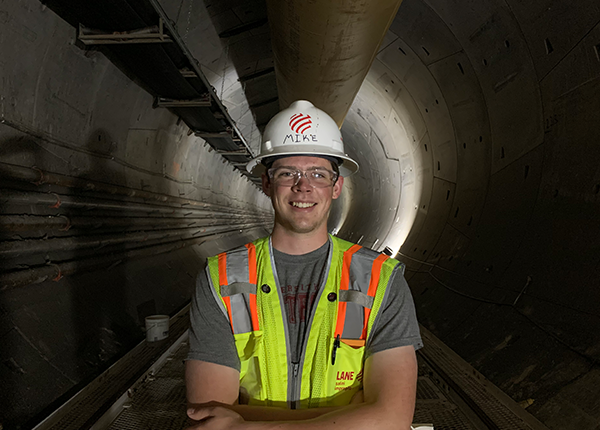 Mike Gudeczauskas '21, a rising senior majoring in civil engineering with a concentration in construction management in the College of Engineering, Technology, and Architecture (CETA), has returned to Lane Construction, a subsidiary of Salini Impregilo, this summer for a second internship.
Gudeczauskas worked as an engineering intern there last summer in its headquartered office in Cheshire, Conn. His work involved calculating estimates for a rail yard expansion in downtown Los Angeles, the Purple Line Metro project just north of Washington D.C., and a highway/bridge renovation for Providence, R.I. "Most of the estimates involved taking quantities based on design plans for various items on the project," Gudeczauskas explains. "I had to work with and learn from the other estimators to complete most of the tasks assigned. The other estimators taught me how to approach what may seem like a large task and break it down in an orderly method." 
This summer, Gudeczauskas had a chance to finally get out in the field for a new hands-on experience. Since last summer's internship consisted of mostly design-based office work, his internship mentors wanted him to get out on a job site to get a better feel for civil engineering. He is currently working on the Northeast Boundary Tunnel Project in Washington, D.C. He is working with the Tunnel Boring Machine (TBM) shift engineers and the tunnel superintendent, both on the surface and in the tunnel. "Most of my tasks include taking inventory of the site and calculating how much material is required to complete the project, tracking how time was utilized on the shift, and doing quality control inspections on the tunnel ring construction with the TBM Shift Engineers," Gudeczauskas says. "So far, I have applied a large amount of what I learned in professor Keshawarz's Geotechnical Engineering I class to have a better understanding of the tunnel construction."
Gudeczauskas is pursuing a degree in civil engineering because he sees himself having a true career path in the industry throughout his lifetime. "It is one of the few career paths that gives you an option to be moving around all day while you're young," he points out.  "As your career advances, you still have an option to have a less mobile job and do design work."
When asked why he chose to attend UHart, Gudeczauskas wanted to attend a school that had connections with professionals. Thanks to many of his faculty, CETA, and UHart, he had the opportunity to meet many individuals from the industry through multiple career and networking events, which led him to the opportunities he has now.
He especially thanks Professor David Pines, who also serves as associate dean for student support, for organizing a civil engineering networking dinner every year for students to meet professionals; Applied Assistant Professor Todd Brown for organizing various field trips to different types of construction sites; and Assistant Professor Takafumi Asaki for his guidance and support.
After attending a few of UHart's open house events, it was clear to me that their main goal was connecting students with professionals. This would lead students to obtaining internships and eventually jobs after they graduate. Also, the professors in every department seemed very determined on helping their students gain experience while still in school.
Mike Gudeczauskas '21, civil engineering
Gudeczauskas is also very involved on campus. He will serve as president of UHart's American Society of Civil Engineers (ASCE) chapter for the 2020–21 academic year. He is thankful for Professor Saleh Keshawarz and Associate Professor Ted Sussmann for working with ASCE to help establish connections between himself and the professional world. Gudeczauskas also serves as an ambassador on the CETA Ambassadors and Leadership Society, helping incoming CETA students adjust to college during their first year.
When asked what advice he would share to incoming students, Gudeczauskas encourages getting involved, especially in clubs and organizations related to your major. "Many of my friends at UHart have gotten internships and job offerings from attending events held through these clubs and organizations," he says.  "It truly is a valuable experience."