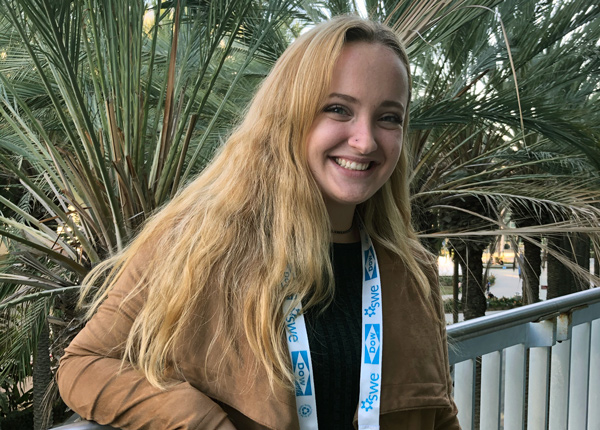 Sydney Lewis '22, a civil engineering major with environmental engineering concentration and minor in psychology, has been grateful for her experiences since joining UHart. She recently accepted a job offer at the start of her senior year as a staff engineer 1 in the Water Business Line for consulting firm Tighe & Bond. She will begin the role shortly after graduating in the spring.
Lewis' work ethic is second to none. Before heading back to UHart for her senior year, she returned to Mott MacDonald as a civil intern in their water/wastewater sector over the summer of 2021. Her role served as a continuation of the work she did at her first internship with the company back in summer 2019.
"I was very excited to have been part of this company and be able to contribute my hands-on knowledge of how plants run and need to be maintained," she says. "I noticed how much I applied the knowledge I've gathered so far in my courses by my ability to perform some calculations or produce some computer drawings when necessary."
Along with the new skills she gained from her internship experience, Lewis set herself up for true success going into her senior year. The N.J. native is serving as the president of the Society of Women Engineers (SWE) UHart chapter. She is also continuing her roles as a CETA Leadership Society Ambassador, a Customer Service Representative within the Center for Student Success, a member of the LEAD class of 2022 cohort, a Physics Lab Instructor, and a member of the Ultimate Frisbee team. In addition to her involvement, she is working on a semester-long research project for the Connecticut Department of Transportation on bridge conditions within the state. She also plays an active role in the American Society of Civil Engineers (ASCE) club and Tau Beta Pi, The Engineering Honor Society. Finally, she received the Dean of Students Recognition of Service Award in the spring of 2020 for her academic achievement. Her involvement in CETA and at UHart has paid off as she has made meaningful connections with her faculty who have introduced her to professionals from industry. Her club involvement has also given her the chance to network at different events across the country.
Lewis chose to attend UHart for many reasons, but what has stayed true for her is the different resources and opportunities available to her at the University. She is still fascinated to be surrounded by people of many interests and majors. As a comprehensive and diverse University, Lewis has enjoyed meeting people from other Colleges and organizations on campus outside of her own program.
The LEAD Program as a part of the Women's Advancement Initiative was something that intrigued me in being able to develop my professional skills throughout my college career. Another thing that interested me was my ability to be a part of Residential Learning Communities within Hawk Hall. Being able to work closely with students on my floor on a Leadership project, brought us together in a way that made living away from home much easier. In fact, I still consider many of these Hawk Hall students from freshman year to be my best friends.
Sydney Lewis '22, civil engineering
It was a conversation with her advisor and professor David Pines last year that led her to start thinking about her career interests. Pines referred her to speak with Applied Assistant Professor Todd Brown about his industry experience with water treatment. "Professor Brown and I bonded right off the bat, sharing a common interest in pursuing engineering in order to make a difference in other people's lives," says Sydney. Although she was only in her first year here at UHart, Lewis was eager to begin networking with professionals and explore internship opportunities. It was Brown who connected her to an engineer he used to work with that worked only fifteen minutes away from her house. After an interview over winter break, she landed the role of plant intern with the Northwest Bergen County Utilities Authority during the summer of 2019. Over the course of five weeks, she shadowed and performed necessary tasks within the incineration, collections, and operations departments, as well as worked in their laboratory where she learned and performed required tests. "I was taught all government-orchestrated tests on the water as it passes through that must be conducted in an allotted amount of time according to New Jersey standards. By the end of my time in that department, I was able to run nearly all the tests on my own. Throughout my experience, I was able to gain knowledge of the maintenance and operation of a wastewater plant after a system is installed. Therefore, in addition to learning all aspects of the job through communication with workers, it was advantageous in understanding how things operate once engineers implement designs," says Sydney.
Her internship with Mott MacDonald was made possible through another connection with Todd Brown and the SWE organization. While attending the career fair at this past year's National SWE conference, she was able to network with various companies that were relevant to her discipline in engineering. There is where she met the recruiter from Mott MacDonald who also knew Brown, which gave Lewis an advantage when it came time to review for potential interns. She was recommended to apply for the position and had an on-site interview with a man who had previously worked alongside Brown.