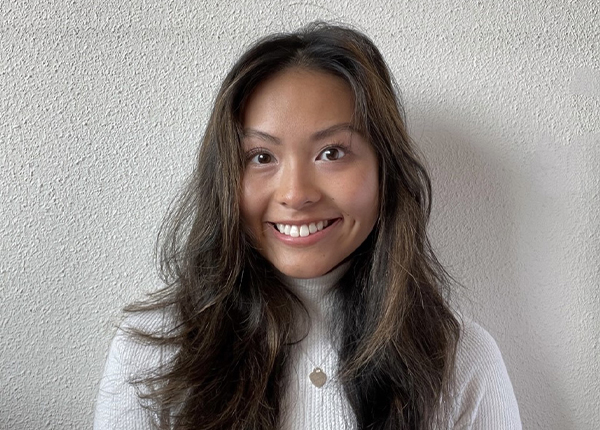 Danni Keating '23, Risk Management & Insurance major, is currently a senior enrolled in the Barney School of Business 3+1 program. By May of 2023, she will have completed several internships, studied abroad in the Netherlands, completed her MBA in International business, and prepared to begin the full-time job she has already lined up after graduation. Her dedication to her major, along with opportunities outside the classroom and Barney guidance, have all allowed her to reach her highest potential.
What inspired Danni to focus on insurance & international business? She has always dreamt of traveling for a living. Spending the past two years studying abroad at the Vrije Universiteit Amsterdam also heightened this interest. Studying abroad was an experience that has been life-altering as well as useful for when international travel becomes part of her professional world. "It was a time that I really found myself and what I wanted for my future self," she reflects. 
"UHart's professors are hard to beat,'' Danni says. She credits Professor Ken Goldstein for sparking her interest in this career path. "He was a terrific professor at Cyber Insurance. I took it online with him, and although it was only seven weeks, since it was an MBA-level course, I was able to learn so, so much." She continues, "Professor Thomson was incredibly knowledgeable in his area of expertise and was so helpful to the point that he was able to help me land an internship last winter that ultimately helped me land the PMDP internship at Travelers." One of her favorite aspects of the Barney school is that the small class sizes allow for professors to express how much they care about each individual student.
Danni also advises all business students to take advantage of the 3+1 program to set them apart from others. She explains, "It puts you ahead of regular Bachelor students and makes you stand out to your future employers. Plus, the small cohorts give the students a great chance to connect with their professors." Danni's eagerness to attend networking events and hold positions in various clubs allowed her to step out of her comfort zone and excel at her leadership skills.
Post-Graduation
Danni's most recent internship with Travelers allowed her to take advantage of the Product Management Development Program (PMDP). This Internship position blossomed into a great return offer from the company. Danni is confident and prepared to take on the position of pricing analyst once she graduates this spring.
Go for the opportunity! These 4 years will really fly by- just like everyone has told you. Make the most of it, don't be scared and think that it is not feasible because anything is possible if you put your mind to it.
Danni Keating '23, Barney School of Business