Barney School of Business
3+1 Accelerated Business Program
Our 3+1 Accelerated Business Program puts you in a position to start your career sooner. Earn an undergraduate degree and your MBA in just four years!
About the Program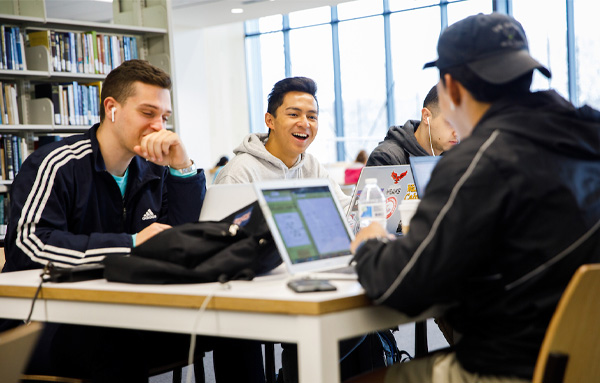 Choose from one of our eight undergraduate majors and complete the coursework for a Bachelor of Science in Business Administration in just three years. Take an accelerated schedule that includes Summer and Winter term courses. Then, move immediately into the full-time MBA or MS in Accounting and Taxation.
You will be part of a learning community with other students in the 3+1 Accelerated Business Program, and you'll have a dedicated advisor to support you throughout the completion of your degrees.
Being a 3+1 student, I've become more motivated to take on challenges that may seem intimidating at first but are very doable. What I like best about the 3+1 program is that it has taught me to use my ability to take on and succeed at new challenges, which is something I had not known about myself prior to joining the program.
Samuel Coates '22, M'23, 3+1 program, Business Analytics & Managerial Economics and MBA
Tuition
Our 3+1 students automatically 
qualify for the 25% tuition discount program for your fourth year through the Hawk Alumni Scholarship. 
Admissions
We are looking for motivated, high-achieving, first year students. Students participating in our accelerated programs are typically in the top 25% of their high school graduating class and have scored a minimum combined score of 1200 on the SAT.
Apply to the Barney School of Business by visiting hartford.edu/apply or through the Common Application. Your application will automatically be reviewed for consideration into the 3+1 Accelerated Business Program.
Jessica de Atienza '21, M'22, 3+1 Program, Finance and MBA
Finance Leadership Development Program Participant at Travelers
Being in the 3+1 program has changed my life. It pushed me to accomplish things that I could only dream of, and it challenged me to achieve my goals. At 20 years old, I will have finished my courses for my bachelor of science in business administration, started my master's of business administration, and accepted a full-time offer to work at Travelers.