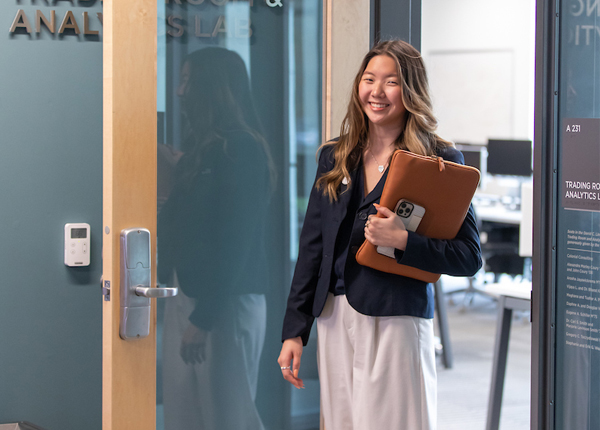 We offer nine majors and fourteen minors in all areas of business and one post-baccalaureate certificate in sports management. We support your career goals with a core business curriculum and a required internship. 
By the time you graduate with your Bachelor of Science in Business Administration, you will be well-versed in the world of business and have a chosen career path, real-world experience on your resume, and resources available to help you find a job. Learn more about our career-ready program!
Undergraduate Majors and Minors
Degree types are denoted as M for majors, m for minors, and c for post-baccalaureate certificate.
This professional major prepares you for entry-level positions in public accounting, management accounting, and financial management.
The Minor in Actuarial Science, which is administered by the Department of Economics, Finance, and Insurance within the Barney Business School, is available as an elective to students who are enrolled in any bachelor's degree program at the University of Hartford. This minor complements a number of major fields such as mathematics, statistics and probability, finance, and economics. It is intended to prepare students for work in insurance companies, banks, investment firms, government work, hospitals and business firms where there is a need to weigh the financial consequences of risk. The Minor in Actuarial Science prepares students for taking actuarial examinations of the Society of Actuaries (SOA).
Businesses are increasingly looking for new employees with strong foundations in data analytics, economics, and business administration. Gain the skills you need to fill these jobs.
If you are planning to study something other than business at the University of Hartford, consider adding a minor in Business Administration to enhance your degree. Courses in finance, economics, and marketing will give you added skills and knowledge to help you in your future career, no matter what you choose.
Digital marketing is a fast-growing area in marketing and the content in digital marketing is dynamic and constantly changing. This minor will equip students with theoretical approaches and a framework applicable to current and future digital marketing channels and the hard skills to use digital marketing technology.
This interdisciplinary major focuses on the tools you need to start a business, manage a small business, expand a family business, lead innovation efforts in a corporate environment, or become an effective manager in a fast-growing enterprise.
A solid base in economics and finance is a valuable background for any business professional. Develop your program based on your career goals.
The International Business (Minor) builds global leadership skills that allow students to assess the complex problems in global business settings and implement effective and innovative solutions. Students choosing the minor will develop a greater appreciation of the relevance of differences in political economy and culture across countries and regions to the globalization initiatives of the multinational enterprise.
Develop knowledge of people, teams, and organizations. Prepare for a career as a leader in for-profit and not-for-profit organizations of all sizes.
Learn all aspects of marketing, including consumer behavior, marketing research, and sales management. Put your skills into practice through a capstone course in Marketing Strategy.
The BSBA with Project Management Minor program combines project management technical competencies with behavioral (e.g. leadership, team development, etc.), and strategic awareness competencies that formulate a holistic approach to project management.
This majors covers the identification, evaluation, mitigation, and financing of risks faced by businesses and individuals alike. Gain industry-focused knowledge and prepare to become a business leader and decision maker.
The sports management program will prepare students with the analytical and technical skills necessary to succeed in a broad array of career paths in the sports industry. Students will develop managerial skills through specialized classes and hands-on experience. A variety of sports-related electives offered by different colleges within the university will allow the students to tailor to their specific sports interests.  
Learn how to create business value through the coordination of processes and resources across multiple entities. Students will gain analytical skills in the design, planning, analysis, execution and control of the sourcing, production, storage, and delivery activities of products from point of origin to point of consumption.
Contact Us
If you have any questions about the programs or you would like to schedule a 1:1 virtual visit, please feel free to contact our admission team at admission@hartford.edu! Or chat with us using the yellow "ask us" button on the admission homepage. We will be live Monday—Thursday, 8:30 a.m.–4:30 p.m., and Fridays, 8:30 a.m.–3:00 p.m.