Dual MS in Organizational Psychology/MBA
Through a partnership with the College of Arts and Sciences and the Barney School of Business, you can earn your master's degree in both Organizational Psychology and Business Administration.
You pair an increased business acumen with an in-depth knowledge of people in organizations. This program helps you understand the research and data processes that support and drive best practices in organizations, and connects you with high-quality faculty and alumni networks in both the Barney School of Business and the College of Arts and Sciences.
This 60 credit program is 12 fewer credits than if you pursued both degrees separately.
Quick Facts
60 credits (20 courses)
Part time or full time
Courses offered during summer, fall, and spring semesters (winter optional)
Program can be completed with a mix of on-campus and online courses
Rolling admission
Degrees can be earned in three years
Applicants complete one application
Applicants must be accepted to the College of Arts and Sciences and the Barney School of Business
Read more in our Course Catalog
About the Program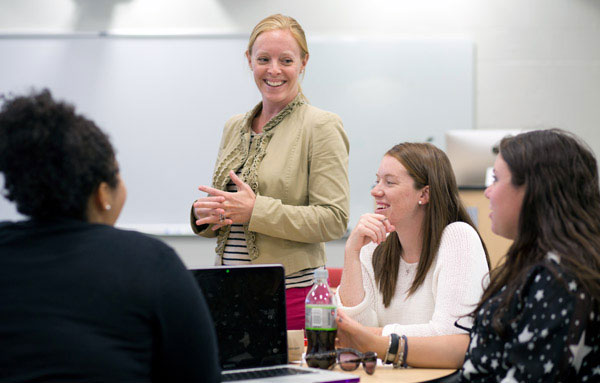 This unique program is intended for working professionals who wish to combine their interest in psychology and management as it applies to organizational science and practice.
The MSOP curriculum prepares you to lead, manage, and/or consult with dynamic and diverse organizations operating in a global environment, while your MBA courses give you the knowledge, skills, and values you need to become a successful manager.
This dual degree will help you stand out among your peers.
Degree Requirements
The Dual MSOP/MBA program is a unique 20 course (60-credit) program requiring 10 courses each from the MS in Organizational Psychology and MBA programs. The MSOP side of the dual degree has 5 core requirements (15 credits), including a Capstone project (open to all) or internship (on-campus students only), and 5 electives, one of which may be taken in the Barney School of Business. The MBA side of the dual degree has 9 core required courses and one elective. Courses taken within the College of Arts & Sciences are charged at the A&S per credit graduate tuition rate and courses taken within the Barney School of Business are charged at the Barney per credit graduate tuition rate. Current graduate tuition rates by College can be viewed Graduate Tuition and Fees page.
For more information, and to see a complete list of degree requirements, visit the Course Catalog.
You must complete the following four courses, as well as an internship or capstone project:
Experimental Design
Introduction to Industrial/Organizational Psychology
Personnel Psychology
Advanced Research Methods
Choose from one of the following:
Capstone Project
Internship in Organizational Psychology
A total of 27 credits is required. Examples of core courses include:
Managerial Statistics and Analytics
Economics for Managers
Accounting for Decision Makers
Corporate Financial Strategy and Valuation
Organizational Leadership
No more than two courses (6 credits), pre-approved, from the MSOP program may be applied toward the MBA degree. One course (3 credits) must be an MBA elective.
Electives are non-required courses in both programs.
Application Process
Applicants complete one single application, but must be accepted to the graduate programs of both the College of Arts and Sciences and the Barney School of Business. The following is required:
A $50 application fee
A letter of intent and provide your current resume
Official transcripts of all previous baccalaureate and graduate study
GMAT test scores if applicable* or GRE
Three letters of recommendation from academic or professional reference
GMAT waivers based on substantive work experience may be granted in extraordinary circumstances.