Scholarship Recipient Appreciates Opportunities for Continued Growth and Achievement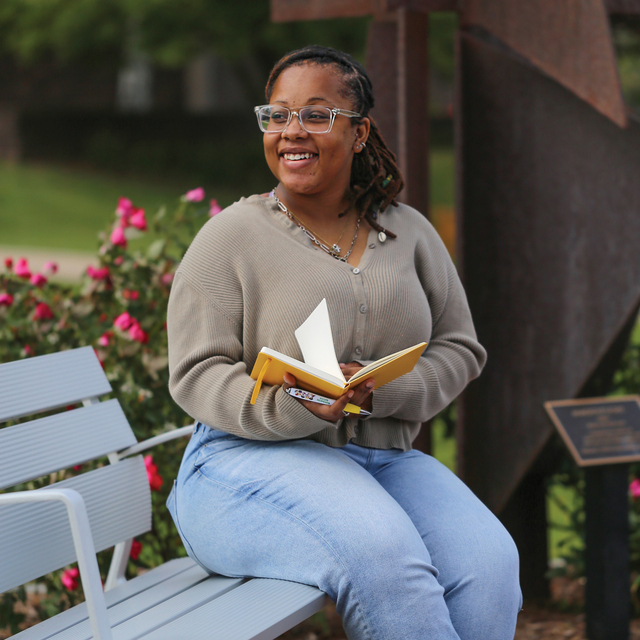 Deja George '24 is finding both educational and scholarship success in the College of Arts and Sciences while she pursues a double major in philosophy, and politics and government. As a high school senior, Deja was invited to compete in UHart's Scholarship Competition for National Honors Recognition for accepted students with high academic success. Deja won one of the full-tuition scholarships and admits she didn't expect to be one of the winning applicants and didn't even know much about UHart at the time. "It was an eye opener for me to see the opportunities at hand that the University of Hartford offers its students," says Deja who made her decision to attend UHart after receiving the scholarship notification in the mail. 
At UHart's Scholarship competition, Deja got the chance to meet with many faculty members, some of whom became her professors, including Associate Professor of History and Philosophy Rochelle "Shelly" DuFord who interviewed Deja for the scholarship. "My interview with Dr. DuFord made me feel like I belonged," says Deja. "From the moment that we met, her caring and understanding approach to teaching has welcomed me." DuFord taught Deja's first philosophy class and is now her philosophy academic advisor and continues to guide her every step of the way.  
Deja is excelling in the philosophy program's new concentration in philosophy and social justice which includes courses from the interdisciplinary minors in Africana studies, environmental studies, and gender and sexuality studies. Students in the concentration learn about the causes of inequality and injustice, and how to apply moral and political philosophy to these issues.
Although the department is small, the breadth of knowledge shared by the professors has provided me with an intimate and valuable environment for learning. My interest in social justice and ethics is highlighted in my philosophy major, and my politics and government major will give me the tools to apply these interests in law and policy reform. The elements of critical thinking and social awareness coupled with an understanding of law and politics will help me to become a civil rights attorney that is able to best serve people who look like me.
Deja George '24, Philosophy, Politics and Government
Deja says her favorite aspect of UHart is the community. "All of the people that work here are extremely kind and helpful," she says. "Every person in our community works to help each other and make our campus better." Deja also contributes to UHart's strong community by being a student ambassador for the College of Arts and Sciences and is the Chief of Staff of the Student Government Association. She says both these experiences have brought her great friends and the opportunity to connect with more people.

After college Deja plans to attend law school and become a civil rights attorney. She says UHart is helping her in achieving her goals by giving her all the tools she needs to take the next step. "UHart is helping me to apply for internships, build my professional portfolio, and acquire all the skills to help me prepare for law school."