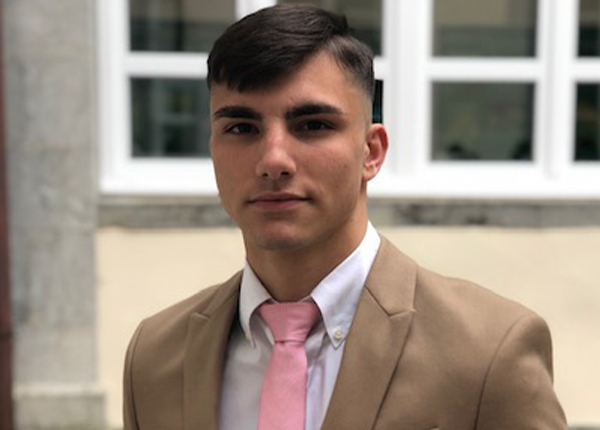 Dario Cavada '23, M'24 is a sophomore from Spain and is enrolled in the 3+1 Accelerated Business Program in the Barney School of Business. He is currently double majoring in management and in business analytics and managerial economics, with a minor in international business. It doesn't stop here. He balances all of these educational responsibilities while also proving himself to be a key contributing player on the University of Hartford men's soccer team.
Soccer
Being a member of the men's soccer team isn't an easy task. Completing work for his double major, working out countless hours of the week, and traveling for games creates some constraints for dedicated individuals like Cavada. "It requires a series of skills that you must adopt, such as time management, because you must organize yourself properly to perform all your tasks since sports, practice, and competition take a lot of your time." Unlike many students, Cavada is able to find a balance between all his responsibilities by appropriately managing the limited space in his schedule.
 
Experiential Learning
On top of this, Cavada worked as an assistant CEO for WLEgroup from January 2020 to June 2020. This organization assists young student athletes around the world by offering them the ability to study abroad and compete in the United States. For this job position, he was able to utilize his own personal experience with this company to his advantage. He gave clients a precise rundown of how the process works and encouraged clients to follow through. He also participated in an actuarial science contest where he worked in a team to determine an investment policy for Travelers, used VaR and TVaR measurements to configure surplus levels and prices, and produced financial results. He ultimately presented his findings in front of Travelers senior management and an audience of approximately 100 individuals.
Both of these experiential learning opportunities gave Cavada a taste of real-world business encounters. He says, "Each one of them made me see what the professional world is like and how prepared you have to be today when you go out to the labor market, due to the great competition that exists." The Barney School also assisted him professionally though the diversity of classes, and opened his eyes to the various perspectives in the world of business.
 
Who made his experience at the Barney School better? Cavada credits several people for his successful educational experience. He says, "Professor Thomson and Dr. Lofink are willing to help any way possible to create a successful future for their students. Also, Professor Goldstein is not only an excellent educator, but an incredible person as well. The way he leads his class and offers clear and concise examples for students make the class environment stress-free. Lastly, Professor Ibrahim Onur Oz holds special importance to me as he helped make my adjustment to American school less daunting. He went above and beyond to ensure that I understood everything properly."
 
Cavada shares a great piece of advice for incoming Barney students, in hopes of helping them make the most out of their experience. He says, "I would tell them to be open-minded and not to close the door to any of the opportunities that come their way during this stage. At the end of the day, all your work, effort, and sacrifice at UHart is going to be rewarded with good opportunities in the future."
Take advantage of every second you spend at Barney. When a person does something with desire, everything is easier. Go to Barney, enjoy the classes, ask without fear, be curious, attend the events that are organized at the school, create connections with other people, and make yourself known. Tomorrow, when you need to find a job, you never know where life is going to put you. But if you have been striving during your time in college and you have made yourself known, surely the process will be much simpler
Dario Cavada '23, M'24, Barney School of Business