A New Sculpture Garden on Campus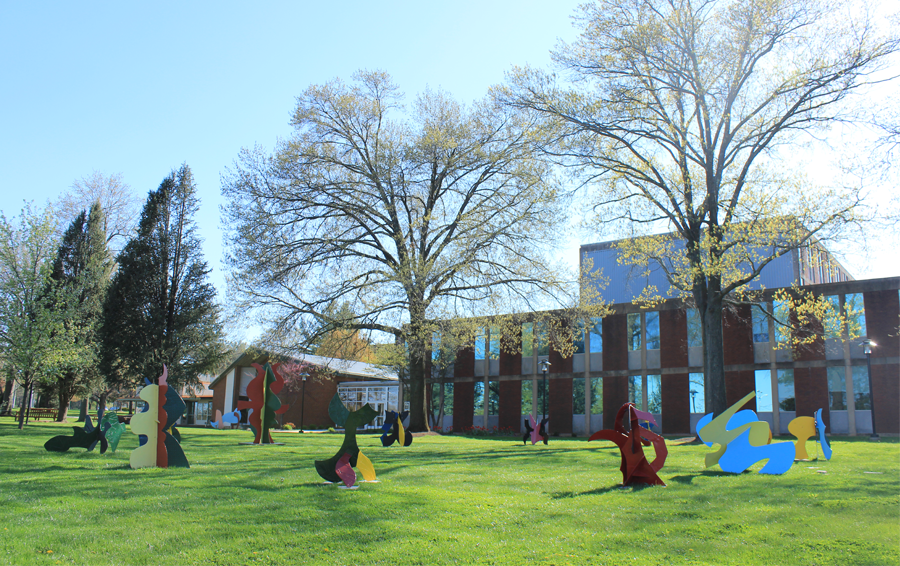 The University of Hartford has many open outdoor spaces on campus—lovely tributes to the beauty of landscapes large and small, and the peace and tranquility they can provide. One such space, between the Gengras Student Union and Hillyer Hall, is now the temporary home of a new Sculpture Garden, and it is a tribute in and of itself—a testament to the power of art mixed with nature to generate feelings of introspection and appreciation.
The pieces in the new Sculpture Garden, by the late artist David Hayes, are fluid creations of molded steel in vibrant yellows, blues and reds that somehow are as simple and pure as they are mature and contemplative. They will remain on campus until November 2023.
Hayes was born in Hartford in 1933, studied fine arts at Indiana University and in Paris, enjoyed a Guggenheim Fellowship, a National Institute of Arts & Letters award, and a Logan Prize for Sculpture. He had approximately 400 exhibitions over the course of his career, and has his work included in over 100 institutional collections, including those of the Museum of Modern Art and the Guggenheim Museum, both in New York.
Hayes, who passed away in 2013, was also a University of Hartford Regent from 1992 to 1996.
I had to consider size, scope, durability, and availability of enough pieces to impact such a vast landscape.
Nancy Stuart, Dean, Hartford Art School
The idea for the Sculpture Garden was forwarded both by UHart Executive Vice President and Chief Operating Officer Mark Boxer and Hartford Art School Dean Nancy Stuart. Boxer made an initial suggestion, and Stuart took up the mantle of focusing it on something tangible and refreshing. She stated that her initial challenge was to find a way to make the best use of an outdoor space in which sheer size, scope, and durability were key factors in determining what best to display for sustainability and maximum impact.
Stuart visited the Coventry, Conn., home of the late artist early in the pandemic, where there are hundreds of his sculptures in surrounding fields. "I contacted John Hayes, the artist's son, and collaborated with him to bring his father's work to our campus," Stuart says.
Collaboration is a key phrase in this Sculpture Garden endeavor. In addition to John Hayes, representatives from the Art on Campus initiative, the Aramark Facilities group, interim Gallery Director Eric Benkiki, Gallery Assistant Sydney Samele '21, and others helped turn what was already a living outdoor space into an even more engaging life as a Sculpture Garden for all students, faculty, staff, and campus visitors to enjoy.