Professor Displays Life-size Whale Made of Plastic Pollution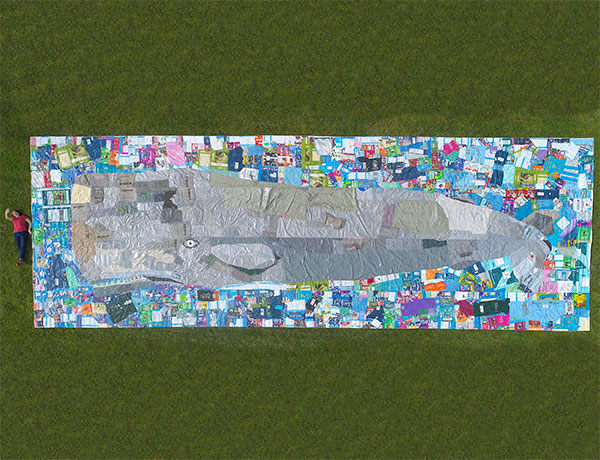 There's a whale visiting the University of Hartford…sort of!
A life-sized portrait of a sperm whale made completely of plastic pollution is now on exhibition in Harrison Libraries on campus. The display—called "Entangled and Ingested: The Sperm Whale"—has been in the works since February 2021 and was unveiled Oct. 7 at UHart. It spans 60 X 20 feet.
The creator, Professor Katharine Owens, shared the story behind the whale in a segment at Fox 61 studios, and with the Hartford Courant, as well as a special reception.
Owens discussed how the artwork came to be, and the impact she hopes it has on all who visit—and on animals affected by plastic pollution. Owens is a professor of politics and government in UHart's College of Arts & Sciences. 
"I started the project to better communicate about film plastics—they are everywhere, and I find them impossible to avoid. The plastic pollution problem is often framed (even in the scientific literature) as being about littering or poor waste management, but I believe the real problem is that single-use plastics were designed to be used for a moment and yet they last a lifetime," says Owens, who has traveled the world studying plastic pollution and aiding communities who've been heavily impacted by the issue.
Owens, as well as adults and children across Connecticut, sewed film plastic onto canvas to create the whale—all plastics that are difficult or impossible to recycle, despite sometimes being labeled as "recyclable." This is just one of 38 life-sized portraits Owens has completed of marine life harmed by plastic pollution. The largest pieces (typically over 20 feet long) are co-created with the public.
Owens, a National Geographic Explorer, is extremely passionate about educating people on how plastic is having an impact on the world around us, especially waterways and animals.
"This is my attempt to address it in an interdisciplinary, creative way that communicates beyond a scientific audience," Owens added. "The analogy I often use is of a bathtub—if you walked into your bathroom and saw your bathtub was overflowing, would you first start mopping up the water, or would you turn off the tap? A lot of the proposed 'solutions' to plastic pollution involve "mopping up" and not addressing the source of the problem."
The Oct. 7 event was part of the Faculty Friday series. Learn more here.
Photo by Dan Nocera