Author Liana Finck Wins Prestigious Literary Award from UHart's Greenberg Center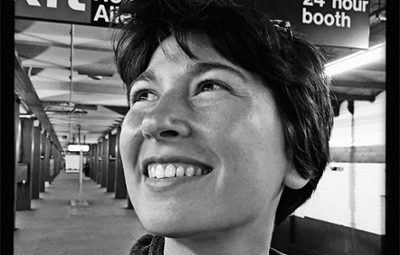 UHart's Maurice Greenberg Center for Judaic Studies has named author Liana Finck as the winner of the 2022 Edward Lewis Wallant Award, one of the oldest and most prestigious Jewish literary awards in the United States.
Finck was chosen for her novel, Let There Be Light: The Real Story of Her Creation (Penguin Random House, 2022). The awards ceremony will take place Wednesday, April 26, at  7 p.m., at the Maurice Greenberg Center.
The Wallant Award was established by Dr. and Mrs. Irving Waltman of West Hartford in 1963, and honors the memory of the late Edward Lewis Wallant, author of The Pawnbroker and other works of fiction. It is presented to a Jewish writer, preferably unrecognized, whose published work of fiction is deemed to have significance to American Jewish history and culture.
Penguin Random House calls Finck's book an ambitious and transcendent graphic novel and writes, "Liana Finck turns her keen eye to none other than the Old Testament, reimagining the story of Genesis with God as a woman, Abraham as a resident of New York City, and Rebekah as a robot, among many other delightful twists. In Finck's retelling, the millennia-old stories of Adam and Eve, Abraham and Isaac, and Jacob and Esau haunt the pages like familiar but partially forgotten nursery rhymes―transmuted by time but still deeply resonant. With her trademark insightfulness, wry humor, and supple, moving visual style, Finck accentuates the latent sweetness and timeless wisdom of the original text, infusing it with wit and whimsy while retaining every ounce of its spiritual heft."
Publishers Weekly's review of the novel says, "An irreverent yet profound retelling of the Book of Genesis . . . Throughout, God and readers are reminded that light can't exist without darkness, or creation without destruction. Finck's exploration offers much light in both senses: levity and illumination."
Finck is a graphic novelist and a regular contributor to The New Yorker. She is a recipient of a Fulbright Fellowship, a New York Foundation for the Arts Fellowship, and a Six Points Fellowship for Emerging Jewish Artists. She has had artist residencies with MacDowell, Yaddo, and Headlands Center for the Arts. Let There Be Light is her fourth book. 
For more information on the Edward Lewis Wallant Award and past recipients, click the button below.