Acting President Stephen Mulready M'77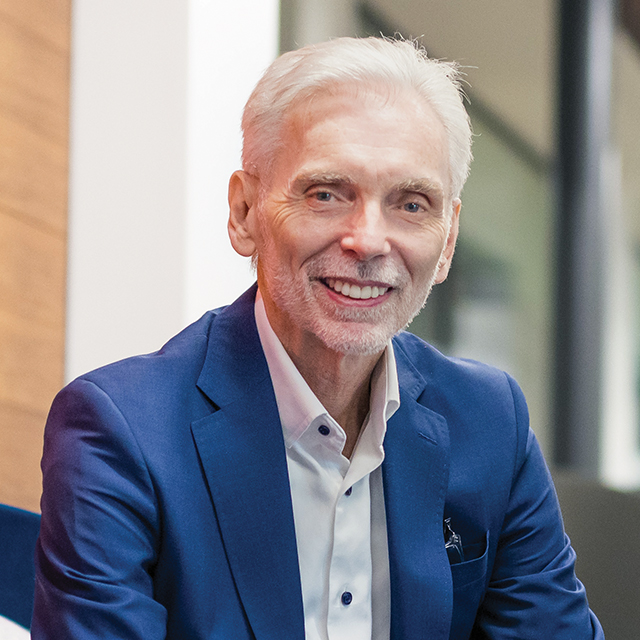 Stephen M. Mulready M'77 was named the University of Hartford's acting president at the conclusion of the 2022–23 academic year.
An alumnus who earned his MBA in management systems at UHart, Mulready became the interim dean of the Barney School of Business in August 2020, and was officially named dean in April 2021—the first Barney School graduate to serve in that role. He has been engaged with the University for decades, teaching as a part-time faculty member and serving on both the Barney School of Business Board of Visitors and the University of Hartford Board of Regents.
Mulready is a recognized insurance professional and risk management expert and previously served as the executive vice president and chief operating officer at Crum & Forster, a leading property and casualty company. He began his insurance career at Aetna, advancing to senior vice president and business leader of national commercial accounts, before moving on to become president of Orion Specialty. Royal Sun Alliance acquired Orion, where Mulready held a range of positions that included president and CEO of U.S. operations. Prior to joining Crum & Forster in 2010, he was CEO of AIX Holdings, Inc.
In addition to his UHart MBA, Mulready earned his bachelor's degree in insurance management from the University of Connecticut, and also completed the Advanced Executive Program at the University of Pennsylvania's Wharton School of Business, as well as the Advanced Management Program at Fairfield University and the AACSB Bridge Program at the University of Southern California.
Currently, Mulready is an advisor for the Obsidian Insurance Co. He previously served on multiple public boards, including Cover-All Technologies, where he was chair of the audit committee, and Alico, Inc., where he served on the audit and investment committees. Mulready is a former president of the board of directors for the Greater Hartford Arts Council, a former director of the Harford Symphony, and a former board member of Jubilee House. 
Meet the President's Leadership Team
Learn more about University of Hartford administration and the Board of Regents.
Administration