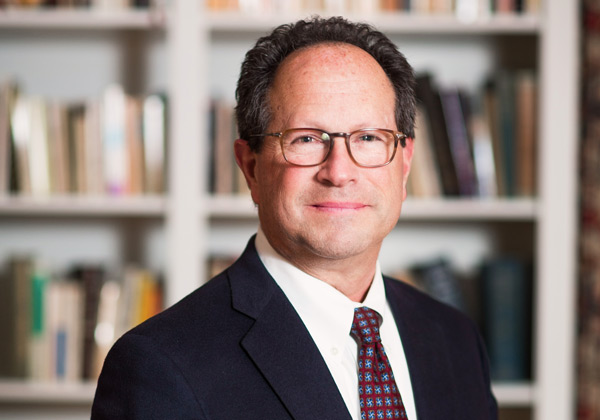 Gregory S. Woodward became the University of Hartford's sixth president in July 2017. In his tenure, he has energized the UHart community to embrace his commitment to ensure that every enrolled student is successful and graduates.
Woodward has led UHart to take a holistic approach to student success, recognizing that it is based on a blend of academic, social, personal, and professional needs. To that end, the former Division of Student Affairs was transformed into the Division of Student Success, incorporating all units related to student life and academic services. This strategy quickly paid off with first- to second-year retention numbers reaching new highs.
A composer, musician, and scholar, Woodward has spent nearly four decades working in almost every conceivable role in higher education. From 2012 to the end of the 2016–17 academic year, he served as president of Carthage College in Kenosha, Wisconsin, where he strengthened campus-wide engagement and collaboration, thereby fostering a college culture that values collegiality and a spirit of hospitality toward others.
While at Carthage College, Woodward added a number of scholarship opportunities with a particular focus on underrepresented groups and created new positions for experienced professionals to coordinate student internship opportunities, other experiential learning pathways, and grant funding for campus programs. Under his leadership, Carthage College enjoyed the highest retention and graduation rates in its history, received its largest philanthropic gifts, enrolled the highest number of students from underrepresented groups, and funded its largest-ever endowment.
Prior to his time at Carthage, Woodward was at Ithaca College, where he led one of the premier undergraduate music conservatories in the country as dean of the School of Music, served as interim provost/vice president for academic affairs, and created and served as the inaugural dean of the Division of Graduate and Professional Studies. He joined Ithaca's Department of Music Theory, History, and Composition as a composer in 1984, becoming a full professor in 2000. At Ithaca, he created the first general education core in the college's long history, built 19 new graduate programs, led the creation of the 10-year strategic plan, and grew both the music school and graduate programs to their all-time highest enrollments.
While earning his Doctor of Musical Arts from Cornell University, Woodward was a student of Pulitzer Prize-winning Czechoslovakian composer Karel Husa. He earned his bachelor's degree from the University of Connecticut and master's degree from Ithaca College, having also studied composition with Donald Martino, Steven Stucky, and Charles Whittenberg.
Woodward was a fellow in higher education at Harvard University's Graduate School of Education and is a graduate of Harvard's New President Institute. He previously served on the music faculty at Cornell and at Valparaiso University, and was an ongoing guest lecturer in the School of Music at Yale University.
Recently appointed to the New England Board of Higher Education, Woodward served on the board of directors for United Way of Kenosha County (Wisconsin) and was awarded the organization's 2017 Legacy of Leadership Award for his tremendous support for two vital United Way programs—Readers Are Leaders and VITA. In 2016, he served as chair of the Council of Independent College's Partnership in Education with The New York Times.
He was married to Penelope Woodward, a lifelong and beloved music educator, for 34 years. Penny made significant contributions to advancing the research and treatment of leptomeningeal carcinomatosis before her passing in 2021. Woodward and their three adult children proudly carry her legacy.
Meet the President's Leadership Team
Learn more about University of Hartford administration and the Board of Regents.
Administration