Throughout the year, UHart commemorates national heritage months and identity acknowledgements. These recognitions are an opportunity for all members of the community to continue our learning and engage in meaningful programming that recognizes, examines, and values historical legacies of all identities, celebrates its present, engages the diversity of lived experiences within our community, enhances our awareness, and raises visibility for communities across campus and beyond. Through community spotlights, guest speakers, panels, conversations, and research presentations, we foster an inclusive community at UHart. 
Annual Heritage Months & Observances
September 15-October 15
Hispanic Heritage Month first began in 1968 as Hispanic Heritage Week under President Lyndon Johnson. It was expanded to cover a 30- day period by President Ronald Reagan in 1988 and is now officially September 15 to October 15. Mid-September was chosen because it is the anniversary of independence for Latin American countries Costa Rica, El Salvador, Guatemala, Honduras, and Nicaragua. In addition, Mexico and Chile celebrate their independence days on September 16 and September 18, respectively. Also, Día de la Raza, which is October 12, falls within this 30-day period.
October
LGBT History Month was created in 1994 by Rodney Wilson, a high school history teacher in Missouri. In 1995, a resolution passed by the General Assembly of the National Education Association included LGBT History Month within a list of commemorative months. October was selected to coincide with National Coming Out Day (Oct. 11), which was already established, and the anniversary of the first march on Washington for gay and lesbian rights in 1979.
October
The history of National Disability Employment Awareness Month traces back to 1945, when Congress enacted a law declaring the first week in October each year "National Employ the Physically Handicapped Week." In 1962, the word "physically" was removed to acknowledge the employment needs and contributions of individuals with all types of disabilities. In 1988, Congress expanded the week to a month and changed the name to National Disability Employment Awareness Month. 
October
Indigenous peoples have built unique and diverse culture — safeguarding land, language, spirit, knowledge, and tradition across the generations. UHart celebrates the contributions and resilience of the Indigenous peoples.
We acknowledging the history of the Hartford region and are committed to amplifying the voices of the tribes upon whose ancestral lands our University sits. Read more about our Indigenous initiatives.
November
The United States observes Native American Heritage Month in November each year to recognize the achievements and contributions of Native Americans. In 1990 President George H. W. Bush approved a joint resolution designating Nov. 1990 "National American Indian Heritage Month." Similar proclamations, under variants on the name (including "Native American Heritage Month" and "National American Indian and Alaska Native Heritage Month") have been issued each year since 1994.
November 13-19
Transgender Awareness Week is a week when transgender people and their allies take action to bring attention to the community by educating the public about who transgender people are, sharing stories and experiences, and advancing advocacy around the issues of prejudice, discrimination, and violence that affect the transgender community.
November 20
Transgender Day of Remembrance (TDOR) was founded by transgender advocate Gwendolyn Ann Smith as a vigil to honor her memory of Rita Hester, a transgender woman who was killed in 1998. The vigil commemorated all the transgender people lost to violence that year and began an important memorial that has become the annual Transgender Day of Remembrance.
January/February
Martin Luther King Jr. Day is observed on the third Monday of January each year. Dr. King is remembered as an important historical figure in the Civil Rights Movement which protested racial discrimination. The King Holiday was signed into law in 1983 and for the first time in 2000 was officially observed in all 50 states. 

The University of Hartford celebrates Martin Luther King Jr.'s legacy through an annual observance of the holiday once students, staff, and faculty have returned to campus after winter break.
February
Carter G. Woodson and the Association for the Study of African American Life and History (ASALH), conceived and announced "Negro History Week" in 1925, with the goals of promoting the study of African American history as a discipline and celebrating the accomplishments of African Americans. The event was first celebrated during a week in February 1926 that encompassed the birthdays of both Abraham Lincoln and Frederick Douglass. In 1976 the celebration was expanded to a month and was renamed "Black History Month."
March
Women's History Month commemorates and raises awareness of the historical and contemporary contributions of women. The celebration's roots can be traced to the first International Women's Day in 1911. Women's History Week was first held during the week of March 8, 1978, in Sonoma County, California. The celebration evolved into a week that was celebrated nationally after U.S. President Jimmy Carter issued a proclamation declaring the week of March 8, 1980 as National Women's History Week. Congress passed a law in 1987 which designated the month of March 1987 as Women's History Month. Since 1988, U.S. presidents have issued proclamations designating March as Women's History Month. Today's Women's History Month is celebrated internationally.
May
In June 1977, Reps. Frank Horton of New York and Norman Y. Mineta of California introduced a House resolution to proclaim the first ten days of May as Asian-Pacific American Heritage week. The following month, Senators Daniel K. Inouye and Spark Matsunaga from Hawaii introduced a similar bill in the Senate. Both were passed and on October 5, 1978, President Jimmy Carter signed a Joint Resolution designating the annual celebration.

In 1990, President George H. W. Bush signed a bill passed by Congress to extend the week-long celebration to a month-long celebration. In 1992, the official designation of May as Asian-Pacific American Heritage Month was signed into law.

The month of May was chosen to commemorate the arrival of the first Japanese immigrants to the United States on May 7, 1843, and to mark the anniversary of the completion of the transcontinental railroad on May 10, 1869. The majority of the workers who laid the tracks were Chinese immigrants." - Asian Pacific American Institute for Congressional Studies (APAICS)
May
By Congressional resolution and Presidential proclamation in 2006, Jewish American Heritage Month is commemorated in May and is a national month of recognition of the history of Jewish contributions to American culture, acknowledging the diverse achievement of the Jewish community in the U.S.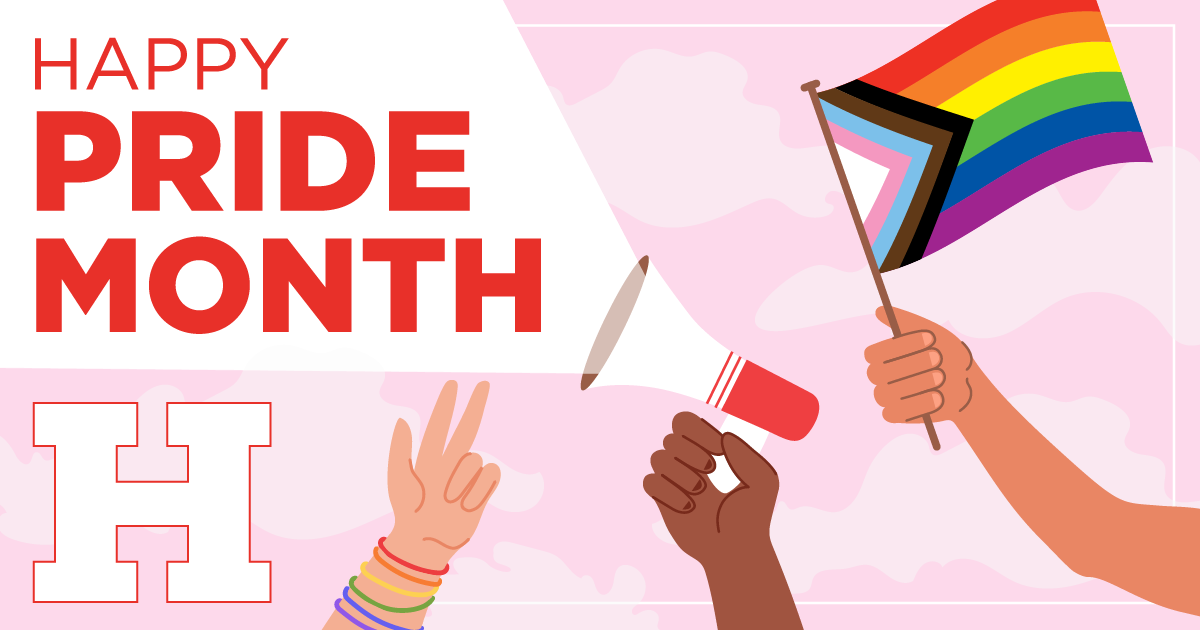 In recognition of the LGBTQ+ community, its history, stories, contributions, and culture, June is designated as Pride Month across the country.  

UHart celebrates the LGBTQ+  community and acknowledges its activism and advocacy dedicated to the movement toward equality. 

Pride Month is traced back to the Stonewall Uprising in New York City on June 28, 1969 – a tipping point that changed LGBTQ+ activism and the Gay Rights Liberation Movement in the United States.

UHart's culture is one that values diversity and champions an environment of inclusion and belonging, honoring the diverse perspectives and myriad contributions of the LGBTQ+ members of our community. We celebrate along with our LGBTQ+ students, faculty, staff, and alums.
June
Juneteenth, also known as Freedom Day, is celebrated on June 19th each year and marks the day in 1865 that enslaved Black people in Texas learned of their freedom–two years after the signing of the Emancipation Proclamation.