Hartford Art School
Ceramics
We'll help you integrate technical facility with independent and creative thought through a varied program designed to meet your needs.
About the Major
You'll work with both ceramic sculpture and pottery in the introductory courses and develop personal direction in your work as you advance through the curriculum. In all courses, regardless of level, you'll develop your aesthetic and technical skills.
To further your growth, there are field trips, exhibitions, and workshops to attend, all designed to expose you to various modes of thought, working methods, and works of ceramic art by leading professionals in the field.
Featured Courses
After your foundation year, this program guides you through a series of independent studios and ceramics intensives. You must complete 77–80 studio credits for your major, plus 45–46 academic credits. For a full list of requirements, visit the course catalog.
CER 220 | Ceramics I & II
SCL 220 | Intro Sculpture
CER 332 | Ceramic Sculpture
CER 334 | Surfaces
CER 339 | Clay and Glaze Lab
CER 348 | Independent Studio I
CER 349 | Independent Studio II
CER 440 | Advanced Ceramics I
CER 441 | Advanced Ceramics II
CER 300 | Ceramic Elective
20 credits from Foundation year
3 credits in each of the following (12 total):

PTG/DWG or DES
SCL
MDA or VDO or PHO
ILS or GRA

3 credits of Mathematics (M 110, 112, 114, or 116)
6 credits in academic writing (WRT 110 and 111)
12 credits in Art History (ART)
12–13 credits from the All University Curriculum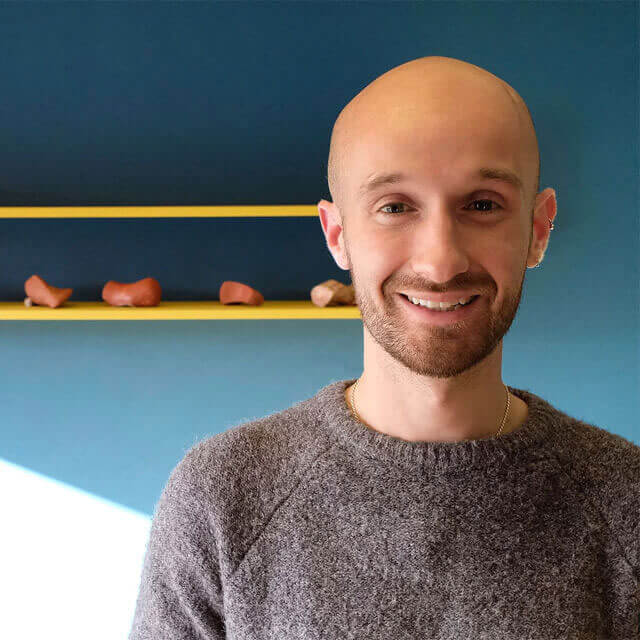 Max Seinfeld '14 majored in ceramics and was a recent presenter at the annual HAS Alumni Forum.

Following a two year residency at The Clay Art Center in Port Chester, NY, and a two year assistantship with Doug Peltzman, Max continues to assist a number of ceramic workshops at art centers across the country including Arrowmont, Peters Valley, Haystack, and Penland for studio potters Doug Peltzman, and Adam Field. Today, Max exhibits and teaches private lessons and workshops both domestically and abroad.
"My education instilled and cultivated a strong value in community, keeping a firm work ethic, and creating a healthy studio practice. In my opinion, Hartford Art School remains one of the strongest academic institutions in the ceramic field for an undergraduate degree based on the rigor of the program, exposure to visiting artists, and faculty who have become my lifelong mentors and friends."
Ceramics Faculty
While you're here, you will learn from professional artists whose pieces grace the halls of galleries and museums all over the world.
Admission Requirements
There are a few ways students can apply for admission to Hartford Art School, all of which require a portfolio review.
Visit our admissions section for step-by-step guidance, and remember that you can always give us a call. We're here to help with any questions you may have.
Lydia Johnson
Ceramics Post-Baccalaureate, 2011
After earning her B.F.A. in ceramics, Lydia became an artist-in-residence at Morean Center for Clay in St. Petersburg, Florida, where she taught and continued to develop her own work. In 2016, she graduated with an MFA in ceramics from Alfred University, Alfred NY. Currently, she is an artist in residence and adjunct faculty at Appalachian Center for Craft in Smithville, TN.
I hand-build functional pottery using double-sided color clay slabs. The work is thin, strong and vitrified like glass and fit to be used everyday."