Hartford Art School
Painting
The diverse points of view of the faculty in the Painting and Drawing Department create a dynamic, rigorous environment, where our students are encouraged to explore technical, aesthetic, and conceptual issues before focusing their work in preparation for their senior thesis presentations.
About the Major
Drawing and painting are closely linked visual practices, and an understanding of one enriches a maturing practice of the other. A fluid definition of these disciplines underscores our understanding that the contemporary art world is widely interdisciplinary in nature.
As a student in the painting and drawing department, you will develop personally significant ideas that reference painting's rich history and contribute to its lively contemporary conversation.
You will participate in a curriculum designed to provide your emerging individual voice with the technical and conceptual grounding necessary for effective expression.
Featured Courses
After your foundation year, this program guides you through a series of independent studios and painting intensives. You must complete 77–80 studio credits for your major, plus 45–46 academic credits.
For a complete list of credit requirements, visit the course catalog.
PTG 220 | Painting I: Observational
PTG 222 | Painting II: Studio Practices
PTG 324 or 325 | Composition I or II
PTG 330 | Junior Studio I
PTG 331 | Junior Studio II
PTG 333 | Figure Painting
PTG 350 | Professional Practices
PTG 440 | Senior Thesis in Painting I
PTG 441 | Senior Thesis in Painting II
GRA | Intro Level Printmaking
DWG | Drawing Elective
DWG 310 | Thinking & Drawing

20 credits from Foundation year
3 credits in each of the following (12 total):

PTG/DWG or DES
SCL
MDA or VDO or PHO
ILS or GRA

3 credits of Mathematics (M 110, 112, 114, or 116)
6 credits in academic writing (WRT 110 and 111)
12 credits in Art History (ART)
12–13 credits from the All University Curriculum
Career Outlook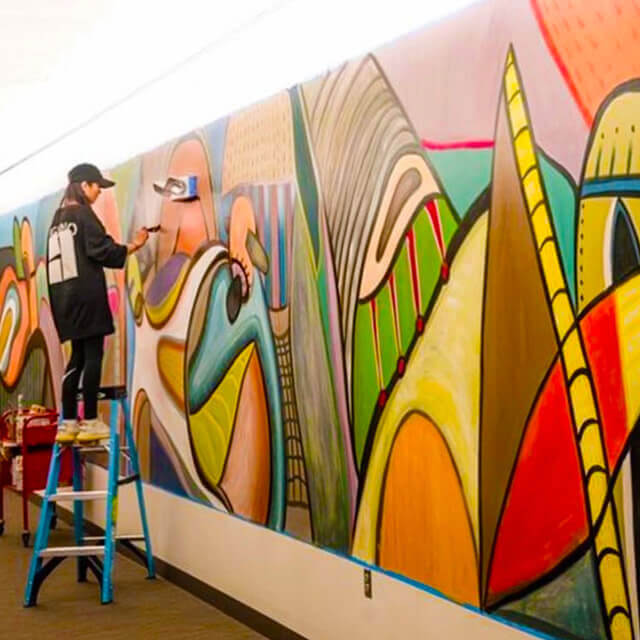 From elite museums in New York City to fellowships on the coast of Maine, from urban murals in Portland, Oregon to independent galleries in Los Angeles, alumni of our painting program shape the creative landscape. Their ability to develop creative solutions and spark broad conversations goes far beyond the canvas–paint is just the beginning.
Painting and Drawing Faculty
Our dedicated faculty are extraordinary teachers in the classroom and recognized professional, practicing artists/designers exhibiting and working in their fields. Learn a little more about them now, and meet them in person when you visit during any of our events, tours, or portfolio review appointment.
Admission Requirements
There are a few ways students can apply for admission to Hartford Art School, all of which require a portfolio review. Visit our admissions section for step-by-step guidance, and remember that you can always give us a call. We're here to help with any questions you may have.
Ethan Newman
BFA Painting and Drawing, 2018
Ethan earned a scholarship to the Hartford Art School when he entered work in our annual Community show. The faculty encouraged him throughout his years here, and in December 2018 he was invited to hold a solo exhibition with one of our partners, Five Points Gallery in Torrington, Conn.
"My professors at the Hartford Art School were able to see in me something that I didn't, at the time, helped me tap into it, I started to understand myself as an artist. They have always been in my corner, pushing me onward. I trust them, and I know I can go to them for advice or a critique on new work. I'm grateful I've been able to work with so many great people here."