Find inspiration and let your imagination wander by attending one or more of over a dozen art exhibitions presented by the Hartford Art School each year.
There is sure to be something for everyone at the Joseloff Gallery and the Donald and Linda Silpe Gallery. The events listed below are open to both our on- and off-campus community.
Joseloff Gallery
2021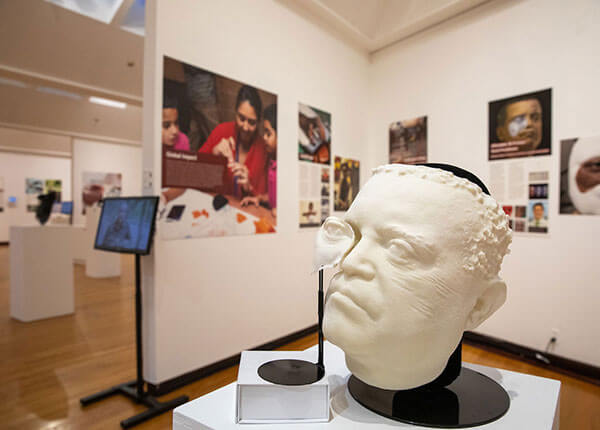 Bespoke Bodies: The Design and Craft of Prosthetics
August 21–October 9, 2021
Design Museum Everywhere presented their traveling exhibition Bespoke Bodies at Joseloff Gallery this fall. Bespoke Bodies is a multimedia exhibition that explores the past, present, and future of prosthetic design on a global scale through personal stories of people who use prostheses as well as case studies of innovations in the field. The exhibit includes materials from students at the Hartford Art School and College of Education, Nursing and Health Professions.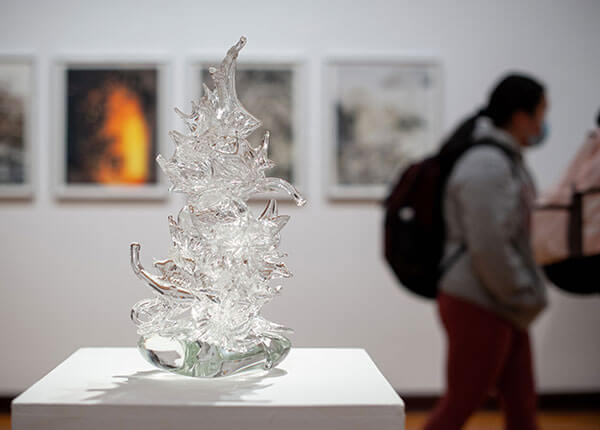 Faculty Exhibition
October 28–December 5, 2021
From photos that explore the time and nature of light effects to watercolors that combine influences from Dutch still life while confronting messaging about human needs, the Joseloff Art Gallery opened its doors this month to a spectacular annual occasion: the Hartford Art School Faculty Exhibition. The show gives students and the community a chance to see the diverse work of our distinguished faculty.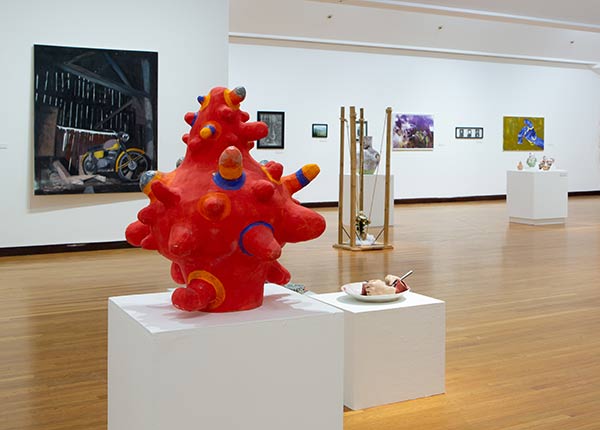 The Alexander A. Goldfarb Juried Student Exhibition
January 27–February 12, 2022
The annual Alexander A. Goldfarb Juried Student Exhibition invites all students of the University of Hartford to submit their best works to be selected by our invited juror. This exhibition and purchase prizes are funded in part by the Alexander A. Goldfarb Endowment Trust at HAS Endowment, Inc.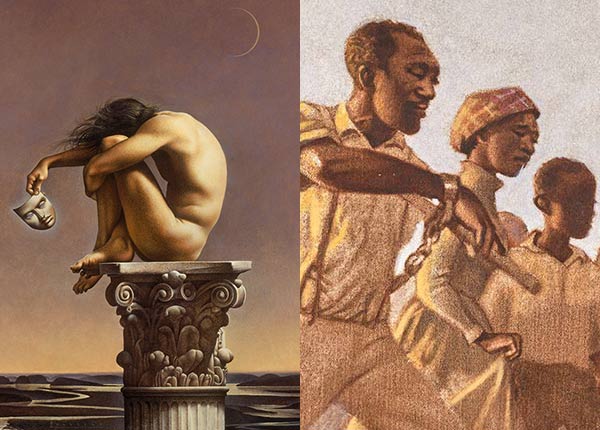 The Georgette and Richard Koopman Distinguished Chair in the Visual Arts Exhibition
February 24–March 26
The Georgette and Richard Koopman Distinguished Chair in the Visual Arts is an annual artist-in-residency program that brings prominent artist/teachers to the Hartford Art School. The Koopman Distinguished Chair and related events are supported in part by an endowed fund held at HAS Endowment, Inc. 
This year's Distinguished Chairs are Floyd Cooper and John Jude Palencar.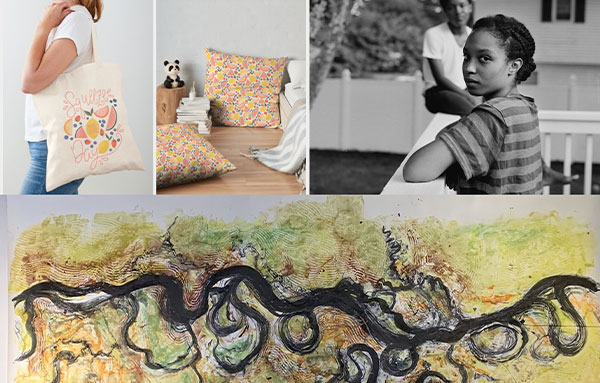 2022 Hartford Art School Alumni Forum

Thursday, April 12 
6-7 p.m. (EST) via Zoom
This year, our panel of Hartford Art School Alumni will be graduates from our three low-residency Masters of Fine Arts Programs. Please join Justin-Michael Emmanuel (Photography MFA '21), Kennedy Marshall (BFA '17; Illustration MFA '21), and Leslie Sobel (Interdisciplinary MFA '19) as they discuss the program format, visiting faculty, traveling experiences, and professional life beyond the degree with moderator and Interdisciplinary MFA Interim Director Mary Mattingly. 
Senior Thesis
Exhibition 1
April 2–12

Exhibition 2
April 16–26

Exhibition 3
April 30–May 10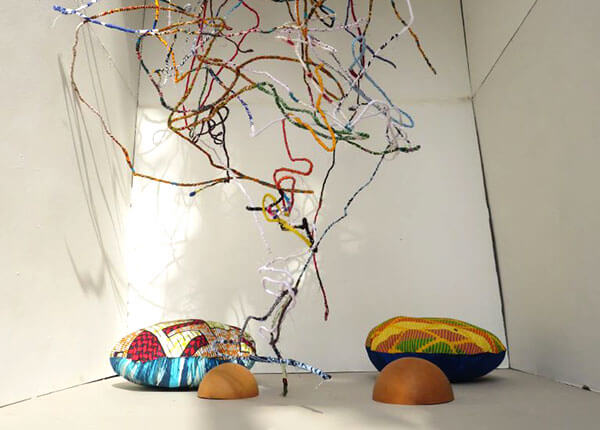 MFA Interdisciplinary Arts Exhibition
June 13–26
The MFA Interdisciplinary Arts Exhibition is a feast for the eyes that embraces students art with an openminded, worldly approach that represent a diversity of disciplines, including socially-engaged work, sculpture, public art, art and healing, eco art, and performance. This community is defined by a commitment to a more regenerative future and cross discipline collaboration in contemporary art. All are invited to share in this experience.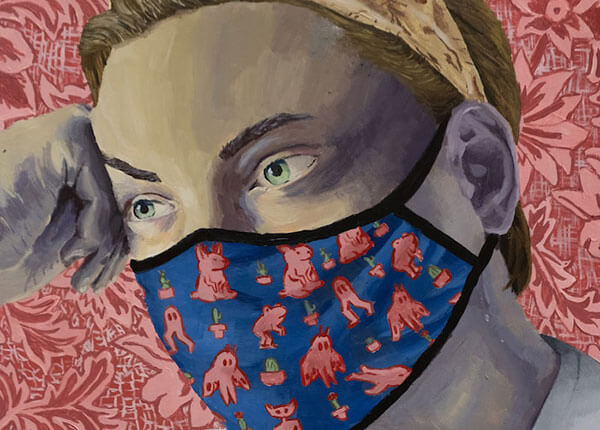 Foundation Show
November 1–19
The Freshman Foundations Exhibition celebrates the extraordinary talent of freshman-level students enrolled in Foundations program courses. It features nearly 200 pieces created over the 2021–2022 academic year by students registered for foundation art courses at the University of Hartford. The purpose of the foundation year is to prepare visual art students for a seamless transition into higher-level course work.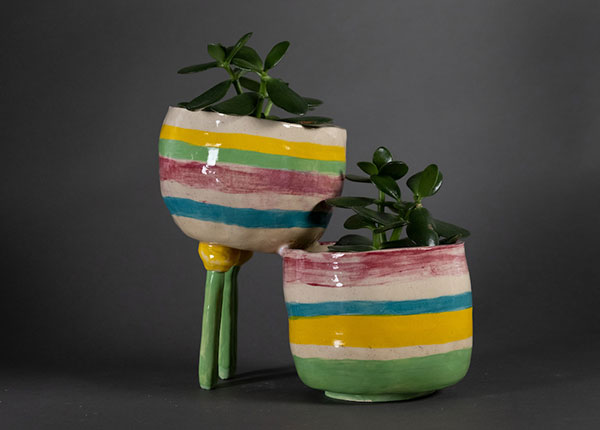 Clay Sale - CANCELLED
December 1–5
This year's Ceramics Holiday Sale has been unfortunately canceled, but plans to return in 2023. After many months of not having access to their usual workspaces because of the pandemic, our contributing artists need a little more time to create an inventory of impressive clay pieces for future enjoyment. Thank you for your understanding and patience.
REDUX 2020 + 2021 Hartford Art School Alumni Exhibition
Feb. 16–March 19; Public reception on Saturday, March 5 at 4 p.m. 
The Hartford Art School in partnership with the Hartford Art School Endowment Inc. (HASE, Inc.), is pleased to present REDUX 2020 + 2021, an alumni exhibition of Hartford Art School BFA graduates. The exhibition will be on view at the University of Hartford in the Silpe Gallery. There will be 48 alumni participating from the graduating classes of 2020 and 2021. Eligible alumni were invited to submit their best piece of work through an online open art call. Working alongside Dean Nancy Stuart, a committee of alumni and HASE, Inc. Board members were selected to oversee and advise the exhibition.
Julian Allen '20, Taylor N. Alves '20, Sarah Baillargeon '21, Danielle Battaglia '20, Jumiya Bennett '21, Garrett Bodnar '21, Trae Brooks '20, Elizabeth Brown '21, Taylor Casey '21, Carol Courtney '20, Christian Crowley '21, Gabrielle Cuccurese '20, Casandra Cyr '21, Virginia De George '21, Megan Dennis '21, Salvatore Devito '21, Mallory Doyle '21, Lily Eckert '20, Ray Eisenbud '20, Jacqueline Flock '20, Lori Fogg '20, Jayla Frederick '21, Gabriella Geida '20, Sarah Harlan '21, Jessica Ingarra '20, Madeline Jacobsen '21, Kimberly Jo '21, Maria Johnson '20, Lauren Lombardo '20, Savannah Nowicki '21, Kristen Ortega '20, Emily Piescki '20, Kristen Plouffe '20, Michaela Ranniello '20, Emilia Ricciardi '21, Sydney Samele '21, Federico Sarno '20, Emma Schroh '20, Maggie Seinfeld '21, Lilikali Smith '21, Anya Stephenson '21, Kimberly Ton '21, Jess Vaughn '21, Kayla Wauchope-Ramsay '21, Andrew Whitworth '20, Breanna Wigdzinski '21, Sarah Yorski '20, and Chase Yurgaitis '20
Eric Ben-Kiki (Interim Gallery Director & Curator), Stephan L. Christiansen (President, HASE, Inc.), Cynthia Cooper (Events Chair & Trustee), Carly Donath '15 (Corporator), Danuta Syp Gordon '15 (Vice President, HASE, Inc.), Carole Kunstadt '73 (Corporator), Janice La Motta '78 (Corporator), Amanda K. Lusteg '14 (Board Manager, HASE, Inc.), Jane Rainwater '75 (Corporator), Michaela Ranniello '20 (Alumni Representative), Sydney Samele '21 (Corporator), Max Seinfeld '14 (Corporator), and Nancy M. Stuart (Dean, Hartford Art School)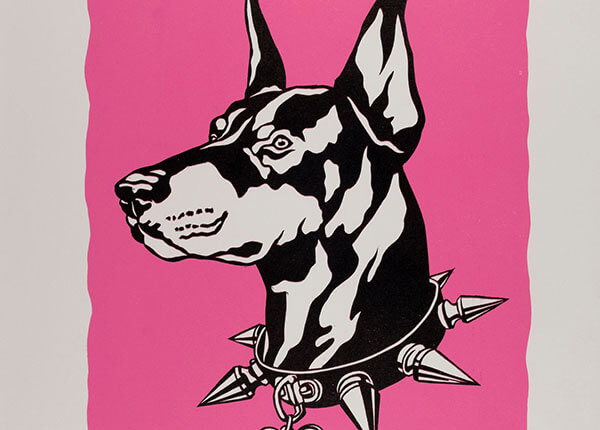 Print Sale
March 1–6
The Hartford Art School will once again hold its annual print sale on campus. The sale will feature original, framed and unframed prints created by faculty, students and alumni in a variety of print media, including lithography, etching, woodcut, silkscreen, linoleum, photographs and digital prints.
Senior Thesis
Exhibition 1
April 2–12

Exhibition 2
April 16–26

Exhibition 3
April 30–May 10