College of Arts and Sciences
Environmental Studies Minor
Our interdisciplinary minor in Environmental Studies examines the relationship between the natural sciences and society, and combines the study of environmental science, art, ecology, public policy, economics, and social sciences. The minor complements a variety of majors including art, business, history, politics and government, sociology, and more.
Minor Requirements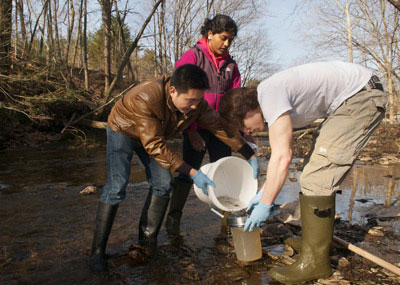 You must complete 19-21 credits including the following courses:
Fundamentals of Environmental Studies  
Environmental Studies Capstone  


In addition, electives are required in the Environmental Studies and Environmental Sciences categories. Examples include:
Environmental Communication  
Writing and the Environment  
Mind and Nature  
Living in the Environment  
Introduction to Environmental Science  
Ecology  
For more information, and to see a complete list of minor requirements, visit the
Course Catalog.
Learning Outcomes
The Environmental Studies minor supplements other majors to help students gain knowledge across the sciences and humanities, apply that knowledge in local, regional, and global contexts, and learn strategies to resolve complex environmental issues. Specifically, students should:
Understand key environmental concepts from economic, political, and social analysis as well as ecological and physical sciences to address environmental issues. 
Think critically and integrate multiple disciplines that intersect with environmental concerns to solve environmental problems.
Demonstrate an awareness, knowledge, and appreciation of the ethical, cross-cultural, and historical context of environmental issues and the links between human and natural systems.
Identify the fundamental environmental, social, and economic issues underlying sustainability and focus on sustainability when resolving environmental issues.