Gender and Sexuality Studies Minor
Our interdisciplinary minor in Gender and Sexuality Studies examines gender and sexual identity, expression, and structural issues of gender and sexuality as they relate to social practices, institutions, policies, inequalities, activism, culture, and the arts. It complements a wide variety of majors including art, business, communication, history, politics and government, psychology, sociology, and more.
About the Minor
The Gender and Sexuality Studies curriculum will help you to write, problem solve, and think critically about gender and sexuality issues that affect society. The minor offers an intersectional approach and draws upon the expertise of faculty in many departments across the University.
Minor Requirements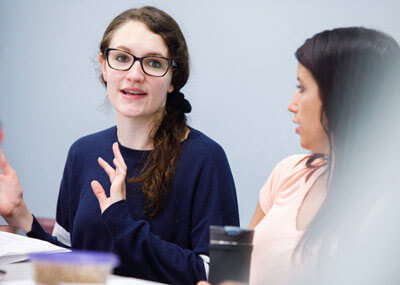 You must complete a total of 18 credits. You may choose from courses in gender and sexuality studies, most of which are cross-listed with other programs. Such breadth reflects the strength and flexibility of an interdisciplinary program. Three courses toward the minor must be taken at the 300 level or above.
Introduction to Gender and Sexuality Studies (Required)
The History of Women in America
Women's and LGBTQ+ Social Movements
Philosophy of Love and Sexuality
Men and Masculinities
Gender and Sex in Popular Culture
For more information, and to see a complete list of minor requirements, visit the
Course Catalog
.