College of Education, Nursing and Health Professions
BS in Integrated Elementary and Special Education
In our Integrated Elementary and Special Education Program, you can earn two certifications in four years, which opens doors to more career options. You'll be eligible for certification in elementary education (grades 1-6) and special education (grades K-12).
Our class sizes are small, and students receive plenty of individual mentoring from our experienced faculty, who are very well connected with area schools. With an extensive network of partner schools, you'll apply skills learned in the classroom to real-world settings and gain the expertise to excel in your career.
About the Major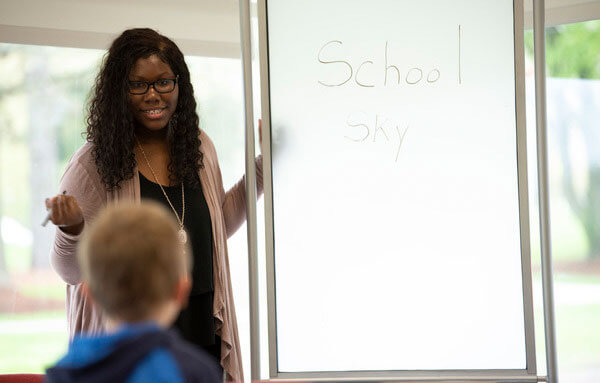 The Integrated Elementary and Special Education program is a professional teacher preparation program that will give you an in-depth understanding of exceptionalities and knowledge of the developmental, cognitive, academic, and social needs of students.
You'll learn through a planned sequence of coursework, independent study, field observations, student teaching, conferences, lectures, and other experiences in both elementary and special education settings.
Clinical experiences are an important component of our commitment to support students as you put theory into action. You'll have supervised classroom experience beginning in your first semester in the elementary education program.
Upon successful completion of the program and specified subject area assessments, candidates are recommended for the Connecticut Teacher Certification in both Special Education (Comprehensive K-12) and Elementary Education (1-6).
Accelerated 4+1 Program
Fast-track your education by earning a bachelor's and master's degree in only five years in our 4+1 option. You can earn a BS in Integrated Elementary and Special Education and a Master of Education (MEd) in Special Education in one program. The entire curriculum can be completed in five years, including summer classes after your senior year.
Additional benefits:
Coursework in the MEd is fully online, allowing you to complete the master's degree from anywhere.
Connecticut and many other states require teachers to complete a master's degree in order to maintain their teaching certification. In addition, teachers with master's degrees typically earn higher salaries than those with only a bachelor's degree.
The MEd in Special Education is a 30 credit advanced program that provides the master's degree you need to move from Initial to Provisional certification. It also provides a stepping stone for advanced degrees such as an EdD, PhD or administrative certification program.
See the full 4+1 curriculum here.
Math Cross-Endorsement
Students who graduate from the Integrated Elementary/Special Education program and receive initial certification from the state of Connecticut are able to receive a cross-endorsement to teach math, giving you additional career options. Students can receive the math cross-endorsement by taking the following Praxis exams:
For Secondary Mathematics Grades 7-12, take Praxis exam #5165 (Mathematics: Content Knowledge)
For Middle School Mathematics Grades 4-8, take Praxis exam #5164 (Middle School Mathematics)
The UHart Difference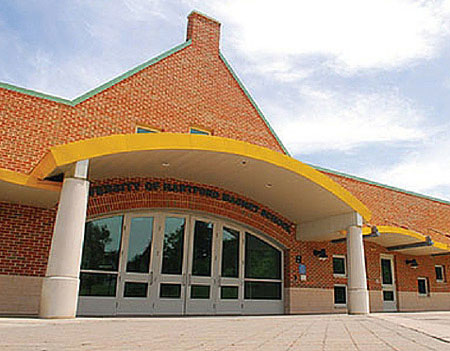 Real-world learning

 

begins right away - you'll have supervised classroom experience beginning your

 

first semester.
With

 

five schools on campus or within walking distance, we have multiple opportunities for teacher training right in our backyard.
Undergraduates can pursue

 

research

 

with our experienced faculty members.
In our

 

honors program

 

you can complete an honors thesis or independent project. You can also join the UHart chapter of Kappa Delta Pi, the international honor society in education.
Class sizes are small, and you'll receive ample individual mentoring from our faculty.
Degree Requirements
The Bachelor of Science degree in Integrated Elementary Education and Special Education is a 129 credit program.  A sample of courses is listed below. View the full curriculum here.
Professional Education Courses - 49 credits
Psychology of Exceptionalities
Language, Literacy and Linguistic Diversity
Reading and Language Arts Instruction
Mathematics Instruction and Methods
Differentiated Instruction
Integrated Methods: Science, Social Studies and the Arts
Special Education: Screening and Diagnosis
General Education Requirements - 47-48 credits
Academic Writing
Mathematics for Elementary School
Introduction to Psychology
World Language - 3 credits
Natural Science - 4 credits
Career Outlook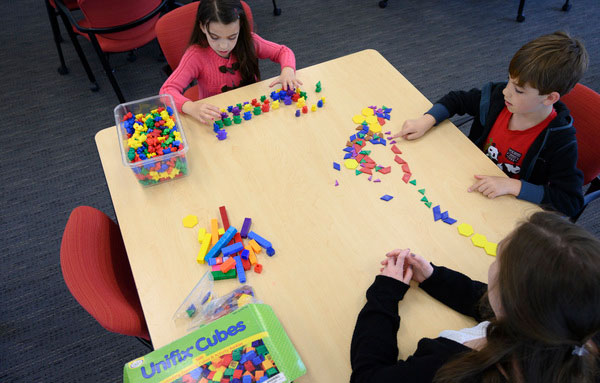 Special education teachers are in demand. Special education has been identified as a statewide shortage area by the Connecticut Department of Education, as well as many other states. Demand for special education services and teachers is expected to rise as children with disabilities are increasingly being identified earlier and enrolled in special education programs.
Real-world learning from the start
All of UHart's education programs get students out into the classroom starting in your first semester, giving you hands-on experience with children right from the start. Hear more from student Brian Durocher '21 and Department Chair Sheetal Sood in this short video.
Mikayla Pascucci
Integrated Elementary/Special Education, '18, M'20
Soon after starting her teaching career, Mikayla Pascucci found that her experience at UHart prepared her well. She's a 
special education teacher at Bowers Elementary School in Manchester, Conn. and also earned her master's degree in special education at UHart. Read more
I've felt confident and comfortable in the classroom from my very first day as a certified educator because of the amazing support and experiences provided to me at the University of Hartford, both at the undergraduate and graduate levels."
Admission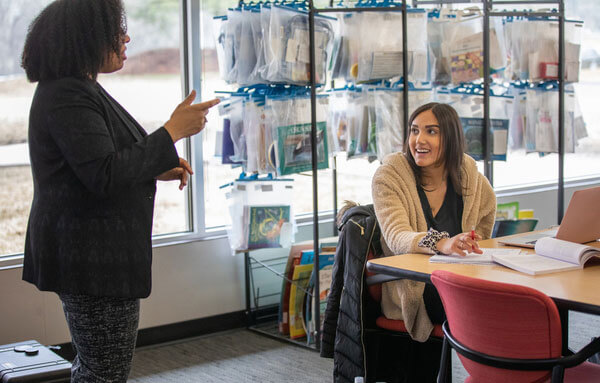 Students applying to the Integrated Elementary Education and Special Education program are accepted for admission in either the fall or the spring semester.  We recommend students send their applications to be received by December 1 for entrance in January and by March 1 for entrance in September.
For admission to programs in the Department of Education, 16 units of secondary subjects are expected and should include the following at a minimum:
English: 4 units
Social studies: 2 units
One language: 2 units
Science: 2 units
Mathematics: 2 units (including 1 unit of algebra)
Other academic subjects: 4 units
Professional Program Requirements
Education students must apply for admission to the professional program during the fall of sophomore year. Professional program admission requirements include:
SAT, ACT or Praxis Core scores. Although the University does not require SAT, ACT or Praxis scores for admission, the State of Connecticut requires these scores for teaching certification.
Cumulative grade point average of 3.0 or higher.
Completed dispositions interview form  
Please see the Catalog for grade requirements for preprofessional and professional level courses.
Additional Information
To transfer into a teacher education program as a college junior (48 credits or more), you must show evidence of having taken the SAT, ACT, or the Praxis Core. In addition, you must have obtained a minimum of a 3.0 (B) grade point average (GPA) in your previous coursework.
Your ability to complete the program in two calendar years will depend on the specific courses required and your flexibility regarding summer coursework. Once admitted you must immediately complete the Professional Program Application. We would be happy to review your records and map out a sample plan of study. Please contact the Office of Admission:
Office of Admission
860.768.4296
admission@hartford.edu
CANDIDATE EFFECT ON STUDENT LEARNING
Learn to assess their ability to plan effective instruction based on student outcomes.
Gauge and reflect on whether they are able to assess student outcomes using pre- and post-assessment.
STUDENT TEACHING
Gain firsthand experience observing/working in classrooms and reflect on these experiences. They will be in a 1-6 general education classroom for four weeks and in a K-12 special education setting for ten weeks.
STUDENT TEACHING PORTFOLIO
Align activities with curriculum objectives, state and national standards.
Write clear objectives and plan developmentally appropriate lesson plans based on student needs.
Differentiate instruction and use appropriate scaffolding thereby ensuring that all students can learn.
Use effective instructional techniques and maintain a positive environment in the classroom.
Reflect on their performance and its effect on student understanding.
Work in collaboration with others.
Plan a standard-based sequence of instruction using national and state standards.
Align assessments with meaningful learning objectives.
Differentiate instruction and make accommodations for students from diverse backgrounds and abilities.
Understand the importance of reflective practice and provide strong evidence of their ability to reflect on their practice.
If you are a full-time undergraduate student applying to the Integrated Elementary Education and Special Education program, you will be considered for financial aid programs that the University administers. In addition to our own funds, the University participates in all Federal Title IV Programs and Federal Family Education Loan programs. Residents of Connecticut and those states with reciprocal agreements with the State of Connecticut may also be eligible to receive state scholarships or grants.
Detailed Information on Tuition, Fees, and Financial Aid
Financial Aid Office
860.768.4296
finaid@hartford.edu
Accreditation
Accreditation and State of Connecticut Certification
Certification programs in the College of Education, Nursing and Health Professions are accredited based on the National Council for Accreditation of Teacher Education (NCATE) through the CAEP Accreditation System (CAEP), as well as the State of Connecticut Department of Education. The Educational Testing Service's Praxis II exam is utilized for certification of teachers in Connecticut. See Pass rate.
Professional Licensing Disclosure
Visit Out-of-State Educators to see the Connecticut State Department of Education reciprocity agreement. The NASDTEC website details the interstate reciprocity agreement across states.